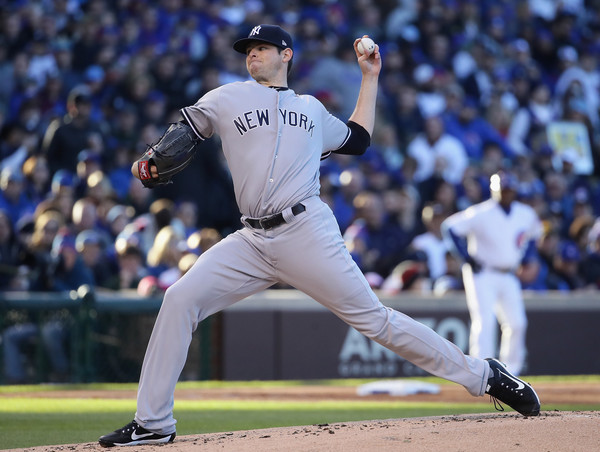 The Yankees and Astros continue their four-game weekend series with the second game later tonight. Here are a couple of strays links to check out in the meantime.
Six Yankees on BA's latest top 100 list
The Baseball America crew released an updated top 100 prospects list this week, which is designed to "reflect the graduations of players who are no longer prospect-eligible and to tweak the rankings based on feedback we have received from scouts and coaches who have seen the prospects this year." White Sox IF Yoan Moncada is atop the list. Six Yankees farmhands made the top 100:
2. SS Gleyber Torres (Preseason: 5th)
33. OF Clint Frazier (Preseason: 39th)
37. OF Blake Rutherford  (Preseason: 45th)
85. LHP Justus Sheffield (Preseason: 91st)
99. LHP Jordan Montgomery (Preseason: Not ranked)
100. RHP Chance Adams (Preseason: Not ranked)
OF Aaron Judge ranked 90th before the season and has since graduated to the big leagues. SS Jorge Mateo (85th) and RHP James Kaprielian (87th) both made the preseason list but have since dropped off. In a supplemental piece (sub. req'd), the Baseball America crew says Mateo fell out of the top 100 because he simply isn't performing. He's hitting .220/.270/.315 (67 wRC+) while repeating High-A ball. Kaprielian fell off because he blew out his elbow and needed Tommy John surgery. Duh.
I can't say I ever expected to see Montgomery crack a top 100 prospects list, so it's pretty cool he was able to sneak on. He's walked a few too many in his brief big league time (11.7%), which is not uncommon for young pitchers. Otherwise Montgomery appears to have all the ingredients necessary to be a back-end starter long-term. Those guys are really valuable during their cheap pre-arbitration years. Montgomery has thrown 28.2 MLB innings so far, so he's about four starts away from clearing the 50-inning rookie limit and graduating to MLB. This will probably be the only top 100 list he makes. I'm guessing he's fine with that.
Keith Law's mock draft v1.0
Keith Law (subs. req'd) released his first mock draft of the year earlier this week, and he has the Twins taking Louisville 1B/LHP Brendan McKay with the No. 1 pick. California HS SS/RHP Hunter Greene, the consensus top prospect in the 2017 draft class, is expected to slip to the Reds with the second overall pick. Lucky them. Law has the Yankees taking California HS 1B Nick Pratto with their first round pick, No. 16 overall. From Law:
Pratto seems to have separated himself as the best pure hitter among the high school crop this year, though high school first basemen taken high don't have the greatest track record either.
Here's my Pratto write-up. On paper, Pratto fits the Yankees. Scouting director Damon Oppenheimer has a known affinity for Southern California players, and the Yankees also have a thing for advanced high school bats. They pounced when Rutherford fell into their laps last year. Back in the day, before the bonus pools took the fun out of everything, they paid Greg Bird and Tyler Austin overslot bonuses when their polished bats slipped into the later rounds. The 2017 draft is a little more than five weeks away now.
Loria tried to trade for Jeter with Expos
Here's a fun old trade rumor. According to Steven Marcus, Jeffrey Loria ordered general manager Jim Beattie to call the Yankees and make a trade offer for Derek Jeter back in 1999, when Loria owned the Expos. The offer: Vladimir Guerrero for Jeter. Fun! Here's more from Marcus:
"Mr. Loria really wanted Jeter,'' said Beattie, a former Yankees pitcher who now is a scout for the Blue Jays. "I kept telling him it wasn't going to happen and he said, 'Well, you have to make the call.' I called (Brian Cashman) and at a point I said, 'Jeffrey is really interested in Jeter.' Cash said, 'No, we're not going to trade.' I said, 'I understand that. Just for conversation and I'm not even sure we would do this, would you trade him for Guerrero?'

"There was silence on the other end. He said, 'Would you do that?'

"Cash said, 'That's a crazy offer, but I'm just not going to trade him. He is a franchise player for us and we're not going to trade him.' You could try to trade for him, but they weren't going to trade him. Yeah, there was an effort.''
This happened during the 1999-2000 offseason. Jeter, then 25, hit .349/.438/.552 (156 wRC+) with 24 home runs in 1999, in what very well might have been the best season of his career. Vlad was about to turn 25, and he'd hit .316/.378/.600 (139 wRC+) with 42 homers in 1999. This would have been the mother of all blockbusters. Young superstar for young superstar. Carlos Correa for Mookie Betts. Corey Seager for Kris Bryant. Something like that.
Jeter is a no-doubt Hall of Famer and chances are Vlad will get in at some point as well — he fell 15 votes short of induction this past winter — though you can understand why the Yankees said no. They'd just won their third World Series title in the past four years, and Jeter was the face of the franchise. Also, shortstops like Jeter are harder to find than corner outfielders like Guerrero. Still, fun! Loria is a native New Yorker who has made it no secret he admires the Yankees. It's no surprise he tried to acquire their franchise player once upon a time.
Yankees projected to cut luxury tax bill
According to Ronald Blum, the Yankees are projected to cut their luxury tax bill by nearly $20M this season. Calculations from the commissioner's office put the team's luxury tax bill at roughly $9M right now, down from the $27.4M they paid last year. The Yankees are taxed at the maximum 50% rate, so that combined with the $195M threshold suggests their payroll for luxury tax purposes is $213M right now.
Keep in mind the luxury tax payroll is subject to change based on call-ups and send downs, as well as any midseason trades. The Yankees could very well end up buying at the deadline, which would increase payroll. And heck, they could also end up selling again should they fall out of the race. Masahiro Tanaka and Dellin Betances would be their top trade chips, and dealing them would save more luxury tax. The team's goal is, of course, to get under $197M luxury tax threshold next year, once the monster Alex Rodriguez and CC Sabathia (and Tanaka?) contracts are off the books.