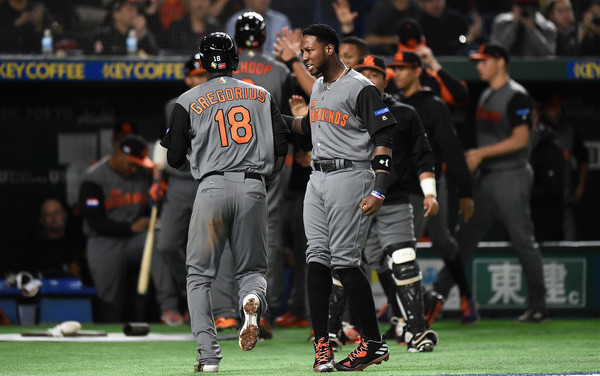 Monday should be a pretty busy day, folks. It is the deadline the MLBPA has set to hammer out the posting agreement for Shohei Ohtani. If a deal isn't done by Monday, he's going to stay in Japan next season. Also, Monday is the deadline for teams to set their 40-man roster for the Rule 5 Draft. There's going to be plenty of roster shuffling that day. Here are some other bits of news to check out.
Yankees interested in Profar again
Once again, the Yankees have some interest in former Rangers top prospect Jurickson Profar, reports Joel Sherman. Pretty sure this is the third straight offseason the Yankees have been connected to Profar. They've been trying to buy low on him since his shoulder problems started a few years ago. Interestingly, Sherman says Texas has interest in some depth arms at the bottom of New York's 40-man roster, and a deal could be built around them. Huh.
Profar, 25 in February, missed both the 2014 and 2015 seasons with shoulder surgery. He's hit only .227/.316/.315 (71 wRC+) since coming back, including .172/.294/.207 (40 wRC+) in 22 big league games in 2017. The Rangers sent Profar to Triple-A, where he hit .287/.383/.428 (116 wRC+) in 87 games. They did not give him a September call-up though, and Profar is reportedly preparing to file a grievance because the non-call-up pushed his free agency back a year.
Acquiring Profar would be very similar to acquiring Aaron Hicks. The Yankees would be betting on talent and a chance of scenery. Profar was a tippy top prospect not too long ago, he's still only 24, he's a switch-hitter, and he's played basically every position other than pitcher or catcher. He is out of minor league options, so it's MLB or bust. That's one drawback. Ultimately, just stockpile high-end talent. If all it takes is some fringe 40-man roster arms, this is a no-brainer.
Ohtani wants to hit and pitch
Not surprisingly, Ohtani wants to both hit and pitch whenever he comes over to the big leagues, reports Yahoo! Japan (translation via @NPB_Reddit). "Ohtani said he wants to play both ways in MLB. I plan to respect that wish," said his agent. If you're interested, Dan Szymborski put together statistical translations and ZiPS projections for Ohtani, which seem quite relevant. Here are the 2018 projections:
As pitcher: 3.55 ERA (119 ERA+), 10.4 K/9, +3.3 WAR in 139.1 innings
As hitter: .266/.328/.466 (112 OPS+), 12 HR, +2.2 WAR in 305 at-bats
That would be pretty incredible in his first year as an MLB player. And, for what it's worth, ZiPS projects a 125 ERA+ and 121 OPS+ at Ohtani's peak at age 27. That would be amazing. I think everyone has kinda assumed Ohtani will want to hit and pitch when he comes over, but now we know for sure. His agent confirmed it. We'll see how it goes. Doing one thing well is hard enough. Doing both well would be rather remarkable.
Yankees checked in on Stanton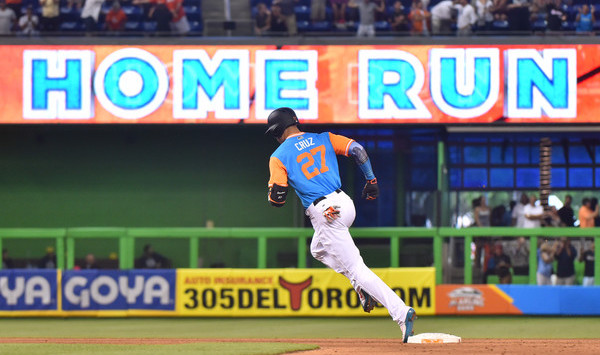 As expected, the Yankees have reached out to the Marlins to discuss Giancarlo Stanton this offseason, reports Jon Heyman. They also checked in back around the trade deadline. Stanton is the big trade commodity this offseason — Heyman says at least eight teams are involved, and I expect more to get involved before it's all said and done — and so far the Cardinals and Giants have emerged as the most serious suitors.
The Yankees typically check in on everyone during the winter, especially any star players who become available. That doesn't mean they're seriously interested in acquiring Stanton. Would they take him if the Marlins make an offer that's too good to be true? Of course. In that case you get Stanton and figure out where he fits later. That's why you make the call. In case a favorable deal can be made. Otherwise this is just due diligence. The Yankees have more than enough outfielders as it is.
Ellsbury not yet asked to waive no-trade clause
According to Brendan Kuty, Brian Cashman confirmed this week that the Yankees have not yet asked Jacoby Ellsbury to waive his no-trade clause. Last offseason they approached Brian McCann about waiving his no-trade clause fairly early. I assume that's because there was legitimate interest in McCann at the trade deadline and serious interest again in the offseason, so there was a real chance of a trade. That probably isn't the case with Ellsbury. Here's what Cashman told Kuty:
"I have not had any dialogue with Scott (Boras), haven't even approached Scott, I guess it's a similar situation. I think in both cases — in McCann's case as well as if there is going to be something for consideration with Jacoby — I would make sure I would stay ahead of it and have to include anybody in the process on their side of it to make sure it's handled the proper way.

"They have a full no-trade for a reason, and I would walk through that process with the highest level of communication and respect because of it. I haven't connected with Scott at all, but I know he's here somewhere, and I'll make sure I'll get a chance to talk to him before I leave just generally about everything Scott Boras related for the winter, and I'm sure we'll also talk about Jacoby as well.
Cashman also said that, as of right now, Ellsbury is the fourth outfielder. Brett Gardner and Aaron Judge are entrenched in the corners, and Hicks is the man in center going forward. "They were the best that we had (in the postseason), and so I think we would anticipate going (into 2018) that way again," said Cashman. The Yankees are going to have to eat a lot of money to trade Ellsbury, but I think they're more willing to do it right now than ever before, so I expect them to shop him around pretty aggressively. And when the time comes, they'll ask about the no-trade clause.