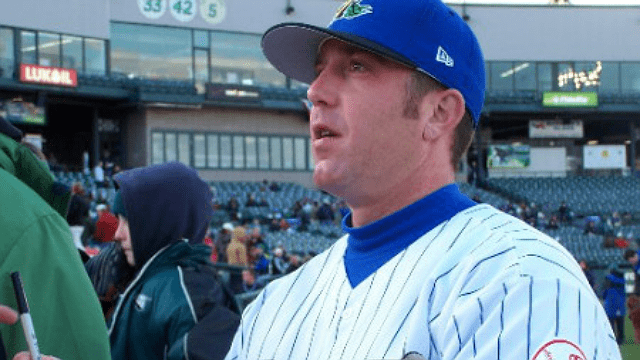 When the Yankees announced Aaron Boone's coaching staff a few weeks ago, there were no surprises. Larry Rothschild back. Marcus Thames promoted. Even newcomers like Phil Nevin or Josh Bard had been previously reported.
But what stood out to me was one of the returning coaches, Jason Brown. Last year, he was the bullpen catcher. This year, he's promoted to catching coach, though that probably means some bullpen catching alongside Radley Haddad.
See, Brown isn't a household name. He played parts of 12 seasons in the minor leagues after attending USC. He played 34 games in Triple A over five different stints with three different franchises, one of which was the Yankees.
But he never got a cup of coffee. By the time he joined the Yankees as a minor league free agent in 2005, he was 31 years old. While he would get invites to Spring Training, that came about mostly due to his status as a catcher in the high minors and the Yankees likely never truly considered bringing him up.
Face it, with a guy like Brown, the odds were stacked against him, even when he reached Triple A with New York. He was only the backup there, meaning he was a minimum of a two injuries from a promotion. Yet if there were two catchers who went down simultaneously, perhaps the Yankees would have gone outside the organization to fill the role instead of promote the minor league vet.
Still, Brown was the consummate professional and kept fighting for that chance to fulfill his dream. "The goal isn't to see how long you can play in the minor leagues," Brown told Mike Ashmore, "The goal for me is to get to the big leagues."
I grew up not just a Yankees fan but also deeply invested in the mid-2000s Trenton Thunder, the closest professional baseball team to me. I'd show up to Waterfront Park when the gates opened and rush down to the right field line next to the Thunder dugout, hoping for an autograph and that brief chance to interact with the players.
Of course, I kept my eyes peeled for the top prospects, not to mention the occasional rehab appearance from a Bombers star. Robinson Cano. Joba Chamberlain. Ian Kennedy. Phil Hughes. All those guys had stays in Trenton and gave me the chance to watch them up close, falling in love with the game.
However, it wasn't just the top guys that kept me coming back. You don't go to a minor league park consistently just to watch a few guys who are going to leave if they play well enough. You also embrace the guys who are seemingly there for the long haul, the players who get the briefest mention from Baseball America and not the large write-up.
And that's where I was first introduced to Brown. He was hard to miss. I remember him shaking hands with fans at the gate on Opening Day. I'll never forget the 3-6 times he went over and signed for me, probably recognizing me and wondering why the same kid keeps wanting his autograph (Side note: Jason Jones, a Thunder pitcher, literally asked this question to me once the third or fourth time I asked for his autograph.) But Brown also just put in his work day after day and even when at-bats weren't plentiful, he still clearly had a presence on the team.
"He calls a great game," Hughes said of Brown to Ashmore. "It always seems like we're on the same page. He's got a lot of experience in this game, and he knows a lot of the veteran hitters and knows what he wants to do out there. It's always good when I get to throw to him."
Brown never achieved his dream as a player, unlike Boone, unlike Bard. But he's in the Bronx, already moving up in the coaching ranks ever so slightly. And his work as a veteran mentor is evident on this team with his former catching mate P.J. Pilittere gets his first taste of the majors as the assistant hitting coach.
We may never fully know the effects of Brown as a catching coach and what he help he's able to provide the players. However, just to see him finally on a major league field shows that the minor league struggle was at least somewhat worth it for Brown.