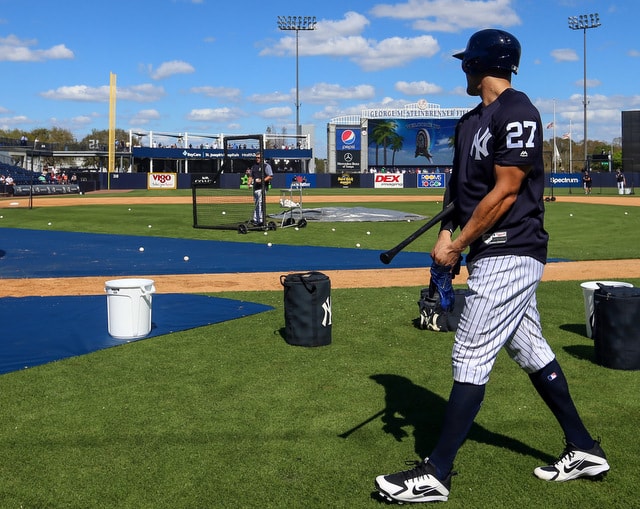 Baseball finally returns tomorrow. Meaningless baseball, but baseball nonetheless. The Yankees open their Grapefruit League schedule tomorrow afternoon against the Tigers and yes, the game will be televised. I can't wait. Meaningless spring games are fun in their own way. Let's get to some thoughts the day before the spring opener.
1. The players I am most interested to see this spring, in no particular order: Albert Abreu, Kyle Holder, Jonathan Loaisiga, and Dillon Tate. Weird list, I know. Loaisiga, Abreu, and Tate are three of the best pitching prospects in the organization and I haven't seen any of them in game action yet, so I'm looking forward to that. Holder is an outstanding defensive shortstop and great defense is always fun. Hopefully Abreu's appendectomy doesn't stop him from getting in games. Of course I want to see guys like Gleyber Torres, Miguel Andujar, Giancarlo Stanton, and Brandon Drury. I want to see everyone. That kinda goes without saying. But I really enjoy Spring Training because it's a chance to see players I've never seen and maybe won't ever see again. Loaisiga is fascinating because he went from tryout camp to legitimate prospect, and Tate is supposedly back to where he was in college, when he was the fourth pick in the 2015 draft. I'm guessing he'll come out throwing fire, creating a "who the heck is this guy?" type of buzz among casual fans this spring. That'd be fun.
2. Specific things I am most interested to see this spring, in no particular order: Aaron Judge's swing post-shoulder surgery, Tyler Wade's and Clint Frazier's new hitting mechanics, and Gleyber's swing post-elbow surgery. Judge and Gleyber both had surgery on their left arms, their front arms as right-handed hitters, and I'm curious to see whether there is any apprehension on their part to really cut it loose. That would be a bad thing but also a completely natural and correctable thing. My guess is both Judge and Torres will take full swings and look completely normal. They've been in camp and hitting a while now. They've likely worked through any lingering post-surgery apprehension. As for Wade and Frazier, both said they tweaked their hitting mechanics over the winter to accomplish different things — Wade wants to get around on the inside pitch better and Frazier wants to keep his bat in the zone a little longer — and I want to see those changes in action. Also, I should include Jordan Montgomery's changeup in here. He said he the pitch didn't behave last year. Getting that pitch back could be huge considering Montgomery was pretty darn good without it. Could take him to another level.
3. Annual reminder that Spring Training performance doesn't mean anything — "(It) is a super small sample size with different kinds of situations than you would see during the regular season," said Aaron Boone to Randy Miller — except in the very few cases it does. Those cases tend to be players on the fringes of the roster who are trying to make the team, or avoid getting released at the end of camp so they can go to Triple-A. They have to impress to stick around. Brian Cashman singled out Tyler Austin as someone who needs to have a good spring — "(He's) going to have to show us some things down here to prove he's the guy (to back up first base)," said Cashman to Dan Martin — and that was before the Drury trade. Now the Yankees could easily go into the season with Drury as their backup first baseman and send Austin back to Triple-A. So, who falls into the "he needs to have a good spring" camp this year? Austin, obviously. I'd say Chasen Shreve as well. The Yankees have lots of power arms in the minors and Shreve is the last guy in the bullpen. Andujar and Gleyber could help their roster situations with great Grapefruit League seasons, though in reality, there might not be anything they can do to secure a spot. They might be destined for Triple-A no matter what. Luis Cessa could use a strong spring to avoid falling behind guys like Domingo German and Chance Adams on the rotation depth chart. If CC Sabathia has a 9.75 ERA this spring, don't worry. If Didi Gregorius doesn't hit a homer until March 26th, don't worry. If Masahiro Tanaka has a 0.50 ERA, don't get excited. Spring performance for veteran dudes locked into a roster spot means nothing. It's the guys on the fringes of the roster who have to perform.
4. When the Yankees hired Boone, I said I don't expect there to be a meaningful difference in on-field strategy between Boone and Joe Girardi, only because the front office is involved in so many decisions. Sure enough, this Boone quote on the bullpen sounds very Girardi-esque. From Peter Gammons:
"These are guys who can be used in any situation at any point in games," says Boone. "We have to carefully monitor their usage so they're fresh right into September and hopefully October. The stuff and the depth the Yankees have assembled is really something."
Girardi wouldn't have thrown in that last line, otherwise yeah, sounds like him. And that's fine. Keeping relievers healthy and effective over the long haul should be a top priority this season — the Yankees aren't planning for a 162-game season here, they're planning to play into November — and the Yankees do have the bullpen depth to make it possible. Certainly moreso than last year, when Girardi's second wave of relievers was guys like Jonathan Holder and Tommy Layne. Boone has Adam Warren and Tommy Kahnle for those spots this year. Girardi didn't like using relievers back-to-back-to-back days until very late in the season and I suspect the same will be true with Boone. That seems like a directive — maybe not a directive, but a suggestion — coming from above. When it came to not overworking relievers, Girardi was obsessive. I hope Boone is the same way. The real question is how does he deploy those guys? Does he have set seventh and eighth inning relievers, or will he be more willing to mix and match? Girardi rested guys but was very rigid with his deployment. I'm hoping Boone will be a little more flexible.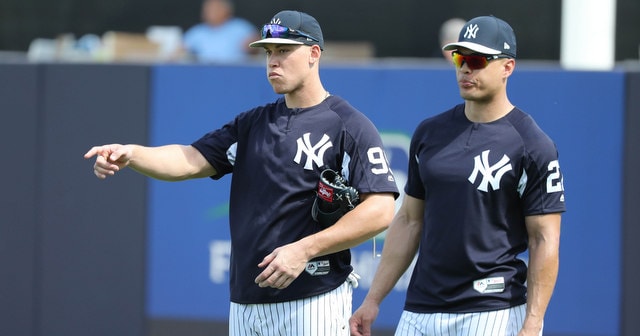 5. How long until Judge and Stanton get tired of answering questions about their bromance? It seems like something the media is trying to force on them — in every press conference so far they've been asked about their relationship and their work together — and that has to be annoying. I get it. They're two superstars and they're basically mirror images of each other, so these questions are inevitable. Derek Jeter and Alex Rodriguez were asked about their relationship all the time when the Yankees first acquired A-Rod. Now it's happening with Stanton and Judge. They're both awesome and they're both Yankees, and it would be cool if they're best buds. And if they don't become best friends, that's okay too. You can't just stick two random people together and expect them to become friends just because they have similar traits. (It irks me to no end when Michael Kay says the Red Sox signed Hideki Okajima just so Daisuke Matsuzaka would have a friend.) Judge and Stanton are great, and as long as they're both driven to help the Yankees win, that's good enough for me. Being buddies would be icing on the cake even though it would make zero difference to my life whatsoever. I imagine all the questions will get grow old quick though. I know they would to me if I were in their shoes.
6. The new mound visit rule is going to create some headaches. One of the unintended consequences: How do teams stall for time while a reliever warms up? Usually the catcher would go out to the mound, maybe the pitching coach too, and there would be some pickoff tosses to first base to give the reliever time. Now those visits to the mound are limited. They're a finite resource and teams may not want to burn one just to get a reliever ready. I suppose the solution is stepping off a bunch and/or making more pickoff throws to first base? Or do teams get their relievers warm a little earlier than usual? That'll be tough because usually when we see teams stall for time, it's because the inning is unraveling. The starter cruised through the first five innings then bam, a double and a walk to start the sixth inning, and the bullpen is getting hot. More step-offs and pickoff throws to first seems like the inevitable solution here, and functionally they shouldn't add time to the game, but for whatever reason that stuff seems to kill the vibe more than a mound visit.
(Also, what happens when an umpire takes a foul ball to the face mask and needs a few seconds to gather himself? Usually the catcher makes a courtesy trip to the mound to give the umpire some time. I guess those visits are off the table now? And the umpires are okay with potentially feeling rushed back into the game while possibly being concussed?)
7. Can Major League Baseball work in Florida? This isn't really a Yankees question but I think it has to be asked. Both the Marlins and Rays are tearing things down, and even when they were good and in contention, they couldn't draw fans or run high payrolls. The Marlins have a brand new ballpark and they still can't sell it out. Now the Rays are pushing for a new park right in Tampa. Is it worth it? Florida produces a ton of baseball players and you'd think a warm weather state would be a natural spot for MLB, but it's been two decades now — more than that for the Marlins — and it's not really working. Before investing hundreds of millions of dollars (tax payer dollars, of course) in another new ballpark in Florida, the league has to discuss whether it's actually worth it. Would baseball be better with a team in, say, Portland or San Antonio rather than downtown Tampa? MLB is kinda stuck with the Marlins because the ballpark was just built. As for the Rays, MLB doesn't want to lock itself into another undesirable situation if it's not a viable market. The state doesn't seem willing to support a team.