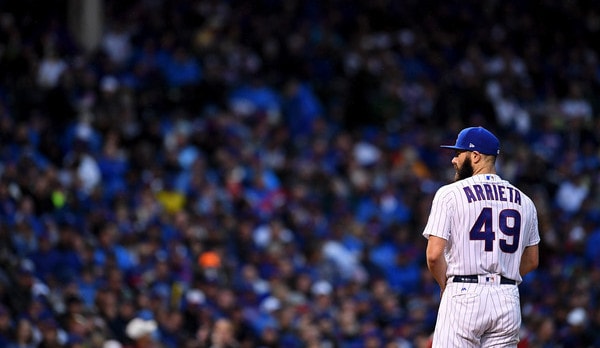 We've reached the dog days of Spring Training. Pitchers and catchers reported a week ago and position players joined them over the weekend, but Grapefruit League games haven't started yet. Nothing's really going on and those grainy spring Twitter photos from half-a-field away have lost their luster. Exhibition games start Friday. Until then, we wait.
Fortunately the hot stove is starting to get hot and that's entertaining. Yu Darvish signing with the Cubs kinda started it all. Eric Hosmer signed with the Padres shortly thereafter, and yesterday the Red Sox signed J.D. Martinez. The move everyone expected to happen finally happened. Spoiler alert: The AL East is going to be a dogfight. When is it not?
Anyway, at the moment the Yankees have $22M to spend under the luxury tax threshold, or $12M when you remove the $10M they're planning to set aside for midseason pickups. I expect that $12M to go somewhere before Opening Day. Maybe Mike Moustakas falls into their laps. That seems more and more likely with each passing day. Maybe it's Alex Cobb. Or Lance Lynn. Or Chris Archer! Who knows?
I think that $12M is going somewhere, but what if it doesn't? What if the Yankees stand pat, go into the season with two kid infielders, and set aside a whopping $22M for midseason additions. That is a frickin' ton. Remember, luxury tax hits are pro-rated. Trade for a $20M player at the midway point and the tax hit is only $10M. Having $22M to play with means the Yankees could take on some serious salary at the trade deadline, if necessary.
Since there's nothing else going on these days, I've been thinking about hypotheticals regarding that midseason addition money lately. It is entirely possible the Yankees will need to add a starting pitcher and two infielders at the trade deadline. It could happen. And if it does, the have the money to spend. But if it doesn't? Will they really just pocket that $22M? I wouldn't put it past ownership.
Anyway, so I was thinking about that midseason addition money, and one name popped into my head: Jake Arrieta. Granted, this sounded a lot better before free agents starting signing, but what about Arrieta as a midseason addition? Scott Boras and Arrieta may not get an offer to their liking, so he could remain unsigned come Opening Day. A dumb armchair GM contract proposal:
Three years and $25M per season, prorated in 2018.
Opt-outs following 2018 and 2019.
Full no-trade clause, because why the hell not.
If the Yankees and Arrieta wait until after the draft in June, the draft pick compensation goes away. The Yankees could technically sign Arrieta to a minor league deal before the draft, have him make some minor league tune-up starts to prepare for the season, then sign him to the big contract after the draft to avoid the draft pick compensation, and get him into the rotation as soon as possible. Not against the rules!
Financially, when you add a player at midseason, the luxury tax hit is prorated. So say the Yankees sign Arrieta at the halfway point of the season, just to make the math easy. His $25M salary prorates to $12.5M, and that's the luxury tax hit in 2018. The luxury tax hit then jumps to $25M in 2018 and 2019, assuming Arrieta doesn't opt-out. When the Yankees traded for David Robertson, his luxury tax hit was prorated last year. This year it's the full amount.
For all intents and purposes, that contract would be a pillow deal on steroids. Arrieta gets to pitch for a contender the rest of the summer — I imagine he'd be pretty desperate for work if he's still unsigned come June — then reevaluate the market after the season. If he wants to test free agency, he can opt-out. If he doesn't, he can stay and see what happens next year. And if he gets hurt this year or next, the opt-outs serve as an insurance policy.
Why sign Arrieta? Well, he's really good for starters, and it'd be hard to come up with a better pitcher at midseason for nothing but cash. Last season Arrieta had a 3.53 ERA (4.16 FIP) with 23.1% strikeouts, 7.8% walks, and 45.1% grounders in 168.1 innings around hamstring trouble. He's good, he has a championship pedigree, and when he goes into Terminator mode, Arrieta is as dominant as anyone on the planet.
Sign Arrieta at midseason and the Yankees would get a rent-an-ace while keeping their draft picks, and Arrieta would get a pricey contract that allows him to test the market the next two offseasons or collect $50M. And the Yankees would still stay under the $197M luxury tax threshold. A win-win. Guys like Roy Oswalt, Pedro Martinez, and Roger Clemens have waited until midseason to sign in the recent past. It wouldn't be unprecedented.
Now, that said, the chances of this happening are incredibly small. Free agents are starting to come off the board — Boras found homes for Hosmer and Martinez within the last few days — so it's probably only a matter of time until Arrieta gets a deal. My money is on the Nationals, but we'll see. Like I said, this all sounded better in my head before free agents started signing and it seems like guys would legitimately go into the season without contracts.
Realistically, there's no way for the Yankees to sign Arrieta now and stay under the luxury tax threshold. He's not taking that steep a discount, if he takes one at all. And, frankly, I have no interest in Arrieta on a long-term contract. Too many red flags. A short-term deal like the one I presented though? Sign me the hell up. Arrieta with a chip on his shoulder could be a great midseason pickup.
The Yankees are probably going to spend that $22M under the luxury tax threshold when it's all said and done. My guess is they'll spend some now and some later, at the trade deadline. Landing an impact player like Arrieta at midseason while keeping draft picks and staying under the threshold is a pipe dream, but at this point of the spring, crazy hypotheticals come with the territory.