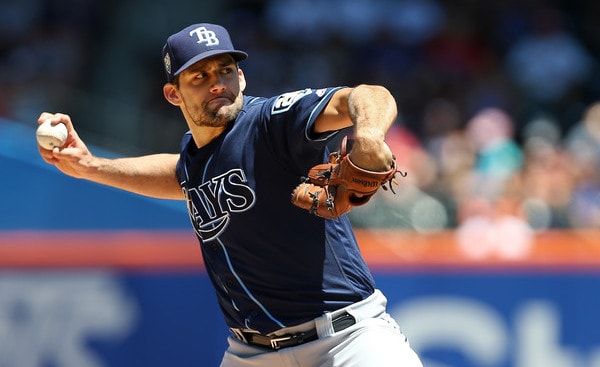 We are now three weeks away from the 2018 non-waiver trade deadline and the Manny Machado rumors have arrived. It feels like a foregone conclusion the Yankees will do something before the deadline. I'm not sure what, exactly, but I'd bet on adding a starting pitcher. Anyway, here's the latest batch of trade deadline rumors.
Yankees scouting Eovaldi
The Yankees were among the teams with a scout on hand for Nathan Eovaldi's most recent start, reports Marc Topkin. Eovaldi took a perfect game into the seventh inning against the Mets on Sunday and finished the afternoon with one hit allowed in seven shutout innings. He struck out nine. On one hand, that's undeniably excellent. On the other hand, it was the Mets, so yeah.
Eovaldi, now 28, has a 3.35 ERA (4.16 FIP) with very good strikeout (24.3%), walk (3.3%), and ground ball (48.8%) rates in eight starts and 48.1 innings back from his second Tommy John surgery. He's on a cheap ($2M) one-year contract and it is all but certain the Rays will trade him before the deadline. Tampa has Eovaldi using his cutter more, which could explain his effectiveness. The Yankees know Eovaldi well, if nothing else. He's worth a longer look outside a rumor roundup setting. Stay tuned.
Yankees interested in Hand
According to Jon Heyman, the Yankees are among the teams with interest in lefty reliever Brad Hand. Hand is signed affordably through 2020 with a $10M club option for 2021. The Yankees have a very strong and deep bullpen already, but there's always room for another quality reliever. Swap out Chasen Shreve for Hand and the bullpen would be even better.
Hand is probably the top reliever on the trade market right now and the price tag figures to be very high given his performance and contract. He's not too dissimilar from Andrew Miller circa 2016. The Yankees had interest in him at last year's deadline and adding another reliever does make some sense. Adding Hand won't solve the rotation issues but he would make the Yankees better, and that's the name of the game, getting better. Especially in a division race this tight.
Yankees, Blue Jays still discussing Happ
According to Buster Olney (subs. req'd), the Yankees and Blue Jays are "continuing conversations" about left-hander J.A. Happ. The two sides are said to be "haggling over the price tag." I guess the Yankees have not been scared away by Happ's recent performance. It's not just his dud against the Yankees over the weekend. In his last four starts Happ has allowed 20 runs and 38 baserunners (and six homers) in 22.2 innings. He has a 4.44 ERA (3.97 FIP) for the season.
The Yankees are not prone to small sample size (over)reactions. They're a big picture organization. That doesn't mean they'll ignore Happ's recent struggles, but if they're comfortable with the medicals and their scouts and analytical folks think this is just a bump in the road, they could pursue Happ anyway. The trade deadline pitching options don't look all that appealing right now. Happ, even with his recent struggles, may be the best bet the rest of the season. I'm not surprised the Yankees are still involved.
Yankees considering Moustakas for first base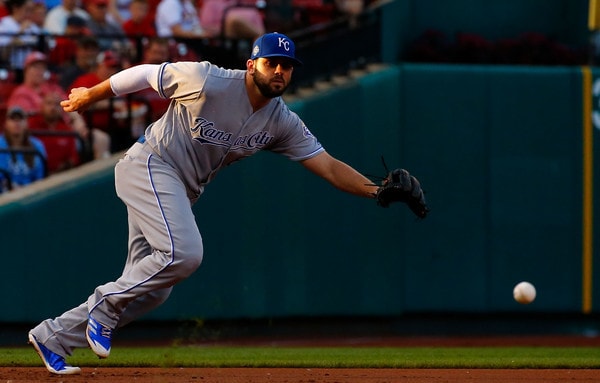 The Yankees are considering longtime Royals third baseman Mike Moustakas for first base, reports Jon Morosi. This sounds more like an idea the Yankees are kicking around rather than a "the two teams are talking" rumor. Moustakas has played a handful of games at first base this year — he'd never played a position other than third prior to this season — and he's on a cheap ($6.5M) contract.
Greg Bird is maybe kinda sorta starting to hit a bit — he is 7-for-29 (.241) with five walks (.371 OBP) in his last eight games and his at-bats have been much better — but he's still hitting an underwhelming .203/.324/.398 (100 wRC+) overall. Moustakas is hitting a slightly better .251/.308/.464 (106 wRC+) overall, including .207/.270/.393 (77 wRC+) since the day Bird made his season debut. Plus he hasn't played much first base at all. Like I've been saying, if Bird isn't hitting by the All-Star break, go get a first baseman. An actual first baseman, preferably.
D'Backs, Rangers, Phillies scouting Yankees
The Diamondbacks, Rangers, and Phillies all had scouts watching Triple-A Scranton over the weekend, reports George King. The Reds and Royals continue to scout the Yankees as well. Most of the RailRiders' best players (Brandon Drury, Clint Frazier, Tyler Wade) were in the big leagues at the time, but Billy McKinney is still down there, and over the weekend pitching prospects Justus Sheffield, Josh Rogers, and Chance Adams all started for Scranton.
The Rangers stink and are going to trade Cole Hamels before the trade deadline, so it makes sense that they've got eyes on the Yankees. What about the D'Backs and Phillies? They're contenders! They're not just contenders, they're in first place! I suppose Arizona could be doing due diligence in case they collapse and decide to trade Patrick Corbin? Unless the Phillies make a young starter like Nick Pivetta or Zach Eflin (or Aaron Nola!) available, I'm not sure they match up well with the Yankees for a trade.