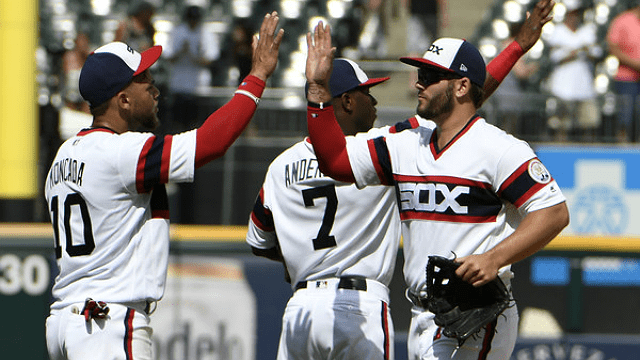 After a demoralizing series with the Red Sox, the Yankees get their first taste of the lackluster White Sox this season. They're the only AL team the Yankees have not yet played.
The Last Time They Met
The Bombers traveled to Chicago for a four-game set and had a disappointing split from June 26-29, 2017.
Jordan Montgomery and Masahiro Tanaka picked up wins in Games 1 and 3 of the series, backed by homers from Tyler Austin, Aaron Judge and Didi Gregorius.
In Game 2, Luis Severino went toe-to-toe with Jose Quintana and the Yankees grabbed a 3-1 lead off Tommy Kahnle. However, Domingo German, Tyler Clippard and Dellin Betances blew it in a walk-off loss.
Game 4 was a lackluster 4-3 loss lowlighted by Dustin Fowler's knee injury in what ended up being his only appearance as a Yankee.
For more information, check out Katie's Yankeemetrics post on that series.
Injury Report
Yankees nemesis Miguel Gonzalez is out for the year with right shoulder surgery while reliever Nate Jones has a muscle strain in his throwing arm. Danny Farquhar is recovering from his brain hemorrhage in April.
Their Story So Far
At 41-70, the White Sox are surprisingly not in last place in the American League Central, though that's simply because the Royals are historically bad. The White Sox are in the midst of a rebuild and surely look like it. They're in the bottom 10 in WAR on offense and in the starting rotation, though their bullpen is in the middle of the pack.
Lineup We Might See
1. 2B Yoan Moncada (.222/.305/.400, 93 wRC+)
2. 3B Yolmer Sanchez (.244/.301/.383, 87 wRC+)
3. 1B Jose Abreu (.270/.331/.485, 119 wRC+)
4. DH Daniel Palka (.236/.281/.504, 109 wRC+)
5. RF Avisail Garcia (.269/.290/.523, 117 wRC+)
6. LF Nicky Delmonico (.232/.333/.377, 100 wRC+)
7. CF Leury Garcia (.280/.310/.394, 92 wRC+)
8. SS Tim Anderson (.246/.294/.405, 89 wRC+)
9. C Omar Narvaez (.282/.356/.425, 116 wRC+)
Matt Davidson will likely get the start at DH against CC Sabathia while Adam Engel often gets starts in center.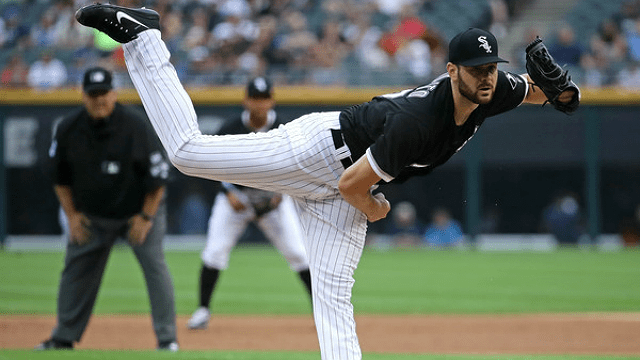 The Starting Pitchers We Will See
Monday (8:10 PM ET): RHP Lance Lynn vs. RHP Dylan Covey
Covey is a second-year righty who, despite below-replacement-level performance, has received the chance to stick in the rotation for much of the season. He enters Monday with a 5.57 ERA (4.64 FIP) and a 10 percent walk rate. After throwing 8 1/3 innings of shutout ball three starts ago, he's coming off two starts where he failed to get through five and allowed 6-7 runs.
Covey throws in the low-to-mid 90s and attacks with his sinking fastball that he throws 5/8ths of the time. He also works in a high-80s slider, mid-80s changeup and low-80s curveball. The sinker has been his best pitch.
Last Outing (vs. KC on Aug. 1) – 4.1 IP, 5 H, 7 R, 4 ER, 3 BB, 1 K
Tuesday (8:10 PM ET: LHP CC Sabathia vs. RHP Reynaldo Lopez
Lopez is coming off one of his best starts of the season as he held a lackluster Royals lineup to two runs over seven innings. However, that came after three starts in which he allowed a combined eight home runs, 18 runs and eight walks over 17 innings. That's why after a strong start to the year, his ERA is up to 4.47 with a 5.17 FIP over 129 innings.
Like Covey, Lopez has a high walk rate (10.2 percent). He goes at hitters with his mid-90s fastball 60 percent of the time while relying on his slider and changeup as his main offspeed pitches.
Last Outing (vs. KC on Aug. 2) – 7.0 IP, 5 H, 2 R, 2 BB, 4 K
Wednesday (8:10 PM ET): RHP Luis Severino vs. RHP Lucas Giolito
If you're sensing a trend with these young White Sox starters, it's that they are wild. Giolito is the wildest of them all. He leads AL pitchers with 68 walks issued and 12 HBPs. That recipe is why he has a 5.97 ERA (5.92 FIP) over 120 2/3 innings. He also has allowed 19 homers and only struck out 77. Yikes.
The 6-foot-6 righty sits in the low 90s and works in a four-seam fastball and a sinker. He also contains a mid-80s slider, low-80s changeup and high-70s curveball in his arsenal.
Last Outing (@ TB on Aug. 3) – 7.0 IP, 2 H, 1 R, 3 BB, 6 K
The Bullpen
After trading Joakim Soria, the team doesn't have a set closer with three different pitchers getting saves the last four games. Lefty Luis Avilan has been solid recently while fellow lefties Hector Santiago and Jace Fry get plenty of work. Juan Minaya, Jeanmar Gomez and Thyago Vieira are some of the main right-handers while former Rays lefty Xavier Cedeno has cooled off after a strong start to his season.
Yankees Connection
Danny Farquhar, who is on the DL, was one of two players the Yankees traded for Ichiro. MiLB OF Trayce Thompson was in the Yankees' system for all of two days this year. Former NYY prospect Ian Clarkin is on the 40-man roster.
Who (Or What) to Watch?
Walks. There's a chance these games take a while if the Yankees show patience and let this pitching staff beat itself.
Rookie Daniel Palka is a powerhouse with 17 homers in 270 plate appearances. Let's see if he can have the same success vs. the Bombers.