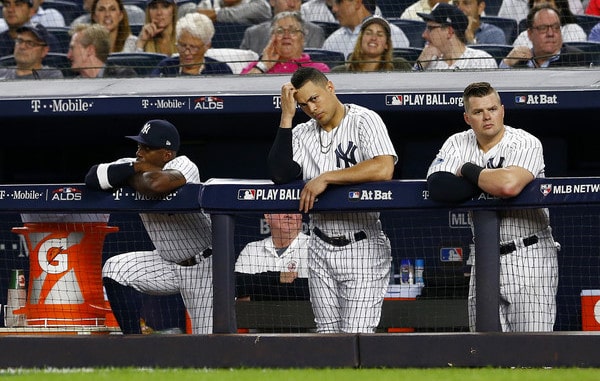 Although the Yankees gave it a valiant effort in the ninth inning last night, their 2018 season is over. The Yankees dropped ALDS Game Four to the Red Sox and are now left to ponder what went wrong this year and ways to improve next year. I get the feeling this offseason will be more interesting than most. Anyway, here are some thoughts.
1. Aaron Boone was alarmingly bad these last two games. I am going to continue repeating this until I am blue in the face because it's true: The manager's job is to put his team in the best position to succeed, and I don't see how the pitching decisions the last few days accomplished that. Sending Luis Severino back out for the fourth inning in Game Three was bad. Bringing Lance Lynn — Lance Lynn! — into a bases loaded situation with no outs was bad. Leaving CC Sabathia in the game in the third inning was bad. I'm not second guessing anything here. This all seemed bad in real time. Did it not? I can't be the only one who thought all this was questionable as it was happening. What really gets me is that Boone did it twice. He left Severino in too long Monday, talked about how he tries to learn from his mistakes Tuesday afternoon, then he left Sabathia in too long Tuesday night. Come on. The ALDS was a lopsided managerial mismatch. It was embarrassing for the organization, truly. The Yankees assumed the risk associated with hiring a zero experience manager and it backfired spectacularly this series. Boone was behind the eight ball and showed a decided lack of urgency. I just don't know how the Yankees could look at these last two games and think this is okay. They have to sit down with Boone and figure out what the hell was going through his head, and explain why it was wrong. The Yankees are loaded with talent and they're set up very well in the coming years. I know they love Boone's communication skills and they believe they can mold him into exactly the kind of manager they want, but they can't treat the managerial position as an entry level job. Now with a team this good.
2. The starting pitching was just awful in the ALDS. Even Masahiro Tanaka, the one starter who pitched well, benefited from several hard-hit balls finding gloves. J.A. Happ didn't make it out of the third inning in Game One, Severino was a total mess in Game Three, and Sabathia fooled no one in Game Four. The four starters: 13 IP, 19 H, 15 R, 15 ER, 6 BB, 9 K. That does not play anywhere. The Yankees are built not to need a ton of innings from their starters and riding the bullpen hard can work in October. The Royals did it a few years ago and the Brewers are doing it right now. But the Yankees needed better from their starters than that. Happ was brought in to solidify the rotation and he did exactly that in August and September. He was great for the Yankees! Then he gave up the three-run bomb to J.D. Martinez in the first inning of Game One and it felt like the Yankees were playing catch-up the rest of the series. Severino? Good gravy, what a fall from grace in the second half. It carried over into the postseason as well. Even in Wild Card Game, he didn't pitch all that well. The Athletics ran some long counts and really made him grind through four innings. Hopefully it's just fatigue. Severino has thrown 407.2 total innings since Opening Day 2017 and damn that's a lot for a dude who doesn't turn 25 until February. Getting him right is a top priority this winter. Point is though, the starters were just terrible the ALDS and really in all five postseason games.
3. There are many reasons why the Yankees lost the ALDS. Among them is the Red Sox's role players far outperforming New York's role players. Brock Holt hit for the damn cycle in Game Three. Yes, I know it included a garbage time homer against a position player, but his three other hits had a hand in making it a blowout. Light-hitting Christian Vazquez hit what proved to be the game-winning home run yesterday. Steve Pearce started only two of the four games and made his presence felt. Ian Kinsler and Eduardo Nunez did damage. The Yankees got nothing from Andrew McCutchen (2-for-15) and nothing from Brett Gardner (0-for-8 with three walks). Didi Gregorius had one hit in the first three games before getting two last night. Luke Voit, Miguel Andujar, and Gleyber Torres combined for zero extra-base hits in 42 plate appearances. That is no way to try to win a postseason series. Contenders are so good and so deep these days that you can't just rely on your Aaron Judge to carry the team through October. You need contributions from up and down the lineup, and even from the bench guys. I've said this more times than I care to count over the years: You need to get unexpected contributions to win a championship. In any sport, not just baseball. The Yankees didn't get any.
4. Gary Sanchez's rad as hell three-run home run against Eduardo Rodriguez in Game Three was the last home run the Yankees hit in the series. They got just two extra-base hits in Games Three and Four (both doubles). That is the single biggest reason they lost the series. Boone was atrocious and so were the starting pitchers, but you're not beating the Red Sox with singles and walks. You need to bang the ball around — especially in two extra-base hit friendly ballparks like Yankee Stadium and Fenway Park — and the Yankees did not do that outside Game Two. It wasn't a strikeout issue either. The Yankees struck out four times last night. They struck out eleven times in 68 plate appearances in Games Three and Four, or 16.2%. Making contact was not really a problem. Quality of contact was. The Yankees put 18 balls in play against Rick Porcello last night. Look at the pitch locations and exit velocities: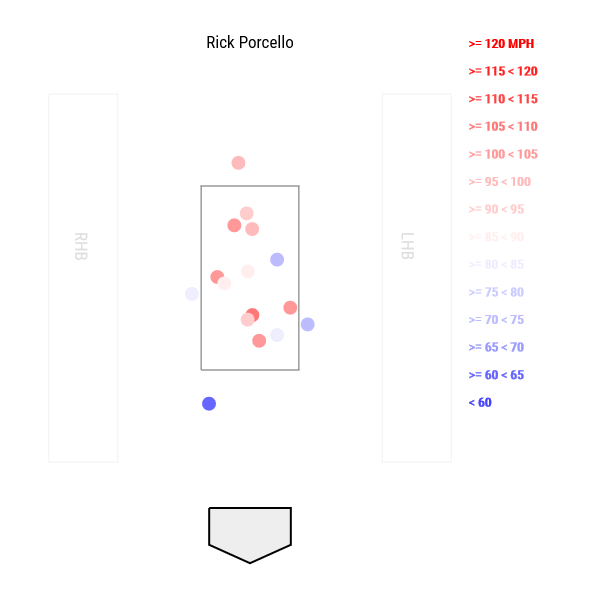 Not good. Not good at all. Outside Game Two (and even in Game Two, to some degree), there were a lot of hittable pitches out of the plate that were beat into the ground or turned into pop-ups and lazy fly balls. Simply put, the BoSox did a much better job capitalizing on mistake pitches than the Yankees. Credit the Red Sox. They kept the Yankees off-balance pretty much the entire series. But yeah, the Yankees turned a lot of hittable pitches into poor contact, hence the lack of extra-base hits, hence the four-game ouster.
5. One thing we learned this postseason is the Yankees trust Sanchez defensively but they do not trust Andujar defensively. Gary caught every inning the Yankees played this postseason. Andujar started four postseason games and was replaced by Adeiny Hechavarria in the sixth inning (!) in the two games the Yankees won. (He played the entire game in the two losses because the Yankees needed his bat.) When is the last time you saw a player pulled for defense in the sixth inning? I don't think I've ever seen it. I'm not exactly a seasoned BBWAA veteran, but I've never seen a player take as much pregame infield work as Andujar. He is out there taking grounders day after day after day. His shoddy defense is not the result of a lack of work. The Yankees say they believe in his talent and that's great. Actions speak louder than words though, and, in the most important games of the season, Andujar was yanked for defense in the sixth — sixth! — inning. Sanchez, meanwhile, was the man behind the plate all postseason. The Yankees fully acknowledging his blocking is an issue. They praise Sanchez for everything else he does behind the plate though. The way these two were handled this postseason was telling. One player has the team's trust despite an obvious flaw while the other guy couldn't have been pulled from games fast enough.