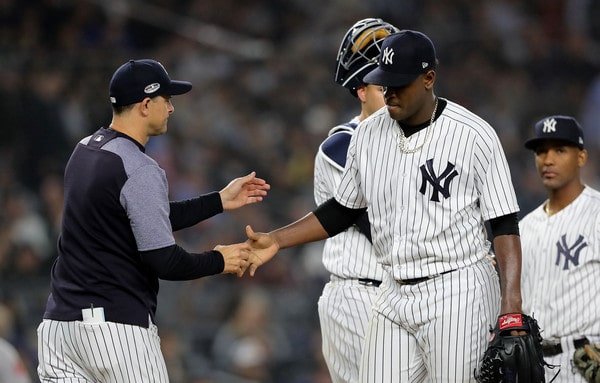 Thanks to a managerial calamity (calamities, really) in ALDS Game Three last night, the Yankees are down 2-1 in the best-of-five series against the Red Sox. Tonight they play for their season. The Yankees have already won one elimination game this postseason (Wild Card Game). Can they make it two? Geez, I really hope so. Let's get to some thoughts.
1. The Yankees hired a zero experience manager knowing the risks and it blew up in their faces last night. I can't help but think back to Game Two. David Price was getting rocked, so Red Sox manager Alex Cora got him out of there in the second inning with the Red Sox down 3-0. Price didn't have it, it was obvious, and Cora took him our early enough to give the offense a chance to get back into the game. Then, last night, Severino was getting hit hard and the Yankees were down 3-0, and Boone sent him out for the fourth inning. One manager — the one with prior coaching and postseason experience — acted quickly and gave his team the best chance to get back into the game. The zero experience manager was far too slow to react and get a struggling pitcher out of there. The Yankees are very analytical. I noted the other day how they use data to set matchups. But the game also requires feel and the ability to adjust, and Boone showed none of that last night. Severino was getting creamed. We all saw it. Yet he remained in the game. Far too many times this season Boone stuck with his starting pitcher too long and got burned. Now it contributed to a postseason loss. That can't happen. He has to be better. And if the Yankees lose tonight and their season ends after that game, the decision to hand the keys to a win-now team to a zero experience manager will come under more scrutiny than ever before. And it will be entirely deserved. That was as poorly managed a game as you'll ever see.
2. So people really think Severino didn't know what time last night's game started, huh? I can't believe this is a thing. Apparently Ron Darling mentioned something about Severino warming up late during the TBS broadcast and it turned into a big thing. Severino, Boone, and Larry Rothschild were all asked about it after the game and all of them said Severino went through his usual warm-up routine. Let's just take a step back and think about this for a second. One of two things happened here. Either everyone involved in on-field matters (players, coaches, trainers, etc.) neglected the tell the starting pitcher what time the game began, and said starting pitcher did not notice everyone else going through their normal pregame routine (stretch, catch, batting practice, etc.), or one announcer who doesn't cover the team regularly doesn't know Severino's routine. What's the more likely outcome here? Exactly. I feel like we're really stretching the limits of plausible explanations here. Severino stunk last night. He stunk against a great team after having a second half full of stinkers. Last night wasn't exactly the most unpredictable thing in the world, you know? Severino getting rocked seemed like a distinct possibility going into the game. All this about his warm-up really feels like grasping at straws. Seems like everyone is making excuses except Severino and the Yankees.
3. For the first time this postseason, Aaron Judge failed to hit a home run and failed to reach base at least three times last night. He went 1-for-4 with a single and his postseason batting line is all the way down to .500/.555/1.125 through four games. It took them long enough, but the Red Sox finally started going after him with elevated fastballs last night. Here are the pitches and pitch locations he's seen so far this series (click to embiggen):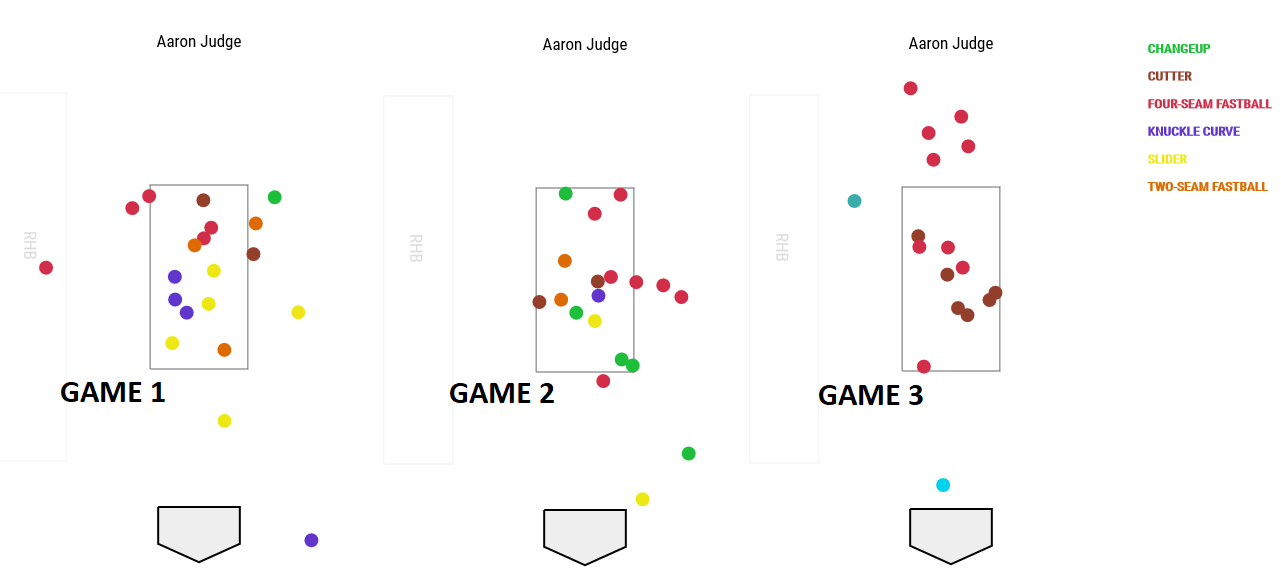 Perhaps it comes down to personnel? The Red Sox didn't elevate fastballs against Judge in Games One and Two because they didn't have the right guys on the mound? Seems like Chris Sale would be able to elevate his heater, though he's something less than his Cy Young caliber self at the moment, so maybe getting his diminished fastball above the zone won't work. Whatever it is, Judge finally saw some high heaters last night, and it's not a coincidence he had his worst game of the postseason. Rick Porcello will be on the mound tonight and he's another guy who will work up in the zone and above the zone with his heater. Judge is going to see more of them tonight. Hopefully he recognizes those high fastballs and lays off, and makes Porcello come in the zone.
4. I wonder whether J.A. Happ will factor into tonight's game. The bullpen is going to be short because Chad Green and Jonathan Holder threw so many pitches last night — again, I can't stress enough how terrible Boone was last night, that was inexplicable — and Happ threw only 44 pitches in Game One. I'm not sure when the Yankees would use him in relief, but, in an elimination game, it has to be all hands on deck. The Yankees could use Happ tonight and start Masahiro Tanaka in a potential Game Five on normal rest. The master plan is probably something like CC Sabathia for three or four innings, Dellin Betances for two innings, David Robertson and Zach Britton for potentially two innings each, then Aroldis Chapman. Happ might be the next man out of the bullpen after them. I don't think he'd be one of the first guys out of the bullpen, even if Sabathia gets knocked out in the first or second inning. I think (hope) Boone would go to his A-relievers to keep things close in an elimination game.
5. The Yankees need a couple dudes to get going at the plate. Andrew McCutchen, for one. He is 2-for-14 (.143) with no walks in the series. Didi Gregorius is another. He is 1-for-10 (.100) with a sacrifice bunt against the Red Sox. (Didi was obviously trying to bunt for a hit last night and settled for the sacrifice.) Also, Miguel Andujar. He is 1-for-9 in the three games. This is baseball, you're not going to have all nine guys clicking at one time, but those are three pretty important hitters! McCutchen is the leadoff guy, Gregorius is the only real left-handed threat in the lineup with Aaron Hicks is out, and Andujar is the sneak attack "make loud contact on anything" guy who helps make the bottom of the lineup dangerous. These things can turn around in an instant, especially for guys as talented as McCutchen and Gregorius and Andujar, but yeah, the Yankees need them to start contributing and soon. As in tonight. Aaron Judge and Luke Voit can't do it all themselves.