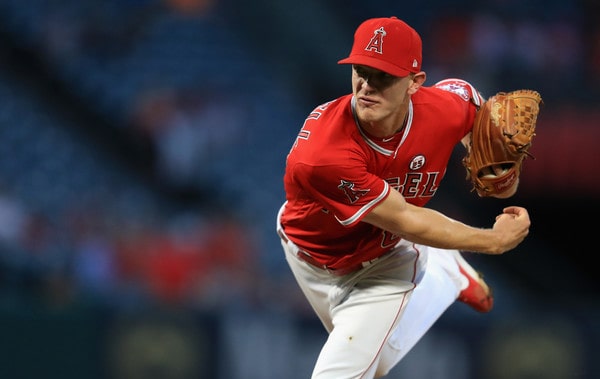 The Toe-night Show is no more. This afternoon the Yankees announced they have claimed right-hander Parker Bridwell off waivers from the Angels, and, to make room on the 40-man roster, Ronald Torreyes has been designated for assignment. Aw geez.
Bridwell, 27, had a decent year with the Halos in 2017, throwing 121 innings with a 3.64 ERA (4.84 FIP). His strikeout (14.8%) and ground ball (38.1%) rates were not good though. This past season Bridwell allowed 40 runs in 34.2 innings between Triple-A and MLB before surgery to remove loose bodies from his elbow ended his season in June. As best I can tell, he's expected to be ready for Spring Training.
I assume the Yankees claimed Bridwell because he's a spin rate guy. The performance and recent elbow surgery certainly don't stand out, after all. His fastball (2,433 rpm), curveball (2,821 rpm), and cutter (2,525 rpm) have all shown comfortably above-average spin rates in his relatively brief MLB career, and I guess the Yankees believe he can be better with a healthy elbow.
As for Torreyes, everyone's favorite utility guy went up-and-down in 2018, hitting .280/.294/.370 (78 wRC+). The non-tender deadline is this Friday and I kinda had a feeling Torreyes might lose his 40-man spot, so much so that I wrote about it for tomorrow's thoughts post. Here's that now defunct blurb:
One more potential non-tender candidate: Ronald Torreyes. Torreyes is projected to make $900,000 through arbitration next year and that's not much in the grand scheme of things. It also might be more than the Yankees are willing to spend on an up-and-down utility guy with Tyler Wade, Thairo Estrada, Hanser Alberto, and Tim Locastro also on the 40-man roster and Go Urshela in Triple-A. Torreyes is a quality utility guy. Nothing more, nothing less. He puts the bat on the ball and he can play the three non-first base infield positions competently. His ceiling is limited because he has no power, doesn't walk, and doesn't steal bases. Wade is a better defender and a better runner. Thairo has more thump in his bat. Alberto and Urshela are much better glovemen. Locastro is more versatile and a better runner. Torreyes is very popular in the clubhouse but that didn't stop the Yankees from sending him to Triple-A multiple times this year. I'm not sure non-tendering him and re-signing him to a minor league contract is possible — another team could swoop in with a guaranteed Major League contract and an easier path to big league playing time — but, if there's a 40-man roster crunch, Torreyes could get non-tendered. The Yankees are fairly deep in up-and-down utility infield types and Torreyes is the most expensive (and least tooled up) of the bunch. A non-tender wouldn't be a popular move but it could happen. (As for the clubhouse, if the Yankees can't overcome the loss of Torreyes, then they have much bigger problems than losing a utility infielder.)
Hopefully Torreyes clears outright waivers and remains in the organization as a non-40-man player. Cheap utility guys have a tendency to get claimed on waivers though, especially when they have minor league options remaining (Torreyes does) and have shown they can be effective at the MLB level. Hopefully Torreyes clears. I don't think it'll happen though. Sucks.
Bridwell, meanwhile, is out of minor league options, meaning he can't go to Triple-A without passing through waivers. The Yankees have quite the collection of out-of-options fringe starter/reliever types in Bridwell, Domingo German, Luis Cessa, and A.J. Cole. I'm curious to see how this all shakes out. It wouldn't surprise me to see Bridwell wind up on outright waivers at some point as the Yankees see whether they can keep him as a non-40-man guy.