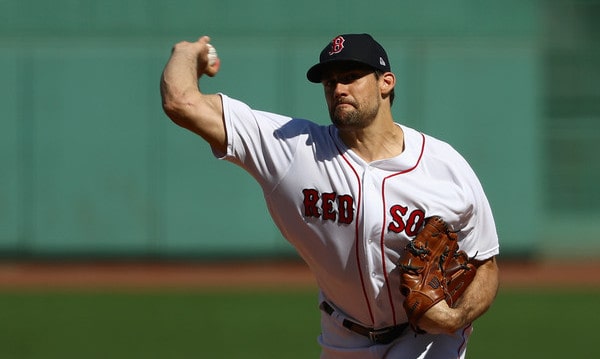 Another free agent starting pitching option has come off the board. According to multiple reports former Yankee Nathan Eovaldi has agreed to a new deal to return to the Red Sox. It's said to be a four-year contract worth approximately $17M per season. We haven't even reached the Winter Meetings yet and already Eovaldi and Patrick Corbin have signed.
The Yankees were never seriously connected to Eovaldi this offseason. A few weeks ago it was reported they were not among his early suitors, then, earlier this week, the Yankees were said to have "engaged" Eovaldi, presumably after they learned they were out on Corbin. Eovaldi was linked to the Red Sox more than any other team this offseason. The Astros were also said to be in the mix.
Personally, passing on Eovaldi was an easy decision for me. I like the guy and I'm glad he got paid after all he's dealt with in his career. But a two-time Tommy John surgery guy who lives and dies with max effort velocity is risky as hell. More risk than I'm willing to assume at that price. Also, the "this enigmatic pitcher has figured it out!" profile is fool's gold more often than not.
With Corbin and Eovaldi off the board, the three best free agent starters still on the market are J.A. Happ, Dallas Keuchel, and Charlie Morton. The Yankees have been connected to Happ all offseason. Keuchel and Morton, not so much. The Yankees still have an open rotation spot even after re-signing CC Sabathia and trading for James Paxton. How they plan to fill it is anyone's guess.