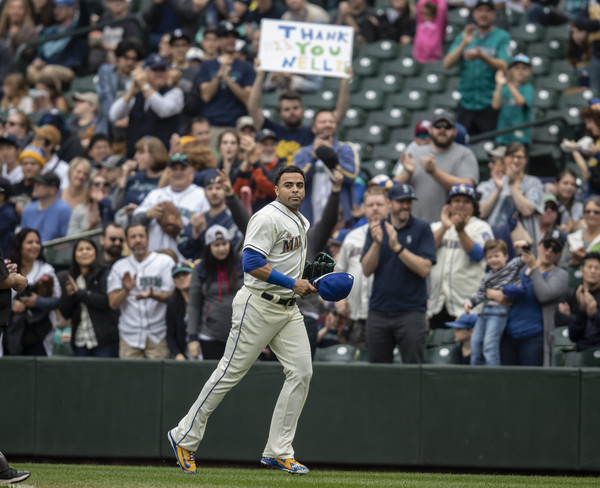 The off-season has slowed to a crawl, and isn't likely to pick back up until the New Year. With that in mind, I wanted to write a bit about a player that makes a great deal of sense for the Yankees under a specific set of circumstances. Those being:
They are willing to go over the luxury tax threshold.
They either miss out on or choose not to pursue Bryce Harper and/or Manny Machado.
They are willing to start Giancarlo Stanton in left field.
I don't know the likelihood of any of these scenarios coming to bear – aside from my pessimistic certainty that neither Harper nor Machado is in the cards – but there's not much else to think about until more chips start falling. So, with that in mind, how would a full-time, big-bopping DH fit into the lineup?
Let's talk about Nelson Cruz.
Background
The 38-year-old Cruz was a late bloomer, having signed by the Mets out of the Dominican Republic as an 18-year-old with no fanfare, and staying in the Dominican Summer League for three full years. The Mets sent him to the A's in 2000, and he was stuck in the low minors for another three years, before breaking out across High-A and Double-A in 2004. Despite his robust .326/.390/.562 slash line in 2004, the A's dealt him to the Brewers for one year of utilityman Keith Ginter that off-season.
Cruz performed well in the upper minors for the Brewers (.289/.385/.537), but was dealt to the Rangers at the following trade deadline. He was an up-and-down guy for Texas for two years, before finally landing a full-time gig with the team in 2009 – his age-28 season. Cruz has been one of the premiere right-handed power hitters in the game from that point forward, with the lone black mark on his record being his 2013 PED suspension.
Offensive Performance
Cruz just wrapped-up a four-year, $57 MM deal with the Mariners, and that's as good a sample size as any:
| | AVG/OBP/SLG | wRC+ | HR | K% | BB% | BABIP |
| --- | --- | --- | --- | --- | --- | --- |
| 2015 | .302/.369/.566 | 158 | 44 | 25.0% | 9.0% | .350 |
| 2016 | .287/.360/.555 | 148 | 43 | 23.8% | 9.3% | .320 |
| 2017 | .288/.375/.549 | 147 | 39 | 21.7% | 10.9% | .315 |
| 2018 | .256/.342/.509 | 134 | 37 | 20.6% | 9.3% | .264 |
It's almost metronomic, isn't it? Cruz's 2016 and 2017 are virtually identical, his walk and strikeout rates are steady, and the range in his ISO across these four seasons is a scant .016. That's what you want in a middle-of-the-order bat. Of course, the issue of 2018 being a comparatively down year for Cruz cannot be ignored, nor can the fact that he's 38. So is there anything out there that shows that 2018 was a fluke, and not age-related?
Why, yes, there is:

Cruz's exit velocity, launch angle, and hard-hit percentage were all comfortably above league-average last year. Moreover, all three were right around his previous norms – if not a tick above. In fact, his 93.9 MPH exit velocity was the second-best mark in all of baseball. As a result of this, his expected wOBA (or xwOBA) 34 points higher than his actual mark. And, while these metrics aren't perfect, it seems to indicate that Cruz's bat hasn't lost any of its thunder just yet.
Defensive Performance
Cruz is a designated hitter, and that's all that really needs to be said. He played a total of 54.1 innings in the outfield these last two years, and that's 54.1 innings more than he should have played.
Injury History
Cruz has been incredibly durable over the last half-dozen years or so, only hitting the DL once since the beginning of 2012. And, while that happened last year, it was the result of him slipping down the dugout steps. He has been banged-up, of course, but he averaged 152 games per season with the Mariners. Cruz's age may make him more of an injury risk, but letting him sit between at-bats mitigates that fear at least a bit.
Contract Estimates
FanGraphs and MLB Trade Rumors both project a two-year deal worth around $15 MM per season. His market is limited to American League clubs, which might make him more likely to settle for a one-year deal, or an incentive-laden screed with a vesting option. And there are no qualifying offer considerations here, which helps.
Does He Make Sense for the Yankees?
Assuming the above criteria are in-play, then yes – absolutely. Cruz is a lock to take a short-term deal due to his age and lack of versatility, and he has been nothing but terrific over the last several years. He's right-handed, which further skews the lineup … but I genuinely don't believe that matters. He has no disconcerting platoon splits, and, given that Safeco is hell on right-handed power hitters, he might even improve in another park. I fully believe in Cruz's ability to be an offensive juggernaut for another year or two.
And, you know what: I think he makes sense if the Yankees are blowing past the tax and signing Machado to play SS and/or 3B, I'd still want to see Cruz in-play. You can never have enough quality bats.
Update (10:32am ET): Well, so much for that idea. Cruz has agreed to a deal with the Twins, according to multiple reports. Jon Heyman says Cruz will earn $14M in 2019 with a $12M club option ($300,000 buyout) for 2020, so that's $14.3M guaranteed.