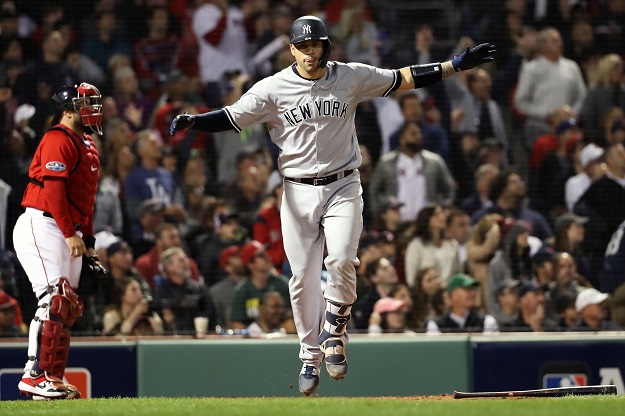 It's hard to believe that we're nearly there–kind of. Spring Training is mere weeks away despite how long and gruelingly slow this offseason has felt. Pitchers and catchers reporting, the beginnings of real workouts, intrasquad games, and even Grapefruit League games can feel anticlimactic once those moments hit, but at this point, we're starved for any baseball action and those'll certainly do. With this time of year also come projections. Right now at FanGraphs, Steamer projections for the 2019 season are live. Let's take a look at how the Yankees' infielders stack up against the rest of the league. Standard caveat applies: projections are not predictions.
Catcher
Gary Sanchez had a bad year in 2018, especially considering his talent level. There were signs of underperfomance that could be corrected, though, and he was injured for a good portion of the year. A bounceback is certainly in order, and Steamer sees one. It projects him for a .245/.322/.480 line, good for a .342 wOBA and 115 wRC+. In terms of counting stats, it sees him with 27 homers in 483 PA. At first glance, that slash line seems a bit low considering his talent level, but when we consider last year, his injuries, etc., it makes a bit of sense. More encouragingly, that is the best projection for any AL catcher. Steamer has Gary leading AL catchers in just about everything: HR, RBI, SLG, wOBA, wRC+, and fWAR.
First Base
The two most insecure spots in the Yankee lineup are the neighbors, first base and second base. That isn't to say there isn't upside or talent there, but they're big question marks. At first base, the question is likely "Who's going to play there?" The two main candidates are Luke Voit and Greg Bird. In Steamer's eyes, Voit will get more playing time there with 389 plate appearances and Bird garnering 190. The system projects both to be above average–a 115 and 103 wRC+ respectively–with a combined 24 homers and a total of 1.4 fWAR: 1.2 from Voit and 0.2 from Bird.
Second Base
The second base question is one Mike took a stab at earlier in the week in examining the Yankees' newest acquisition, D.J. Lemaiheu. Steamer says a .269/.333/.388 line, good for a 97 wRC+. That's…fine? It's probably lower than what the Yankees expect, given the contract they gave him and some of the underlying data. If that's what he ends up with, I'd be okay with it–can't quibble with that average and OBP, really, especially if his defensive contributions continue to be stellar.
Steamer also categorizes Gleyber Torres as a second baseman and projects him at .257/.328/.439: a .330 wOBA and 107 wRC+. That seems underwhelming, but remember our caveat: it's not a prediction, but more a baseline from which he can go up or down. It's also worth noting that, like Sanchez, Steamer projects Torres to lead AL 2B in both wOBA (tied with Jonathan Schoop) and wRC+.
Shortstop
The most surprising thing about the shortstop projections is that they see Troy Tulowitzki getting 302 PA. And they're relatively productive–a .318 wOBA and 99 wRC+. If you told me that Tulo would get that many PA, I'd assume he was really ripping the cover off the ball in addition to being healthy. But with a bit more thought, 302 PA of league average production out of him would be more than welcome.
Steamer also takes a stab at Didi's shortened season and sees him with 54 games and 221 PA of 104 wRC+ hitting. Between him and Tulo, that's 532 PA of slightly above league average hitting from the shortstop position. Given the tenuousness of the situation–a reclamation project and an injured star as the options–that's pretty encouraging.
Third Base
For whatever reason, Steamer sees Miguel Andujar as only racking up 545 PA this year, but they're a productive 545 PA: .341 wOBA, 115 wRC+, 23 homers, and 28 walks (only 25 last year). That's a really good jumping off point, especially for a second year player. It doesn't look as great compared to other third basemen, considering Jose Ramirez, Alex Bregman, and Matt Chapman all play there, but all-in-all, I'd take that from Andujar every time. His defensive projection (-9) is the worst among everyone who'll actually play third (Nick Castellanos won't see much hot corner action anymore) and that limits his fWAR projection to just 2.0.
Overall
While this is a far cry from the 2009 infield, it's still good enough. A bounceback from Sanchez will go a long way towards making it look good, as will progression/maintenance from Torres and Adujar. I'd be lying if I said I weren't concerned about the right side and shortstop, though, and hopefully the Yankees can patch things together there. The outfield (and DH)–which we'll examine at another time–should help carry the softer spots in the infield, though, and overall, I'm not worried about how this team will hit.