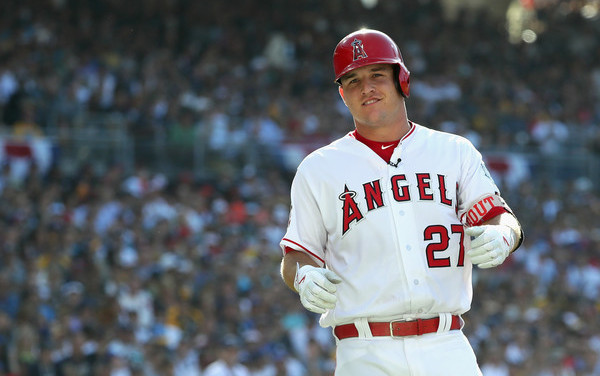 According to Jeff Passan, the Angels and Mike Trout are nearing a record 12-year extension worth $430M. It is ten years and $363.5M on top of the two years and $66.5M remaining on his current contract. This is easily the largest contract in baseball history, breaking Bryce Harper's record.
Here are the six largest contracts in baseball history:
Mike Trout, Angels: 12 years, $430M
Bryce Harper, Phillies: 13 years, $330M
Giancarlo Stanton, Marlins: 13 years, $325M
Manny Machado, Padres: 10 years, $300M
Alex Rodriguez, Yankees: 10 years, $275M
Nolan Arenado, Rockies: 8 years, $260M
Four of the six were signed within the last month or so, which I'm sure some will say is evidence baseball is just fine economically. In other news, the Yankees signed a league average starter who's thrown at least 170 innings in eight of the last nine seasons to a minor league contract yesterday.
Trout's contract reportedly includes no opt-outs and, if it doesn't include no-trade protection, he's less than three years away from picking up five-and-ten rights. Who knows how things will play out over the next 12 years. It sure seems like this contract will keep Trout in Anaheim the rest of his career though, and that's pretty cool.
At age 27, Trout is already a slam dunk Hall of Famer, having hit .317/.416/.573 (172 wRC+) with 240 homers, 189 steals, and +64 WAR in parts of eight big league seasons. Last season was maybe his best ever (.312/.460/.628 and 191 wRC+) and he still has multiple peak years remaining. He is very deserving of this contract.
The Trout extension doesn't have much impact on the Yankees other than taking away a potential free agent target in two years, so this is a pretty good reminder that you should sign acquire elite talent while you can. I don't believe the Yankees passed on Harper and Machado now because they wanted Arenado or Trout later. I'm just sayin'.