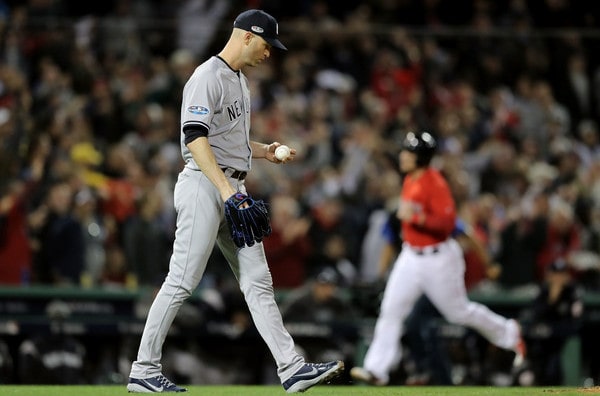 It doesn't get much better than last night's breezy 8-0 win, huh? Another one of those tonight would be just dandy. Sweeping Boston in this two game mini-series would alleviate some of the early season frustrations.
After punishing Chris Sale last night, the Yankees will face another one of Boston's scuffling starters: Nathan Eovaldi. Ex-Yank Nasty Nate has been nowhere nearly as good as he was for the Red Sox last season and has coughed up six homers in just fifteen innings this year.
On the flipside, it hasn't been much better for J.A. Happ, who counters for the Yanks. He finished last year with a dud against Boston in the postseason and now he's struggled out of the gate. Happ has yet to record more than 13 outs in a start this season and has surrendered four dingers in just over twelve innings of work. If recent trends hold for both starters, we won't have a repeat of last night's two hour, twenty three minute affair. Here are tonight's lineups:
New York Yankees
1. CF Brett Gardner
2. RF Aaron Judge
3. 1B Luke Voit
4. SS Gleyber Torres
5. 2B DJ LeMahieu
6. DH Clint Frazier
7. LF Mike Tauchman
8. 3B Gio Urshela
9. C Austin Romine
LHP J.A. Happ
Boston Red Sox
1. RF Mookie Betts
2. SS Xander Bogaerts
3. LF J.D. Martinez
4. 1B Steve Pearce
5. DH Mitch Moreland
6. 2B Dustin Pedroia
7. 3B Rafael Devers
8. C Christian Vazquez
9. CF Jackie Bradley Jr.
RHP Nathan Eovaldi
It's been a gorgeous day in New York and that'll continue into this evening. No rain to worry about interfering with the game. First pitch is at 6:35pm ET and you can watch on YES locally and ESPN nationally. Enjoy the ballgame.