Ten questions in this week's mailbag. Only two more of these to go until Opening Day. Send all your mailbag questions to RABmailbag (at) gmail (dot) com and I'll get to as many as I can each week.
Many, many people asked: What do you make of Sonny Gray saying the Yankees forced him him to throw his slider?
Earlier this week Eno Sarris (subs. req'd) wrote a piece on Gray in which Sonny, among other things, said the Yankees made him throw too many sliders. He indicated he was on board with the anti-fastball philosophy, but felt he should've thrown more curveballs than sliders. Here's part of the quote:
"I can't command my slider that well," the new Reds starter admitted. "I want to throw my slider in the dirt with two strikes, and that's about it. I don't have that type of slider, like (Masahiro) Tanaka's slider. His slider, the catcher will catch it, and the batter will swing and miss. If I get a swing and miss, the catcher is blocking it in the dirt. When I try to throw sliders for a strike, I get around it and it's just a sh*tty spinning pitch. I don't know how people throw sliders for strikes that are still tight, good pitches. I'm at 2-0 and I'm throwing a slider, and either I'm throwing a sh*tty slider in the zone, or I'm yanking it into the dirt and it's 3-0 and I'm screwed either way.

"They love sliders," he said of the Yankees. "Sliders are a great pitch. The numbers say slider is a good pitch, but you might not realize how many sh*tty counts you're getting in while throwing all those sliders. They wanted me to be Tanaka and I'm way different from him."
Brooks Baseball says Gray threw more curveballs (23.7%) than sliders (15.9%) last season, which doesn't jibe with the whole "I should've been throwing curveballs, not sliders" thing. That curveball rate was his highest since 2014 and the slider rate was right in line with his last few seasons. To be fair to Sonny, he throws several different variations of each pitch, which will sometimes confuse the pitch-tracking systems. Occasionally curveballs will be classified as sliders, sliders will be classified as cutters, so on and so forth.
On one hand, I'm inclined to believe the pitcher in these situations. If a guy says he's throwing a slider but the pitch data says it's a curveball, it was probably a slider the system misclassified. On the other hand, Gray also said this …
"In my very last outing against the Red Sox, second to last game of the season in New York, I threw two innings out of the pen, all I did was throw cutters," Gray said. "I said, 'F*ck 'em, all I'm going to do is throw cutters today.' I just threw 94-mph cutters — six up, six down, four punchies, and I thought maybe I'll make the postseason roster here … but I didn't."
… and literally every part of that is wrong (well, except not making the postseason roster). The game was in Boston, not New York. He did not go six up, six down (he allowed a hit). He did not strike out four batters (he struck out three). And he sure as hell did not throw all cutters. Brooks Baseball says he didn't and my eyes say he didn't. Here's the video of that outing. Watch for yourself. "All I did was throw cutters," is definitely not a thing that happened. Seems like Sonny's memory is a little foggy. Maybe take his recollection of things with a grain of salt.
Gray's home/road splits were extreme last season and his curveball/slider split was not meaningfully different at home (24.2%/13.8%) than on the road (25.5%/16.3%). Maybe he only threw that "sh*tty spinning pitch" at Yankee Stadium and saved the good pitches for the road? Eh, whatever. The article focused mostly on what Gray will do going forward, not dumping on the Yankees, but it sure seems everyone is to blame for Sonny's poor 2018 season except Sonny Gray. Aaron Boone and Brian Cashman both took the high road when asked about Gray's comments and that's exactly what they should've done. A trade was the best thing for everyone. This wasn't working.
Michael asks: We always said once we saw what Harper got, Stanton's deal would be a steal. In retrospect, wouldn't you rather Harper on his deal than Stanton on his? I know it doesn't have to be one or the other, but the reality is that that's how the Yankees viewed it.
I would rather have Bryce Harper on his deal than Giancarlo Stanton on his deal, yes. I assumed Harper would wind up with something like $35M per year or even $40M per year. He wound up with $25.4M per year. These are the two choices:
Harper: 13 years at $25.4M annually (ages 26-38)
Stanton: 9 years at $22M annually (ages 29-37)
The Yankees did get a pretty darn good 2018 season from Stanton, which can't be ignored. Going forward though, yeah, I'd rather have Harper. The difference in annual salary is relatively small, they'll be roughly the same age when the contracts end, and you're getting Harper's age 26-28 seasons. Those are three peak seasons with big value. If they were the same age, I'd take Stanton on his deal, for sure. They're not though. Harper's contract is four years longer but it also comes with three more peak years. Those are the years I want. That isn't to say I think Stanton will be bad going forward. Not at all. I just expect Harper to be the better player.
Michael asks: Going into 2019, who is the hardest to replace, and therefore most valuable, Yankee? I think there is an argument to be made for a number of players: Judge (talent and production level); Sanchez (position drop-off); Gleyber (most stable MIF option); Severino (unquestioned leader of staff); Hicks (CF defense)?
It's Aaron Judge. The Luis Severino injury will test this, and Gary Sanchez returning to 2016-17 form would make him essentially irreplaceable, but I still think it's Judge. He is the Yankees' best hitter and best all-around player. Yes, the Yankees would plug Giancarlo Stanton into right field should Judge get hurt, but Stanton would not be replacing Judge. Both guys will be in the regular lineup anyway. Judge's replacement is whoever joins the roster. Maybe Stanton in right field with Greg Bird at DH, or Miguel Andujar at DH and DJ LeMahieu at third, softens the blow. Judge is one of the ten best players in baseball though. He impacts the game in so many ways. Losing him for any length of time would be devastating. We saw it last year. The Yankees weren't the same without him. Severino, Sanchez, and Aaron Hicks have arguments for being the most difficult Yankee to replace. Judge stands out the most.
Jon asks: When you wrote your candidates for leadoff hitter post a couple months ago, I'm not sure if the Yankees had signed LeMahieu yet. Now that he's a Yankee and they've indicated he's more than likely an every day player (as mapped out recently), does he have a shot at the leadoff role?
The Yankees signed DJ LeMahieu four days after that post when up. Anyway, if he hits enough, every player has a shot at the leadoff role. In LeMahieu's case, I think the Yankees would only use him at leadoff against lefties, at least initially. He hit .330/.360/.540 (124 wRC+) against lefties last season and .249/.303/.373 (67 wRC+) against righties. His career platoon split is not that extreme (104 wRC+ vs. 84 wRC+) but it is significant. Unless he suddenly starts hitting righties, LeMahieu's probably not the guy the Yankees want getting more at-bats than everyone else against right-handed pitchers. Against lefties, sure, bat him leadoff. I'd definitely say no against righties unless he's hitting so much you can't ignore it.
Ralph asks: Let's turn this little blurb you guys mentioned in the Devil's Advocate: The Yankees were smart to pass on Manny Machado and Bryce Harper article into a legit question: I mean, seriously, when's the last time the Yankees traded away a player they truly miss? I can't remember.
The answer is Andrew Miller. The Yankees haven't gotten much impact from that trade yet — Clint Frazier seems poised for a breakout season and Justus Sheffield became James Paxton, though the Miller trade hasn't helped the Yankees much to date — whereas Miller was a championship-caliber high-leverage reliever for a year and a half with the Indians. (Last season didn't go too well.) I don't think the Yankees would undo that trade. From 2016-18 though, they would've been better off with Miller than Frazier and Sheffield (and Ben Heller and J.P. Feyereisen).
Miller was an established big leaguer and the Yankees trading a well-above-average big leaguer for prospects is quite the rarity. The last young player or prospect the Yankees regretted trading away was … Yangervis Solarte? Jake Cave and Ben Gamel are useful pieces who would help the Yankees more right now than the guys they traded them for (Luis Gil, JP Sears, Juan Then), but those guys are fourth outfielders. Meh. Someone like Sheffield, Caleb Smith, Taylor Widener, Nick Solak, Billy McKinney, or Blake Rutherford could become the "one who got away" in time. As best I can remember, the last time the Yankees made a truly terrible trade they regretted for a long time is Tyler Clippard for Jonathan Albaladejo. Now that was a dud of a trade.
Juan asks: Luis Cessa and Tommy Kahnle. Since both are out of options, does it make sense to trade them for similar, lesser-established pitchers with remaining options? Perhaps we could even receive a lottery prospect or two in the deals?
This question was sent in before the Luis Severino injury. The Yankees have to hang on to Cessa as rotation depth for the time being now. In Kahnle's case, trading him for a minor leaguer — the Yankees have been trading these fringe roster guys (Ben Gamel, Jake Cave) for far away rookie baller pitchers (Juan Then, Luis Gil) the last few years, which is what I assume would happen with Kahnle — and going with someone like Stephen Tarpley in the bullpen might make some sense. The thing is, I don't think Cessa or Kahnle have much trade value right now, so the best move is probably hanging on to them and seeing what happens. Kahnle rediscovering his 2017 form would be more valuable to the Yankees than anything he could fetch in a trade. Flipping Cessa or Kahnle for a similar pitcher with options is a great idea, except the other team has a say in this, and they'd probably just hang on to the optionable pitchers. That extra roster flexibility has real value.
Doug asks: I noticed at Tuesday's spring training game that Gary Sanchez had something that seemed almost plastic on his left arm band. What is that?
It's a cheat sheet, basically. The arm band includes scouting reports and matchup info. "Pitch this guy this way." That sorta stuff. These scouting report arm bands first starting showing up two or three years ago — the Yankees were among the first teams to use it — and, by last year, pretty much every catcher around the league had one. I screen grabbed this during a game last April. Here's Sanchez sneaking a peak: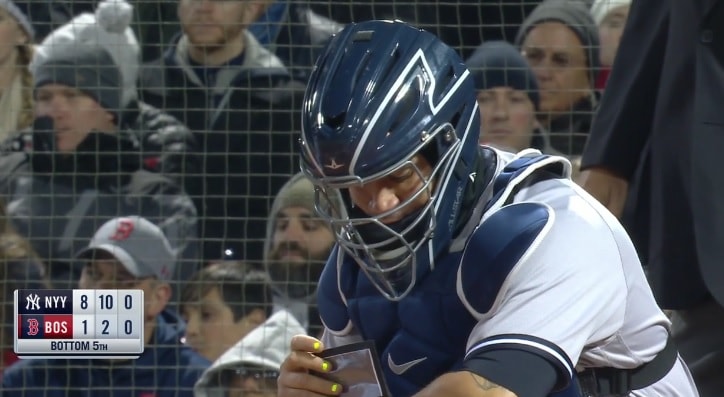 I don't remember when exactly it happened, so I can't go back to make a GIF, but I distinctly remember YES Network cameras showing Aaron Boone going out to the mound during a pitching change last year and bringing Sanchez a new arm band, so these things are personalized by pitcher. Catchers have arm bands with scouting reports, outfielders have carried cards to help them with positioning for years now, and the Yankees will give their infielders positioning cards this year as well. There is so much information in baseball nowadays that expecting players to memorize it all is unreasonable. Print it out, give them the card, then let them play.
Rob asks: In your spring training game threads, you list the starters and the available pitchers and position players. I've noticed that some position players who don't start are not listed as available, e.g. Miguel Andujar on March 6 – why is that? Can teams play everyone on any given day, or do they have to designate a subset of their players? If the latter, why?
Anyone can play on any given day in Spring Training. You don't have to be on the 40-man roster to appear in a Spring Training game. Every player is on some sort of schedule though. They play this many innings this day, go work on the backfields this day, rest this day, etc. It's all mapped out. On days they aren't scheduled to play, the big leaguers get their work in and go home. They (usually) don't sit in the dugout for the game. Whenever you see a projected big leaguer (or even someone on the MLB roster bubble) on a spring lineup card, he's playing that day. The Yankees won't make Andujar or Gleyber Torres sit on the bench as an emergency guy, or leave Dellin Betances in the bullpen as an extra arm. That's what the non-roster players and daily minor league camp call-ups are for.
John asks: Two SS's coming off of TJS – Didi and Seager. Given the choice, who would you pick for your team going forward, assuming equal contracts?
Corey Seager, easily. I'd take him at twice Didi Gregorius' next contract and I love Sir Didi. Seager is four years younger and he hit .302/.370/.497 (132 wRC+) with +12.9 WAR in his two healthy seasons (2016-17) before having Tommy John surgery last year. Didi's best single-season batting average with the Yankees is .287 (2017). His best OBP is .335 (2018). His best slugging percentage is .494 (2018) and that's as a left-handed hitter in Yankee Stadium. His best wRC+ is 121 (2018). Seager has him beat across the board. He's younger and a far superior hitter, and he's a solid defender too. I love Gregorius and I hope he's a Yankee forever. That said, I would take Seager over him in a heartbeat and not even think twice about it.
Adam asks: Although not directly Yankees related I am curious about how the luxury tax works on suspended players. I assume players do not get paid while on suspension, but do their full salaries still count against the luxury tax?
Suspended players do not get paid and the salary they forfeit does not count toward the luxury tax payroll. Alex Rodriguez was suspended 162 games in 2014 and the Yankees received 162 games worth of luxury tax payroll relief. (They did get charged for the 20 off-days though. That was $3.2M or so.) CC Sabathia has to serve a five-game suspension this year and he'll forfeit five games worth of salary, or $215,000 or so. That means his luxury tax hit will be $7.785M rather than his full $8M salary.