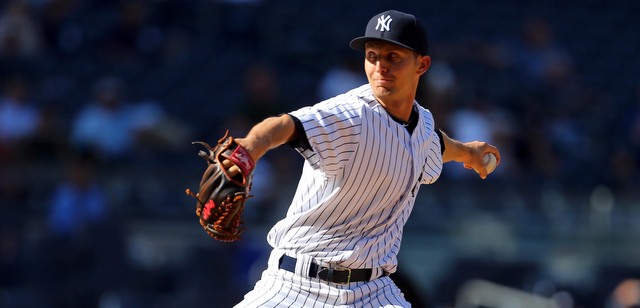 When the Yankees acquired Chasen Shreve this offseason, he was widely considered just another young, controllable power arm to provide depth possibly in the big leagues or at Triple-A. He wasn't on either the Braves or the Yankees top-10 prospect lists this winter, and even after he won a spot in the bullpen out of spring training, it was expected he'd be just a mop-up guy behind the other more established relievers on the team.
Few people could have predicted Shreve's breakout campaign and the elite numbers he's put up in the first three months: 1.87 ERA, 0.92 WHIP and .165 batting average allowed in 33 2/3 innings.
Perhaps the most impressive part of his season is the work Shreve has done in the game's most important and pressure-filled moments. He has faced 36 batters with runners in scoring position and allowed a total of four singles in those plate appearances. Of the 28 batters he's matched up with in high-leverage situations, just three have gotten hits, each of them singles. He has inherited 17 runners when the score has been within three runs, and let just two of those guys score. There's not much more you could ask for in a guy that has gradually risen in the bullpen pecking order and taken on the critical "fireman" role recently.
How could such an unheralded prospect with only a dozen major-league innings under his belt entering this season become such a valuable and trusted member of the Yankees bullpen?
The key has been the development of a nasty split-fingered fastball to complement his four-seamer and slider. It has allowed him shut down batters from both sides of the plate — righties have a .441 OPS against him — and made him into a go-to reliever regardless of the situation.
One of the reasons his splitter has been such a dominant pitch is its extreme downward movement. The splitter disappears down out of the zone as it approaches the plate, generating a ton of stupid-looking whiffs and even more worm-burning grounders. Among the 30 guys who have thrown at least 100 splitters this year, only four have gotten more drop on those pitches than Shreve.
Remember this strikeout to escape a bases-loaded jam against the Angels last month? Erick Aybar is still having nightmares…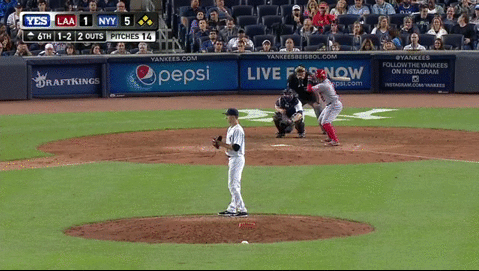 Because of that diving action, he's able to consistently locate his splitter below the knees, where batters have virtually no chance of getting any good wood on the pitch. He's thrown a ridiculous 90 percent (135 of 152) of his splitters in the lower third of the zone or below this season. Here's what that looks like, in heatmap-form: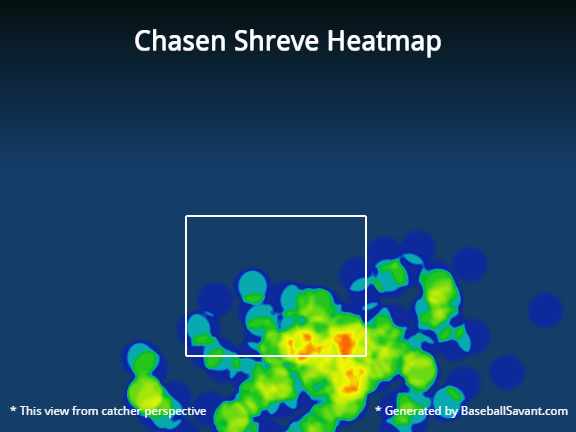 Another reason for the success he's had this season is the 9-mph separation he's now getting between his splitter and four-seam fastball, after ramping up the velocity on his heater last season when he debuted with the Braves. The improvement in his fastball has made his splitter so much more effective, because the two pitches are basically indistinguishable at their release points, but couldn't look more different to the batter when they cross the plate.
Let the numbers speak for themselves:

To say the pitch is unhittable would hardly be an understatement. He has thrown 152 split-fingered fastballs and just one of those pitches resulted in a hit: on April 10, Hanley Ramirez lined a hanging first-pitch splitter to left field for a single. That's it. Among pitchers that have thrown 100-or-more splitters this season. none have allowed a lower batting average (.029) or slugging percentage (.029) than Mr. Shreve.
Not only is the pitch unhittable, but it's also nearly untouchable. Batters have come up empty on more than half their swings against the pitch, and his whiff percentage of 53 percent is the highest among anybody that's thrown at least 10 splitters this year.
When they do manage to put it into play, it's gone nowhere: one line drive, one fly ball, three infield pop-ups, and 12 grounders. He has the highest pop-up rate, lowest line drive rate, second-lowest fly ball rate and fourth-highest ground ball rate on split-fingered fastballs in the majors this season (min. 100 pitches).
Is that good? Um … yes.
When Andrew Miller returns from the disabled list, the Yankees will have arguably the deepest bullpen in the league, capable of shutting down any lineup in baseball. And the one of the most important pieces of the puzzle — the glue that holds the 'pen together, the bridge to Betances/Miller — just might be Mr. Chasen Shreve.
From low-leverage reliever to critical bullpen arm in just a few months' time, he is now fully enshrined in Girardi's Circle of Trust™. It's hard to imagine the Yankees would be in first place on July 7 without the lanky southpaw from Las Vegas and his filthy split-fingered fastball.