Moreso than ever before, baseball is a young man's game. Contending teams and recent World Series winners (and losers) have had rosters loaded with young talent. Winning with a roster built around 30-somethings isn't as easy as it once was. Teams need those core young players and, as a result, the annual amateur draft is more important now than ever. It's still the best way to acquire impact players.
The old saying is you have to wait five years before you can best evaluate a draft class, and with the 2018 draft less than one week away, this is as good a time as any to go back five years and review the Yankees' 2013 draft class. The Yankees went 95-67 in 2012 and held the 26th overall pick in 2013. Also, they had two supplemental first round picks as compensation for losing Nick Swisher and Rafael Soriano to free agency. Time to review the 2013 draft haul. Come with me, won't you?
The Top Pick
The 2013 draft was the second draft with bonus pools, and because the Yankees had two extra picks, their $7.96M bonus pool was one of the largest in the game. There was some thought the Yankees would use that bonus money to shoot for the stars in the first round, though we now know that's not really a thing teams do in the bonus pool era. They select players they know they can sign because they don't want to lose the bonus money associated with a draft pick should they fail to come to terms.
That led the Yankees to Notre Dame 3B Eric Jagielo for their first round pick, that 26th overall selection. They'd been connected to him for weeks leading up to the draft and it was the first time the Yankees took a college player in the first round since Andrew Brackman in 2007. Baseball America (subs. req'd) ranked Jagielo as the 16th best prospect in the draft class while MLB.com ranked him 35th.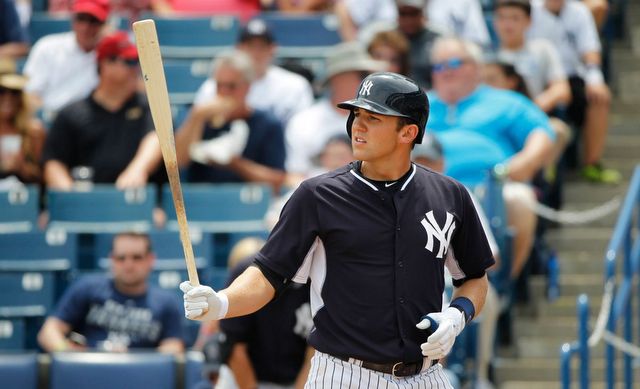 "Eric Jagielo is a physical, left-handed hitter with plus power," said amateur scouting director Damon Oppenheimer following the pick. "He performed well in Cape Cod, and shows a good combination of plate discipline and power."
The Yankees signed Jagielo quickly to a straight slot $1.84M bonus and he did exactly what you'd expect a top college bat to do in the low minors after turning pro: .264/.376/.451 (152 wRC+) with six homers in 55 games for mostly Short Season Staten Island. The Yankees sent Jagielo to High-A Tampa in 2014 and he authored a .259/.354/.460 (132 wRC+) line with 16 homers in 85 games around a rib cage injury.
The 2015 season went from very good to very bad for Jagielo. He was hitting .284/.347/.495 (141 wRC+) through 58 games with Double-A Trenton and seemingly on the cusp of a promotion to Triple-A Scranton when he jammed his knee sliding into home plate in June. Jagielo needed season-ending surgery that ultimately proved to be the end of his time with the Yankees. After that season, the Yankees sent Jagielo and three others to the Reds in the Aroldis Chapman trade.
"Jagielo is a guy we liked in the draft," said Reds president of baseball operations Walk Jocketty after the trade. "We could see him as a potential left-handed (bat) — maybe utility guy at first and third — for the first few years. He would definitely be a strong bat off the bench. Definitely a solid hitter."
For whatever reason, Jagielo's career stalled out after that. He hit .205/.305/.310 (83 wRC+) in 111 Double-A games in 2016. Last season he hit .204/.323/.291 (82 wRC+) in 103 games split between Double-A and Triple-A. Yeesh. The Reds traded Jagielo to the Marlins for cash this Spring Training — I assume former Yankees farm system head and current Marlins executive Gary Denbo had something to do with that — and he's currently hitting .246/.314/.400 (100 wRC+) at Double-A.
The bat was always supposed to carry Jagielo — his defense at third base was sketchy but playable — and, up until the knee injury, he'd performed well at every level. The Yankees included him as the centerpiece in the Chapman trade they couldn't refuse and he hasn't hit since. Jagielo hasn't worked out as a prospect. For the Yankees though, things couldn't have gone better. They used him to help start a franchise-altering series of trades.
The Franchise Player
When Swisher signed his ill-fated four-year, $56M deal with the Indians, the Yankees received the 32nd overall pick in the 2013 draft as compensation. It was the first time the Yankees held two of the top 32 picks since 1978, when they picked 18th (Rex Hudler) and 24th (Matt Winters). The Hudler pick was compensation for losing Ron Blomberg to free agency.
After using the 26th pick on the the theoretically "safe" Jagielo, the Yankees went big with the 32nd overall pick, literally and figuratively: Fresno State OF Aaron Judge. Both MLB.com (24th) and Baseball America (30th) had Judge ranked slightly higher than his draft slot. Judge was among the prospects in attendance at the draft, so he went up on stage and was introduced.
"It was unbelievable. There's so much history at that park, and to stand where legends have stood was amazing," said Judge after the draft, after the prospects in attendance — current Yankees farmhands Clint Frazier and Billy McKinney were at the draft as well — toured Yankee Stadium earlier in the day. "Hopefully in a few years, I'll get to play there and hit some out."
The Yankees happened to be out on the West Coast during the 2013 draft, so, later in the week, Judge traveled up to Oakland and took batting practice with the big league team. It was the first time Joe Girardi, the coaching staff, and the players met him.
"Judge is a big man, and obviously a great-bodied athlete who has a high upside. He can run, and he has a good work ethic," said Oppenheimer.
Alas, Judge's pro debut had to wait until 2014. He signed for an above slot $1.8M shortly before the signing deadline — the Yankees signed all their other players and shoveled their remaining bonus pool money in front of Judge, basically — then, during a workout in Tampa, he suffered a quad injury that led to the Yankees shutting him down for the remainder of the season. Sucks.
Judge started his career in earnest in 2014 and he split that season between Low-A Charleston and High-A Tampa, hitting .308/.419/.486 (158 wRC+) with 17 homers in 131 games. The Yankees sent him to the Arizona Fall League after the season for even more at-bats, and going into 2015, Baseball America ranked Judge as the 53rd best prospect in baseball. As good as Jagielo was in 2014, Judge had surpassed him as a prospect.
The Yankees had Judge split 2015 between Double-A Trenton and Triple-A Scranton. He hit .255/.330/.448 (123 wRC+) with 20 homers in 124 games, and concerns about the swing-and-miss in his game (26.7% strikeouts) caused Baseball America to drop him to 76th on their 2016 top 100 list. The Yankees sent Judge back to Triple-A Scranton to begin 2016, and he managed a .270/.366/.489 (147 wRC+) batting line with 19 homers in 93 games.
On August 13th of that season, the Yankees called Judge up to the big leagues as part of their second half youth movement. Alex Rodriguez played his final game the previous day and had been released earlier that morning. Judge took his roster spot. And, in his very first big league at-bat, he clubbed a home run off the top of the Mohegan Sun Sports Bar in center field. Judge and Tyler Austin became the first teammates in history to hit back-to-back homers in their first big league at-bats.
The rest of the 2016 season did not go well for Judge — he hit .179/.263/.345 (62 wRC+) with four home runs and a 44.2% strikeout rate in 27 games before going down with an oblique injury — and
Baseball America
dropped him to 90th on their 2017 top 100 list. It looks ridiculous now given everything Judge accomplished during his full rookie season last year:
.284/.422/.627 (173 wRC+) batting line in 155 games.
Led all players with +8.2 fWAR. Hitters, pitchers, rookies, veterans, whatever.
Set new MLB rookie records for homers (52) and walks (127) (and yes, strikeouts too, 208).
Led all AL players in All-Star Game fan voting. Also batted third in the All-Star Game.
Became the first unanimous AL Rookie of the Year since Mike Trout in 2012.
Finished second in the AL MVP voting. Was also a Gold Glove finalist too.
This year Judge is showing his jaw-dropping rookie season was no fluke. He's currently hitting .288/.422/.586 (172 wRC+) with 15 homers and is making an impact defensively as well. Just last week he threw out two runners in one game. Judge is a franchise player in pretty much every way. He's a very productive all-around player, he's humble, and he's controversy-free. As you'll see in the rest of this post, the 2013 draft has been very productive for the Yankees. But, even if they whiffed on every other pick, Judge alone would make this an A+ draft haul.
The Third First Round Pick
Swisher gave the Yankees the 32nd pick and Aaron Judge. Soriano signing with the Nationals — he didn't sign with Washington until late in the offseason and there was some thought he'd wait until after the draft to sign, when he'd be free of draft pick compensation, and thus not bring the Yankees a pick — gave the Yankees the 33rd overall pick. Soriano inked a two-year deal worth $28M.
After taking college players with their first two first round picks, the Yankees used their third first rounder on a high school player, taking California HS LHP Ian Clarkin. Clarkin was the highest ranked draft prospect among the team's three first round picks in 2013. Baseball America ranked him as the 17th best prospect in the draft class while MLB.com ranked him 18th.
Like Judge, Clarkin was in attendance at the draft, and he gained some notoriety when he said he hated the Yankees in a pre-recorded video shown after the pick was made. "I didn't like the Yankees at first, but now I love them, and my dad's going to have to learn to love them," Clarkin joked after being picked by the Yankees. Oppenheimer said the Yankees "think we got something special with him."
Clarkin signed for a straight slot $1.65M bonus and the Yankees took it easy on him in his pro debut — he threw five rookie ball innings after turning pro in 2013 — and after spending the first few weeks of 2014 in Extended Spring Training, he was assigned to Low-A Charleston. Clarkin spent most of his first full pro season with the RiverDogs — he made one spot start with High-A Tampa — throwing 70 innings with a 3.21 ERA (3.74 FIP).
It would be almost a full year before Clarkin took the mound again. He suffered an elbow injury in Spring Training 2015 — he didn't need surgery and it was vaguely described as inflammation — and missed the entire regular season. Clarkin did throw 24.2 innings in the Arizona Fall League in 2015, which, if nothing else, gave everyone peace of mind going into the offseason. The elbow was healthy.
The Yankees sent Clarkin to High-A Tampa in 2016 and he was pretty good, throwing 98 innings with a 3.31 ERA (3.26 FIP) before he caught a spike and tore his meniscus, ending his season in July. Womp womp. Clarkin came back in 2017 and returned to High-A Tampa, where he threw 75.2 innings with a 2.62 ERA (3.58 FIP). On July 19th of last season, the Yankees traded Clarkin to the White Sox in the big Todd Frazier/David Robertson/Tommy Kahnle deal.
"At first I was just really nervous going to somewhere I've never been before and leaving somewhere where I am really, really comfortable," said Clarkin soon after the trade. "There were a lot of emotions. You are sad to leave the guys, but at the same time I was overpowered with excitement."
Clarkin was the second piece in the four-player haul for the White Sox — Blake Rutherford was the obvious headliner, Tito Polo was a fringe prospect, and Tyler Clippard was thrown in to offset salary — though they didn't get to see much of him after the trade. He threw eleven innings after the deal before going down with a season-ending oblique injury. This year Clarkin has a 6.29 ERA (5.83 FIP) with more walks (24) than strikeouts (21) in 48.2 Double-A innings. Eek.
At the time of the draft Clarkin was billed as an advanced three-pitch southpaw with upside and a chance to climb the minor league ladder quickly. Injuries slowed him down and also robbed him of some stuff — he lost some velocity on his fastball and bite on his curve following the 2015 elbow injury — though he is on Chicago's 40-man roster, and because he's left-handed, he'll continue getting chances. The Yankees used Clarkin to bolster their roster for last year's (and this year's) postseason run, and it's tough to complain about that outcome.
The Two Prep Athletes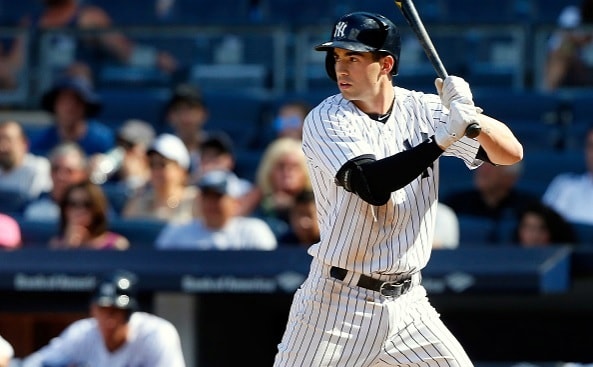 The Yankees love their toolsy up-the-middle players and they were able to turn two of them into top 100-ish prospects. California HS SS Tyler Wade (4th round) was No. 101 on Baseball Prospectus' top 101 list last year and Georgia HS OF Dustin Fowler (18th round) currently ranks as MLB.com's No. 93 prospect. Fowler was called up on June 29th last year and suffered the knee injury in his first inning as a big leaguer. Rough.
The Yankees included Fowler in the Sonny Gray trade last summer while he was on the disabled list. After completing his rehab and starting the season in Triple-A, the Athletics called him up three weeks ago and he is currently hitting .186/.265/.326 (62 wRC+). Fowler was a three-sport guy in high school and the Yankees bought him away from Louisville with an above slot $278,000 bonus. He flourished once he focused on baseball full-time. Fowler is a big time scouting and player development success story for the Yankees.
As for Wade, he's developed at a steady pace — one level per year, basically — and the Yankees love him. He was the Opening Day second baseman this year! Wade eventually hit his way to Triple-A, however, and he remains in Scranton. The Yankees appear to be turning Wade into a super utility guy. He's a natural shortstop who's played everywhere except pitcher, catcher, and first base this season. Both Wade and Fowler have reached the big leagues as non-premium draft picks, which is a success in and of itself.
The Trade Chips
The Yankees have traded several of their 2013 draft picks already. Jagielo was used to get Chapman, Clarkin was used to get Frazier/Roberson/Kahnle, and Fowler was used to get Gray. LSU RHP Nick Rumbelow (7th round), South Carolina LHP Tyler Webb (10th round), and Sam Houston State LHP Caleb Smith (14th round) all reached the big leagues with the Yankees before being traded away. Their combined numbers with the Yankees: 40.4 IP, 39 H, 27 R, 26 ER, 19 BB, 38 K, 7 HR. Pretty bad! All three were up-and-down arms.
Webb was the first to be traded away. He was dealt to the Brewers last July for Garrett Cooper when the Yankees needed first base help. Webb was claimed off waivers by the Padres earlier this year and is currently with their Triple-A affiliate. After the season the Yankees packaged Smith and Cooper and sent them to the Marlins for a minor leaguer (RHP Mike King) and international bonus money for their Shohei Ohtani pursuit. Smith's been pretty good this year. He has a 3.51 ERA (3.20 FIP) with 29.9% strikeouts in eleven starts and 56.1 innings for Miami. Good for him.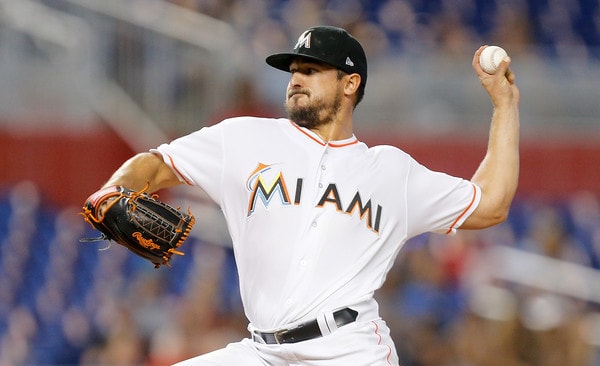 Rumbelow made his big league debut in 2015 — he was the first 2013 draft pick to reach the big leagues for the Yankees — but needed Tommy John surgery in 2016. He pitched well after returning last year, well enough to be re-added to the 40-man roster. Soon thereafter the Yankees traded him to the Mariners for a pair of low level pitching prospects (RHP Juan Then and LHP JP Sears). Rumbelow was slowed by shoulder trouble earlier this year and is currently in Triple-A.
I should also note the Yankees traded Texas HS OF Kendall Coleman (11th round) to the Mets for utility man L.J. Mazzilli earlier this year, though that was simply a depth move designed to get Triple-A Scranton another infielder. Webb was traded for big league help, Smith was traded for Ohtani money, and Rumbelow was traded for two intriguing young arms. All three went from mid-to-late round draft picks to spare part big leaguers (Smith might still be more), which is a good outcome for their draft slot.
The Nepotism Picks
Just about every year, teams will make nepotism picks in the draft, usually in the late rounds. They'll draft the manager's son or the scouting director's nephew, whatever. The Yankees made two nepotism picks in 2013 and one was more than straight nepotism. Michigan OF Mike O'Neill (3rd round) is Paul O'Neill's nephew and was a legitimate draft prospect in 2013. He never did hit much though. The Yankees released O'Neill following the 2016 season and he hooked on with the Rangers. He's currently playing for their Double-A affiliate.
In the 37th round the Yankees selected Texas HS LHP Josh Pettitte, Andy's son. That was a pure nepotism pick. Josh had no intention of signing. He followed through on his commitment to Baylor, had Tommy John surgery in March 2014, then transferred to Rice. Pettitte allowed 13 runs in 19 relief innings for the Owls in 2015 before needing another Tommy John surgery, and then a third elbow surgery for a fracture. Yuck. Josh played the one season at Rice and retired from baseball after the third elbow surgery. He recently became a dad (and Andy a grandfather).
The Unsigned Gem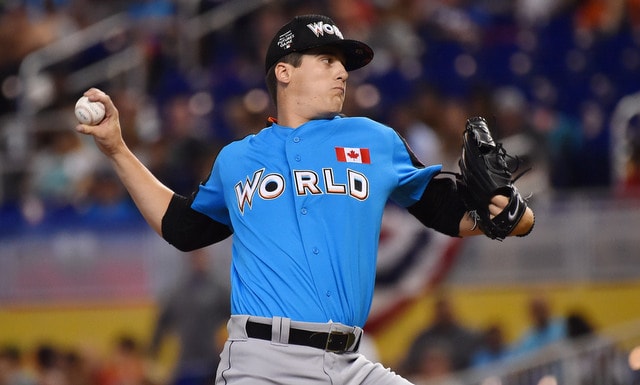 The Yankees selected 42 players in the 2013 draft and signed 32 of them. One of the ten they did not sign was Ontario HS RHP Cal Quantrill (26th round), Paul's kid. Baseball America ranked Quantrill as the 90th best prospect in the draft class, so he was a significant prospect, but he had zero intention of signing. He was going to Stanford and everyone knew it. The Yankees drafted him just in case he changed his mind. You never know.
Quantrill did go to Stanford and he became only the second true freshman to start Opening Day in school history, joining Mike Mussina. He was great as a freshman (2.68 ERA in 110.2 innings) and was considered an early favorite to go first overall in 2016. Ten, three starts into his sophomore year, Quantrill blew out his elbow and needed Tommy John surgery. That ended his college career. He still went eighth overall in 2016, to the Padres. He has since completed his rehab and MLB.com currently ranks Quantrill as the 35th best prospect in baseball. The Yankees, nor any other team for that matter, never had much of a chance to sign him, so its hard to consider this a "one who got away" situation.
I should also note that, in the 35th round, the Yankees selected Colorado HS RHP Nick Green. He did not sign and wound up at a junior college in Iowa. The Rangers selected Green with their seventh round pick in 2014 and the Yankees acquired him in the Carlos Beltran trade. They wanted him in 2013 and eventually got him in 2016. Green is a rising prospect in the system right now.
Quantrill and Green (and Pettitte) are the most notable unsigned prospects from the Yankees' 2013 draft class. Among the other unsigned players are North Carolina JuCo RHP Ryan Butler (16th round), Arizona HS RHP Hever Bueno (17th round), Kansas HS LHP Jordan Floyd (25th round), Maryland LHP Charlie White (29th round), and Texas HS OF Cody Thomas (30th round). They were all redrafted at some point. None are significant prospects.
Still In The System
Not counting Green, who did not sign and was acquired in a trade, there are five players from the 2013 draft still in the organization: Judge, Wade, California HS IF Gosuke Katoh (2nd round), Oklahoma Christian RHP Cale Coshow (13th round), and Florida HS LHP Nestor Cortes (36th round). Katoh had a huge pro debut in 2013 (170 wRC+ in rookie ball) but has never had that level of success again. He's currently an organizational utility guy with Double-A Trenton.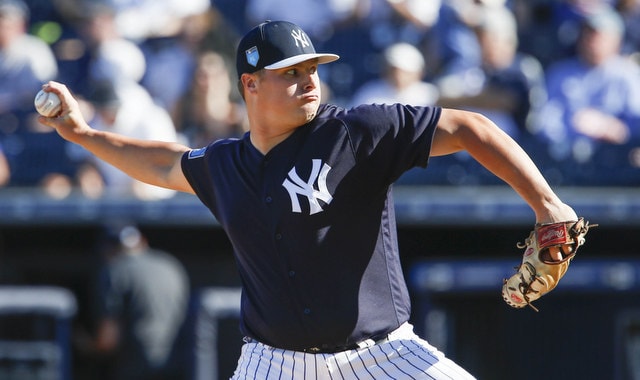 Coshow was in big league camp this spring and he currently owns a 4.91 ERA (5.53 FIP) in 22 innings with Triple-A Scranton — it was a 2.08 ERA (3.71 FIP) in 21.2 innings before a seven-run disaster outing earlier this week — and there's a chance he could get called up for bullpen work at some point this season. He's not necessarily at the front of the call-up line, but it could happen. Cortes spent a few weeks with the Orioles as a Rule 5 Draft pick earlier this year before being sent back. He's an organizational depth arm with Triple-A Scranton. Among these dudes, Coshow is probably the best bet to help the Yankees in some capacity, though Cortes is a southpaw and he figures to have a lot more chances coming his way.
Best Of The Rest
Texas JuCo RHP David Palladino (6th round) had plenty of stuff but could never throw strikes. He was released following last season and is currently in an independent league … Georgia Tech OF Brandon Thomas (8th round) looked to be a steal after having his college season sabotaged by mono, though he could never get it going in pro ball, and was released in 2015 … Missouri HS 3B Drew Bridges (20th round) never quite the developed the power many expected and was released in 2016 … Adelphi RHP Dillon McNamara (27th round) served as an organizational arm before being traded to the Giants for cash last year. He's still in their system … Texas JuCo SS Kevin Cornelius (31st) had some huge years in the farm system before being lost to the Cubs in the minor league phase of the Rule 5 Draft two years ago. He's currently in an independent league.
* * *
To date, the 2013 draft rivals 2006 for the Yankees' best draft under Oppenheimer, mostly because Judge is such an impact player. This draft has already produced seven big leaguers (Judge, Wade, Rumbelow, Webb, Smith, Fowler, Cortes) and three players who were traded for meaningful big leaguers (Jagielo, Clarkin, Fowler). The minor leaguers received in the Rumbelow and Smith trades could soon prove useful as well.
Like I said, Judge alone makes this an A+ draft. He's a franchise player and I think the face of the Yankees, which is impressive because the Yankees have so many other players who could be the face of the franchise. Draft a player like that and you've hit a home run. Add in Jagielo's contribution through the Chapman trade, Clarkin's contribution through the Frazier/Robertson/Kahnle trade, and Fowler's contribution through the Gray trade, and this is already a fantastic draft class with the potential for even more impact to come.