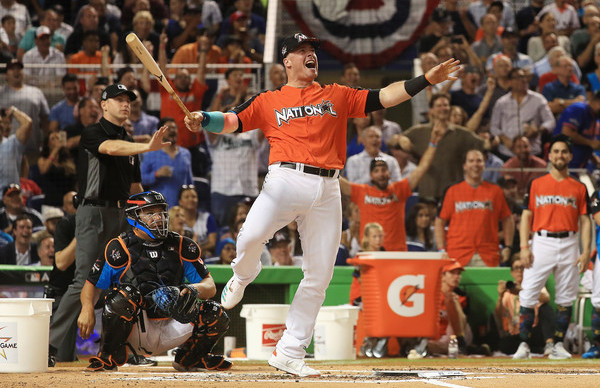 Later today the Yankees and Red Sox will continue their four games in three days series with the second game at Fenway Park. That's a 4pm ET start. Until then, here are some links to check out.
Bour trade talks only "cursory"
According to Buster Olney, trade talks between the Yankees and Marlins about first baseman Justin Bour have only been "cursory, non-specific." Olney says the Marlins have let teams know they're open for business while Jon Heyman reports the club has no intention to trade its affordable core players. That sounds like posturing to me. They're willing to trade them but say they won't in an effort to build some leverage.
Bour, 29, is hitting .289/.367/.556 (136 wRC+) with 20 home runs in 77 games this season, plus he's under team control as an arbitration-eligible player through 2020. He put on quite a show in the Home Run Derby before getting knocked out by Aaron Judge. On one hand, Bour would be an enormous first base upgrade for the Yankees, and he'd provide a DH option going forward should Greg Bird ever get healthy. On the other hand, something about trading prospects for a 29-year-old late bloomer at the bottom of the defensive spectrum doesn't sit well with me.
Three Yankees make FanGraphs' trade value series
Over the last week Dave Cameron has posted his annual trade value series, in which he ranks the top 50 players in baseball by trade value. It's not just about performance. It's about performance and years of team control, things like that. Bryce Harper is obviously excellent, though he doesn't make the top 50 because he'll be a free agent after next season. Anyway, three Yankees make the top 50, and they're the young cornerstones of the franchise.
6. Aaron Judge
12. Gary Sanchez
35. Luis Severino
Judge is behind Carlos Correa, Mike Trout, Corey Seager, Kris Bryant, and Francisco Lindor in that order. I have no problems with that. Judge is awesome and he won't be a free agent until after the 2022 season, though he's only been this for half-a-season. Those other guys have done it for a full season, at least. Sanchez is the highest ranked catcher and Severino is the 12th ranked pitcher, which is pretty great. Last year there were no Yankees in the trade value series. Now there are three, including two in the top 12.
O's fourth rounder now a free agent
Jack Conlon, a fourth round pick by the Orioles in this year's draft, is now an unrestricted free agent, according to both Jim Callis and Hudson Belinsky. The O's saw something they didn't like in Conlon's physical and declined to sign him. They didn't even make him the minimum offer (40% of his slot value), which is why he's now a free agent. MLB.com ranked the Texas high school right-hander as the 175th best prospect in the draft class. Here's a piece of their scouting report:
Conlon can pitch at 92-95 mph with life on his fastball and back it up with an 81-84 mph slider on days when his mechanics are in sync. His changeup lags behind his other two pitches, though it has some fade and he shows some feel for it. He has a classic pitcher's build at 6-foot-4 and 220 pounds that bodes well for his durability. Conlon lacks consistency, however, because he has a rough delivery with effort and a head whack.
There haven't been any reports connecting Conlon to the Yankees (or any other team), and they might never come. This might be one of those situations where we skip straight to the signing announcement. I'm certain the Yankees will look into signing Conlon because hey, it's not often you can pick up a decent pitching prospect for nothing but cash, though the failed physical is an issue. The Orioles are notoriously tough with their physicals, so maybe it's nothing. Then again, it could be a serious arm problem, so much so that spending money on him isn't worth the increased risk.
Also, I should note the Rays did not sign Oregon State right-hander Drew Rasmussen, the 31st selection in this year's draft, also because something popped up in his physical. There are conflicting reports out there about his current status. Some say he's a free agent because the Rays didn't make the minimum offer while others say the Rays did make the minimum offer, and Rasmussen will return to school for his senior season rather than become a free agent. Who knows.