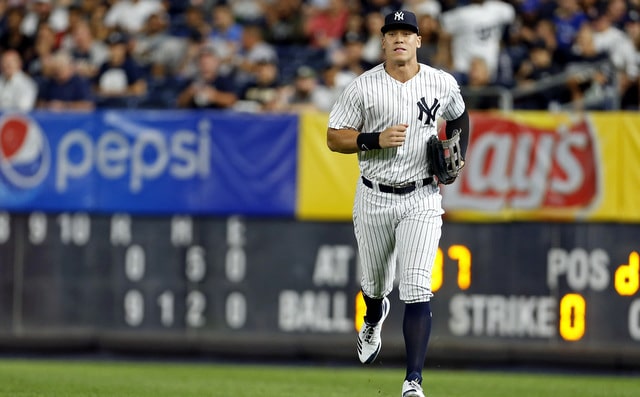 As we all know by now, Hal Steinbrenner decided not to back up the truck for this offseason's free agent crop. However, Hal can't avoid paying the piper forever. There are a litany of budding stars on the Yankees' roster that are going to start getting a bit expensive for the owner's taste if he doesn't act soon. He and the front office took care of business with Luis Severino and Aaron Hicks already, but there are still other extension candidates. Let's talk about Aaron Judge.
Maybe the Yankees will go year to year with Judge and let him test free agency after his age-30 season. That's always possible. But the risk is that one of the other 29 clubs makes an offer that Judge won't be able to refuse and Steinbrenner will be unwilling to match. Sound familiar? Yep, that's what happened with Robinson Cano. Extension or not, it would be inexcusable to let the face of the franchise walk away in free agency (again), but that's neither here nor there. Let's stick to extension talk for the time being.
Other extensions to consider
Buster Posey: 9 years, $167 million
The Giants' catcher was a super-two eligible player prior to 2013, but signed an $8 million deal to avoid an arbitration hearing. That deal was ripped up in order to sign an eight-year extension, thereby buying out four years of free agency. Posey was fresh off of an MVP 2012 season and still just 26 years-old, not to mention two World Series titles.
San Francisco paid Posey $57 million for his pre-free agency seasons. The rest of the contract calls for at least $110 million if his 2022 club option is decline and up to $129 million if exercised. Posey has accumulated around 30 WAR (depending on your version preference) since signing the deal. Is it safe to say he's earned every penny? Yup, and then some. No regrets from San Francisco's side. Posey probably could have earned more in free agency than 5 years and $110 million, but that's still a pretty nice payday.
Mike Trout: 6 years, $144.5 million
Trout wasn't a super-two like Posey, but signed his deal with two-plus years of major league service, where Judge is now. His deal didn't kick in until after his third full season, so if you want to factor in his final pre-arb salary, it's effectively a 7 year, $145.5 million deal. This, mind you, was after Trout racked up two straight 10 WAR seasons to start his career. The Angels struck a deal with the sport's best player while pushing his free agency until after the 2020 season. Trout would have free to go after 2017 otherwise.
Trout got just under $45 million for his arbitration years and gave up three free agency seasons for another $100 million. Obviously, he would have shattered that amount if he hit the open market. To say that Trout got the short end of the stick would be an understatement. Yes, $144.5 million is a huge sum of money, but he would have shattered all sorts of salary records. Then again, he still might do that after 2020 when he's just finished his age-28 year.
Structuring Judge's deal
As great as Judge is, he doesn't have the pedigree of either of the two aforementioned stars at the same time in their careers. That doesn't mean he can't match or exceed either of the guarantees Posey and Trout got.
Something I think we need to consider before getting into proposals are what Judge could possibly get in arbitration as an alternative to an extension. Here are the recent amounts players signed in their first year of arbitration eligibility:
2018 Mookie Betts: $10.5M
2018 Kris Bryant: $10.85M (Super Two)
2019 Francisco Lindor: $10.85M
Mookie Betts holds the second year eligibility record ($20 million) and Josh Donaldson has the final year record ($23 million). If Judge matches all of these amounts, that's about $53 million from 2020 through 2022. I'd bet he could beat that, though.
Alright, now let's talk about some proposals:
| | | | |
| --- | --- | --- | --- |
| Status | Year | Annual Salary | Cumulative Salary |
| Pre-Arb | 2019 | $5M | $5M |
| Arb 1 | 2020 | $15M | $20M |
| Arb 2 | 2021 | $20M | $40M |
| Arb 3 | 2022 | $25M | $65M |
| FA 1 | 2023 | $35M | $100M |
| FA 2 | 2024 | $35M | $135M |
| FA 3 | 2025 | $35M | $170M |
First of all, this gets Judge up to $65 million in earnings through his arbitration seasons. That's a win for Judge. From there, it's a matter of seeing how many free agent years he'd be willing to give up.
Without an extension, Judge's first free agent deal would begin in his age-31 campaign. My inclination is that he should get $35 million per year by then, but who knows. Not only is free agency a strange place now, but a lot can happen between now and then too. A payday now quells any worries about decline or injury affecting future earnings. Then again, maybe Judge isn't too concerned about money. He got $1.8 million out of the draft. That's not exorbitant, but if well managed could be sustainable if something cut short his career. Further, he's got a marketing deal with Pepsi which certainly helps him monetarily. He could wait it out and bet on himself for an absolutely gargantuan payday.
When I think of the Yankees perspective, I can't help but think about the luxury tax. It really bums me out that it's a consideration here, but that's how the team operates now. A potential extension would result in a higher tax now and in the arbitration years, but in theory, it wouldn't be a huge increase because the team is in the lower tiers. It's the outer years  of the extension that can save the Steinbrenners money because others like Gary Sanchez and Gleyber Torres will be getting their big paydays as well. Then again, a new CBA after 2021 could totally change the tax rules. Even though an extension provides cost certainty, Hal could be hesitant to pay extra luxury tax now without knowing what the system will be in Judge's outer years.
Hal could use some goodwill. Signing Judge to an extension would help Hal with that. The stagnant payroll over the last decade has been a blight on the franchise even though he doesn't feel that way. It would be nice to have some sort of assurance that the team's stars aren't going anywhere. I can't help but be worried after watching the team pass up on superstar free agents this winter.
Final thoughts
There haven't been any talks of an extension between the Yankees and Judge yet. The right fielder played it coy when asked about it, but hopefully it's on the radar. Frankly, after passing on Machado and Harper, there's absolutely no excuse not to pay someone like Judge. Hal has already mentioned the need to be sensible in advance of the baby bombers reaching higher earning years. It would be wise to be proactive rather than waiting until that day comes. Signing Severino was a good start. Hopefully Judge and others are next.