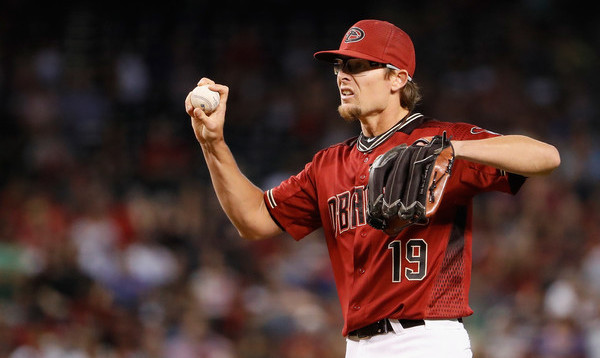 It's not all about selling this trade deadline. Sunday morning the Yankees announced they have traded Double-A righty Vicente Campos to the Diamondbacks for ex-Yankee Tyler Clippard. It's a straight one-for-one swap. Campos was on the 40-man roster, so the Yankees won't have to make another move to clear room for Clippard.
The Yankees traded both Aroldis Chapman and Andrew Miller in the last week, so the Clippard pickup gives the team a veteran arm for the late innings. Joe Girardi confirmed Dellin Betances will take over as closer. Joel Sherman says the club plans to use Clippard in the seventh and others in the eighth. I assume Adam Warren will factor in there somehow.
Clippard, 31, has a 4.30 ERA (4.30 FIP!) in 37.2 innings for Arizona this season. His last three appearances have been ugly (2.1 IP, 4 H, 7 R, 7 ER, 4 BB, 5 K, 2 HR), but he was pitching well before that (2.80 ERA and 3.59 FIP). Clearly though, this is not the Clippard of old. The guy who dominated with the Nationals is gone. Clippard's on the decline and outs don't come as easily as they once did.
As you know, the Yankees originally drafted and developed Clippard back in the day. He was their ninth round pick in 2003 and one of their better prospects before making his MLB debut in 2007. Clippard had a 6.33 ERA (6.68 FIP) in six starts and 27 innings for the Yankees that summer. He was traded to the Nats for Jonathan Albaladejo that offseason. Not Brian Cashman's finest moment.
The Yankees reportedly had some interest in Clippard over the winter but obviously did not sign him. He inked a two-year deal worth $12.25M with the D'Backs instead. The Yankees owe him the remainder of his $6.1M salary this season plus another $6.15M next season. He's not a rental but his salary is hardly prohibitive. A little veteran middle relief depth is never a bad thing.
Campos, 24, was the other guy in the Jesus Montero/Michael Pineda trade. He has a 3.20 ERA (3.07 FIP) with a 21.3% strikeout rate and a 7.7% walk rate in 121 total innings this season. Campos was limited to only 166 total innings from 2012-15 due to ongoing elbow problems, including Tommy John surgery. He's stayed healthy this year and the Yankees took advantage by flipping him for an MLB arm.
In a nutshell, the Yankees reshuffled some assets and turned an injury prone prospect into a declining reliever. Not exactly a ton of value changing hands here. The Yankees are selling, the Chapman and Miller trades are evidence of that, but they still need players to throw innings, and Clippard's a capable of seventh inning guy. Unexciting? Yes. They ain't all blockbusters.