Only four questions this week, but they're good ones. The Submit A Tip box in the sidebar is the best way to send us any questions throughout the week.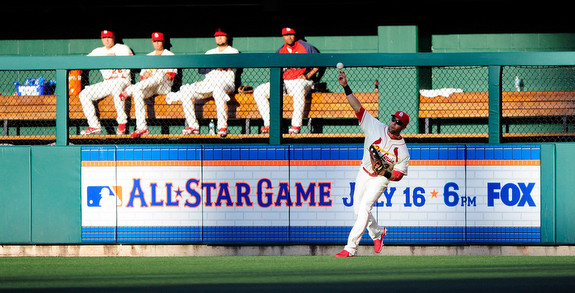 Jeff asks: Carlos Beltran is a free agent next year. While the Yankees do have an abundance of outfielders, you see any chance they try to pick him up?
Do the Yankees have an abundance of outfielders? They have a bunch of warm bodies, but how many are legitimate everyday or even (gasp!) above-average players? I think Brett Gardner is the only guy you can say that about with any certainty.
Anyway, Beltran makes sense for the Yankees next season just like he did nine years ago (before he signed with the Mets) and even two years ago (before he signed with the Cardinals). He's hitting .309/.346/.533 (146 wRC+) with 19 homers for St. Louis this year, and he continues to be a true switch-hitter who hits both lefties and righties. Perhaps most importantly, he has managed to avoid the DL these last two seasons. That's encouraging given his history of knee problems.
Beltran turned 36 in April, and there are two significant red flags in his performance. His walk rate (5.1%) is a career-low by far, dropping from 10.5% last year and his 10.5% career average. His swing-and-miss rate (9.2%) is essentially identical to last year (9.3%), which was his career-high. Beltran has a career 7.3% whiff rate and was at 6.6% as recently as 2011. Seeing an older hitter cut his walk rate in half with an increased swing-and-miss rate suggests he may be cheating and starting his bat a little earlier. That's not uncommon for guys that age.
The Yankees could certainly use a switch-hitting power guy in the middle of the lineup, especially since they should shuffle him between right field and DH to keep his legs fresh. Beltran has made it very, very clear he wants to play for the Yankees in the past*, which could work in their favor if he's willing to take a one-year deal. I don't like the idea of a two-year contract at this point of his career, but there's a definite fit  at the right price.
* For what it's worth, I think passing on Beltran prior to 2005 was the biggest blunder of the Brian Cashman era, especially after he came to the team at the last minute and was willing to sign at a relative discount.
Brian asks: If the Yankees wanted to, what should they get in return in a trade for Hiroki Kuroda? To me, it may be a great opportunity to get some quality prospects in exchange for a valuable commodity.
From what I can tell, the 38-year-old Kuroda does not have a no-trade clause. He had one last year for sure, but I can't find anything indicating this year's contract includes one. That seems kinda odd and I'm just going to assume he does have no-trade protection. Why would he demand one in 2012 but not 2013? Weird.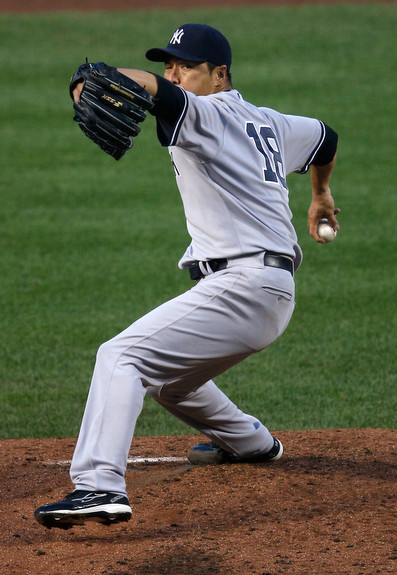 Anywho, Kuroda is pitching like an ace this year (2.65 ERA and 3.62 FIP) and getting him for the second half would be a huge help to some contender. Just imagine the Dodgers or Rangers or Diamondbacks or even the Red Sox getting their hands on him. Low maintenance, affordable, proven in a big market, everything you could want in a rental starter.
If the Yankees were to move him, I think they should seek a return on par with what the Brewers got for Zack Greinke last year. Kuroda now is better than Greinke was last year, though he's much older and Greinke had more "name value" as a former Cy Young winner. The Angels gave up their number two (Jean Segura), four (Johnny Hellweg), and nine (Ariel Pena) prospects for Greinke, though only Segura was a top 100 guy (#55 by Baseball America).
That's the framework I'd be looking for in return for Kuroda. A top-100 prospect who is big league ready — Segura stepped right into the Brewers' lineup after the deal — and two other good but not great prospects. Kuroda has shown a willingness to use his no-trade clause however — he blocked deals to the Yankees and Red Sox while with the Dodgers in 2011 — so getting him to agree to a deal wouldn't be easy even if the Bombers wanted to move him, which I doubt they do.
Kevin asks: Was Hiroki Kuroda an all-star snub? And does he have a legit shot at the Cy Young award?
Oh yes, he absolutely was an All-Star snub. During the All-Star lineup/starting pitcher press conference, Jim Leyland confirmed he took Chris Tillman (3.95 ERA and 4.95 FIP) over Kuroda because he had more wins (11-3 vs. 8-6). Kuroda ranks second in the AL in ERA, seventh in bWAR (3.2), and 11th in fWAR (2.3 WAR). Definitely a snub considering eleven (!) AL starting pitchers were named to the All-Star team, including the injury replacements.
The Cy Young award is tougher to defend. No AL pitcher is having an outrageous season that moves them to the front of the pack yet; instead there are a bunch of guys — specifically Max Scherzer, Felix Hernandez, and Chris Sale — who are simply having excellent seasons. For a Yankee to win a major award, he needs to blow everyone else out of the water and make it obvious like Alex Rodriguez in 2007. There is a voter bias against Yankees for sure, and that will work against Kuroda. He'd need a dynamite second half to make a serious run at the award, otherwise he's a guy who will get a few fourth or fifth place votes at best.
Dan asks: With the Diamondbacks wanting bullpen help is there anything they'd give up that is valuable for Joba Chamberlain? Surely he'd fair better in the NL West.
The AL-to-NL switch isn't as significant for relievers, who are much more likely to face a pinch-hitter than the opposing pitcher. The D'Backs have had some interest in Joba in the past, particularly during the rumored Dan Haren trade talks. That was back when Joba was, you know, good. Good and under control for a few more years.
These days Chamberlain is just a rental reclamation project reliever, which is nothing to get excited about. Brandon League was a Proven Closer™ having a good (but not great) year when he was traded at the deadline last year, and all he fetched was two non-top 30 prospects. Maybe Arizona would give up a failing former top prospect like RHP Anthony Meo (5.86 ERA and 6.06 FIP in 43 innings), a lottery ticket type. I wouldn't expect much in return for Joba at this point, unless he's like the second or third piece in a package deal. He won't bring back much by himself.