Nine questions this week, so I went rapid fire with short-ish answers. Next week will be the final mailbag before Opening Day, so get those last-minute hot stove/Spring Training questions in before then.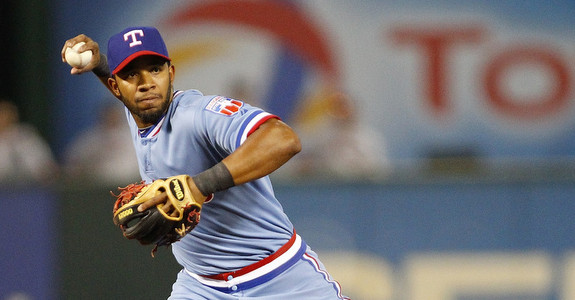 Joseph asks: I know this is fast-forwarding a whole season and much can change between now and November, but what are the chances the NYY attempt to pry away Elvis Andrus from TEX after the season? They obviously have Jurickson Profar/Mike Olt for the left-side of the IF for the next 4-5 years. What package you think would get that done?
Andrus, 24, will be one year from free agency after the season, plus he's a Scott Boras client and will definitely go out on the open market after 2014. You're trading for one year of him and one year only.
That said, he's so young and so good (particularly defensively) at a premium position that the cost for even one year of him will be high. I don't think Texas would have much of a problem getting two top prospects for him, maybe even another one or two lesser pieces as well. Shortstop help is very hard to find. I'd wait until he becomes a free agent and just try to sign him, but that might require something like ten years and $180M at his age.
Mark asks: Would you trade Corban Joseph and Adam Warren for Brett Wallace?
I would not. I thought Wallace would be a dominant offensive player back during his draft days, but he's got some holes in his swing and can be pitched to rather easily. I remember reading something once upon a time suggesting his big frame and very thick lower half contribute to his inability to adjust his swing. I think the Yankees could stick Joseph in the lineup and get similar, if not better production than they would get from Wallace. He could also fake non-first base spots as well.
Travis asks: Do you think that teams that are having rotation trouble are kicking themselves for not taking a chance on Vidal Nuno during the Rule 5 draft?
Eh, maybe one or two. The Nuno hype machine is a little out of control though. Sergio Mitre dominated Spring Training a few years ago, but it didn't mean anything. Nuno has been impressive so far and I'm sure there's a team or two who could use him in the rotation, but be careful not to overrate performance this time of year.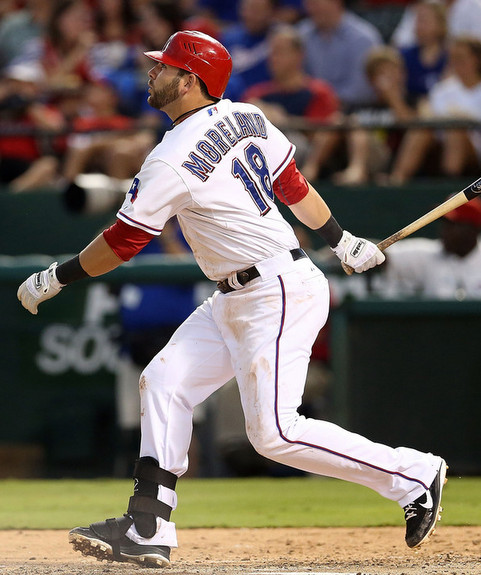 Peter asks: The Joba Chamberlain+ for Mike Olt rumors have swirled over the past week but what about Joba+ for Mitch Moreland?
Moreland, 27, has hit .264/.328/.441 (100 wRC+) with 40 homers in 295 big league games over the last three years. He's a left-handed hitting first baseman (who can fake a corner outfield spot) with a big platoon split, so he'd need a righty hitting complement. Moreland would help the Yankees right now obviously, but I wouldn't give up much more than Joba for him. Maybe just a secondary prospect from 20+ range of my preseason top 30. Lefty hitting first basemen with platoon issues aren't the most difficult players to find.
J.R. asks: With some of the stories emerging about Alfredo Aceves, do you think "character" and "makeup" issues directly lead to his release from the Yankees?
Yes, absolutely. Non-tendering him after 2010 was still a questionable move — even with the injuries, did he really have zero trade value? — but it's becoming more and more obvious why they did it. I'm in the camp that thinks the Yankees are overrating character and makeup these days, but Aceves is on a different level. He's borderline Carlos Zambrano crazy.
John asks: I am one of the biggest Andy Pettitte fans you will find so this a very selfish question. Do you think his body can handle 175 innings a year at 40? If things go ok this year, would he consider closing for Mariano Rivera next year to extend his career as we know he has the mindset mastered?
I do worry about Pettitte holding up physically all season, as I wrote in the series preview post earlier this week. If he has trouble holding up this year, I think he would sooner retire than come back as a reliever. Pettitte doesn't strike me as someone who would hang around when he isn't effective. If he does hold up and throw those 175+ innings, bring him back as a starter. No doubt about it.

Mads asks: Not Yankees related, but would a trade between the Cardinals and Rangers with Profar and Oscar Taveras make sense? Cardinals get shortstop help and Rangers get an impact outfield bat, plus they extend Andrus.
It does make sense, but I think both teams would say no to this trade. Part of the reason is that teams love their own prospects more than everyone else's, but it's not quite surplus for surplus either. As I said before, Andrus is a Boras client and working out an extension might be damn near impossible at this point. The Cardinals have no other legitimate outfield prospects to replace Carlos Beltran after the season, plus Matt Holliday isn't getting any younger. It sounds good on paper, but I think both teams would be wary.
Mark asks: Do you think Mark Teixeira's recent injury coming on the heels of Alex Rodriguez's hurts Robinson Cano's chances of getting the 8-10 year offer both Boras and he were hoping to get from the team and increase the odds that he leaves the team after this year?
You'd think yes, right? But it probably won't. There will be plenty of competition for Cano's services next winter — Dodgers, Tigers, Angels, maybe even the Rangers, Nationals, and Phillies could pursue him — that his price will still be astronomical. I'm not convinced he'll get ten years anyway, but eight definitely seems doable. We have to remember that many GMs don't care about the back-end of huge contracts because the job turnover rate suggests it won't be their problem.
Ryan asks: Explain to me how the Tigers can cut free of Brennan Boesch's contract, owing very little on his untradeable contract. Yet, the Yankees can't consider just releasing Alex Rodriguez because they would still owe him the $100+ million left on his contract. Is it the wording on the contract? Is it that they would still owe him too much, even if they didn't owe him all of it, to really consider doing that? Seems weird that other teams can release their players and save at least a little cash and move on, but the Yankees are stuck with the albatross contracts to the bitter end. Is it just a perception? Also, not saying the Yankees should do this with A-Rod necessarily. It's more of a curiosity as to why they don't, can't, or won't. Thanks!
They can't. One-year contracts for players with less than six years of service time (like Boesch) are not guaranteed. They can be released in Spring Training and owed less than the full amount — 30 days termination pay is released by March 13th, 45 days after that — which is what the Tigers did with Boesch. The Yankees pulled this same trick with Chad Gaudin a few years ago, releasing him in camp and paying him just a fraction of his original deal. A-Rod's contract is fully guaranteed, as is nearly every free agent contract.