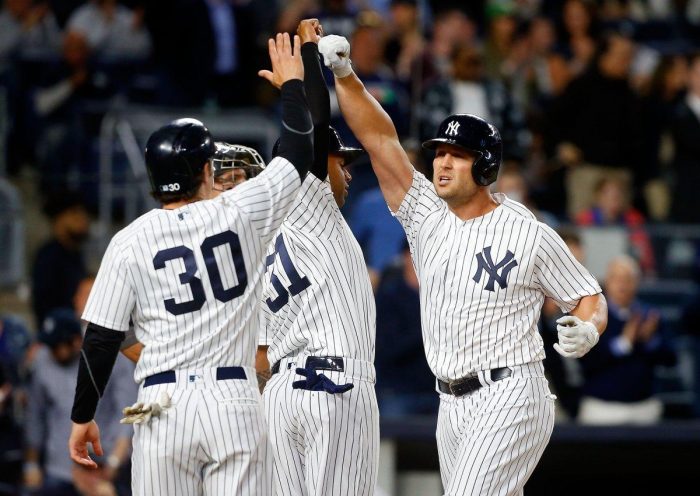 The Judge and The Mick
The White Sox were the latest team to try and slow down the Yankees juggernaut, a feat that seemed improbable based on their recent struggles at the House That Jeter Built.
The White Sox entered this series with a 7-20 record at the new Yankee Stadium, the second-worst win percentage (.259) by any American League team (only the Angels, 8-24, were worse). The Yankees made sure they didn't improve that mark on Monday with a 7-4 win in the series opener.
Matt Holliday broke the game open with a monster three-run, 459-foot home run in the third inning. It was the fourth-longest homer by any Yankee in the Statcast era (since 2015), behind three homers by A-Rod in 2015. With an exit velocity of 113.9 mph, it was also the third-hardest hit homer in that span behind an A-Bomb in 2015 (116.5) and an Aaron Judge blast last year (115.2).
Judge joined the powerball party in the fifth inning, extending the lead to 7-0 with his fourth home run of the season. He's just the second Yankee outfielder under the age of 25 to hit four homers within the team's first 13 games. The other? Oh, just some guy named Mickey Mantle in 1956.
Jordan Montgomery picked up his first major-league win, showing the same toughness and poise he displayed last week during his debut, pitching out of jams in the first and sixth innings. Overall this season, he's allowed just one hit in 10 at-bats (.100) and struck out four batters with runners in scoring position.
Adam Warren relieved Montgomery, and kept his Hidden Perfect Game intact until he walked Tyler Saladino with two outs, snapping a streak of 22 straight batters retired to start the season.
Warren is the only Yankee pitcher since at least 1913 to not allow a baserunner in any of his first four appearances, while retiring more than 10 batters during the streak (Warren set down 20 batters in a row during his first four games).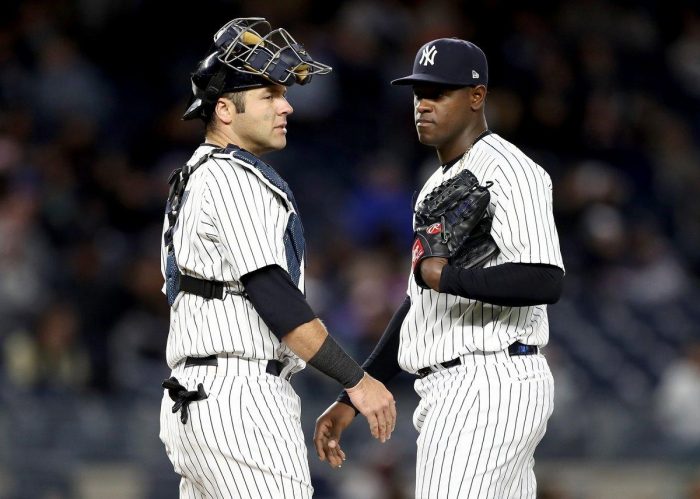 Eight is Enough
All good things must come to an end … Thanks to an anemic showing by the Yankee offense and an unexpected masterful performance by White Sox journeyman pitcher Miguel Gonzalez on Tuesday night, the Yankees lost their first game since April 8 and suffered their first home loss of the season.
The Yankees eight-game win streak was tied for their second-longest in April in franchise history, bettered only by a 10-gamer in 1987. And their 7-0 start at Yankee Stadium was just the sixth time they had won their first seven home games; the good news is that of the previous five seasons it happened (1943, 1949, 1951, 1987, 1998), four ended with the Yankees hoisting a World Series trophy.
Gonzalez held the Yankees to just four infield singles and one run in his 8 1/3 innings of work on a frosty night in the Bronx. How unlikely was this standout performance?
He had been winless in his previous 18 road starts entering the game, which was the longest active streak among major-league pitchers. And it had been over three decades since a White Sox pitcher allowed one-run-or-fewer and four-hits-or-fewer in an outing of more than eight innings at Yankee Stadium: Neil Allen was the last to do it, tossing a two-hit, no-strikeout (!) shutout in July 1986.
Luis Severino's final line (four runs allowed) underscored the dominance he showed in striking out 10 guys, including six with his devastating slider. Overall, the pitch has been a key weapon for him this season: of the 31 two-strike sliders he's thrown, 13 have resulted in strikeouts, good for a 41.9 percent slider "putaway rate" that ranks second behind only Noah Syndergaard (43.5%) among starters.
Coupled with his 11-strikeout game in his previous start, Severino became the youngest Yankee with back-to-back double-digit strikeout games since lefty Al Downing in 1963. Even more impressive is this golden nugget:
At the age of 23 years and 57 days, Severino is the youngest pitcher in franchise history with at least 10 strikeouts and no walks in a game.
A new win streak
Death, taxes … and the Yankees beating the White Sox at Yankee Stadium. Three things you can pretty much count on these days. With their 9-1 victory in the rubber game on Wednesday night, the Yankees are now unbeaten (10-0-2) in their last 12 home series against the White Sox. The last time they lost a series in the Bronx to the Pale Hose was Aug. 8-10, 2005.
Masahiro Tanaka didn't have ace-like stuff but still delivered his best performance of the season, limiting the White Sox to one run on six hits in seven innings. He's now won six straight home starts dating back to last season, setting a record at the new Yankee Stadium. The last Yankee pitcher to win six starts in a row at home was Chien-Ming Wang in 2006.
Aaron Judge did Aaron Judge things once again, crushing a towering homer into to the left field bleachers in the fifth inning to give the Yankees a 8-1 lead. The absolute bomb went an estimated 448 feet and left his bat at 115.5 mph. His assault on the Statcast record books continues unabated:
The distance of 448 feet is a career-high for Judge, and is the third-longest homer at Yankee Stadium in the Statcast era (since 2015).
The exit velocity of 115.5 mph makes it the hardest-hit homer by any player at Yankee Stadium in the Statcast era.
Judge now has six batted balls with an exit velocity of at least 115 mph in pinstripes; since 2015, all other Yankees have combined to hit three batted balls with an exit velocity of 115-plus mph.