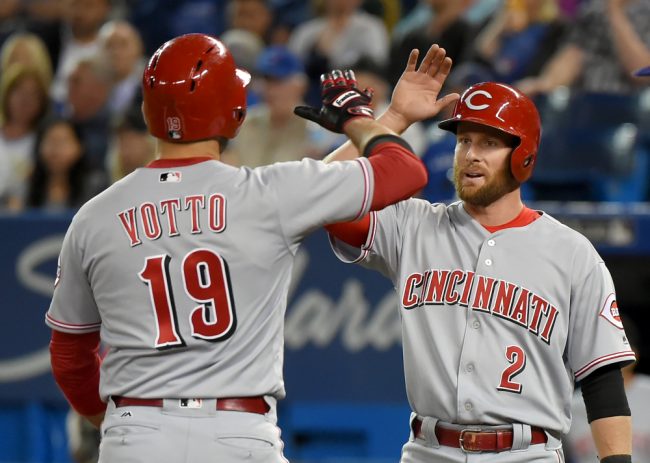 The Yankees have won a series for the first time in well over a month, finishing up an eleven games in ten days stretch with a 6-5 record. Monday's off-day was well-earned, and almost undoubtedly a necessity as they head into another lengthy stretch without a day off – they'll play for thirteen straight days beginning this evening. And the Reds are up first.
The Last Time They Met
The Yankees visited Cincinnati for two games back in May, splitting the series a game apiece. That was way back when the Yankees were the best team in baseball, owning the game's best record and best run differential. Some notes on the series:
The Yankees offense was at the height of its powers in the first game, plating ten runs and going a combined 13-for-36 with a couple of home runs and more walks (7) than strikeouts (5). Masahiro Tanaka was the only starter that did not reach base, but he got in on the action with a sacrifice bunt.
Didi Gregorius hit his first home run of the season in the second game, which was his eleventh game of the season. He went 4-for-8 with 4 RBI in the series.
CC Sabathia was knocked around in his start, pitching to the following line: 6 IP, 7 H, 5 ER, 2 BB, 2 K. It was his fourth straight subpar start, which left him with a 5.77 ERA on the season. Since then, however, he has a 1.62 ERA in 50 IP (9 starts).
For more factoids about the series, check out Katie's Yankeemetrics post.
Injury Report
Four-fifths of the Reds rotation is currently on the disabled list, with Bronson Arroyo and Brandon Finnegan out for the rest of the year, and Anthony DeSclafani and Scott Feldman recovering from injuries. Neither DeSclafani nor Feldman will be back in time for this series; though, Feldman could be on the Yankees radar as a deadline acquisition, should he recover quickly from his knee injury.
Their Story So Far
The Reds were atop the NL Central when these teams faced in May, with a half game lead over the Chicago Cubs. They were 17-14 with a +22 run differential at that time, with a borderline-elite offense and a league-average pitching staff. That was then; they're now sitting at the bottom of their division at 41-58, with a -84 run differential – the fifth-worst mark in the majors.
This is a rebuilding team, so such a stark backslide isn't entirely surprising. And, with the trade deadline rapidly approaching, this team may well be even worse in a week's time.
For more on the Reds, check out Red Reporter or Redleg Nation.
The Lineup We Might See
As was the case when these teams last met, the Reds lineup is fairly consistent on a game-to-game basis. Manager Bryan Price will play for the platoon advantage a bit, but he does so by swapping his fifth and sixth hitters in the lineup – and that's about it. The only real wrinkle that we will see is his choice for designated hitter. We'll probably see a lineup along these lines:
Billy Hamilton, CF
Zack Cozart, SS
Joey Votto, 1B
Adam Duvall, LF
Eugenio Suarez, 3B
Scooter Gennett, 2B
Scott Schebler, RF
Patrick Kivlehan, DH
Tucker Barnhart, C
The Starting Pitchers We Will See
Tuesday (7:05 PM EST): LHP Jordan Montgomery vs. RHP Luis Castillo
Castillo has the odd distinction of being dealt twice by the same team in a six month span. The Marlins attempted to send him to the Padres for Andrew Cashner and Colin Rea at last year's trade deadline, only to nix the deal due to Rea's undisclosed injury (even though he appeared in a game for the Marlins). He was subsequently dealt to the Reds in January, as a part of the deal that sent Dan Straily to Miami. Castillo was called-up for his big league debut on June 23, and has been in the Reds rotation ever since – and he's done quite well. He has a 3.86 ERA (116 ERA+) in 35.0 IP, with a ridiculous 29.5% strikeout rate and a well above-average 55.7% groundball rate.
The 23-year-old Castillo is a power pitcher, with a three-pitch arsenal. His four-seam fastball sits in the upper-90s, and he complements it with a mid-80s slider and an upper-80s change-up.
Last Outing (vs. ARI on 7/20) -6.0 IP, 4 H, 4 R, 1 BB, 7 K
Wednesday (1:05 PM EST): RHP Luis Severino vs. RHP Homer Bailey
Bailey is the longest-tenured member of the Reds, having made his MLB debut a bit less than three month before Joey Votto. He was the 7th overall draft pick back in 2004, a top-10 prospect in 2007 and 2008, and an exciting young pitcher in 2012 and 2013, but injuries have derailed his career these last three years. Bailey has appeared in just 14 games since the beginning of 2015, pitching to a 7.30 ERA (60 ERA+) in 61.2 IP. He returned from the disabled list on June 24, and has mixed three good starts with three atrocious ones. And he's still just 31.
Bailey is a three-pitch guy, with a low-to-mid 90s fastball, an upper-8s slider, and a mid-80s splitter. When he's on, both the slider and splitter can be devastating.
Last Outing (vs. MIA on 7/21) – 6.0 IP, 8 H, 2 R, 2 BB, 3 K
The Bullpen
Way back in May, I noted that the Reds bullpen was showing signs of competence after being absolutely horrific in 2016. That has held mostly true, as they remain in the middle-of-the pack in terms of run prevention, and currently sit in the top-ten in WPA and meltdowns. There isn't a great deal of name value in this group, but they're getting the job done.
Closer Raisel Iglesias leads the way, with a 1.46 ERA (306 ERA+) and 31.2 K%; he's 17 for 18 in save opportunities. Wandy Peralta and Drew Storen are the set-up men, and both have been solid in their roles, as well. A lack of rest may be an issue for the bullpen as a whole, though, as they've yet to have a day off since the All-Star break.
Who (Or What) To Watch
Scooter Gennett made headlines when he cranked out four home runs and 10 RBI on June 6. That feat was made even more amazing by the fact that, heading into that, Gennett had hit just 38 HR in 1754 PA – so those 4 home runs represented 9.5% of his career total. As a result, he seemed like the sort of player that would pop-up for a historical moment, and then fade into the background as a neat bit of trivia. Instead, Gennett has slashed .323/.385/.623 (158 wRC+) since that game, with 11 HR in 143 PA.
Why bring this up here? Simple – he's a LHH whose spray chart looks like this: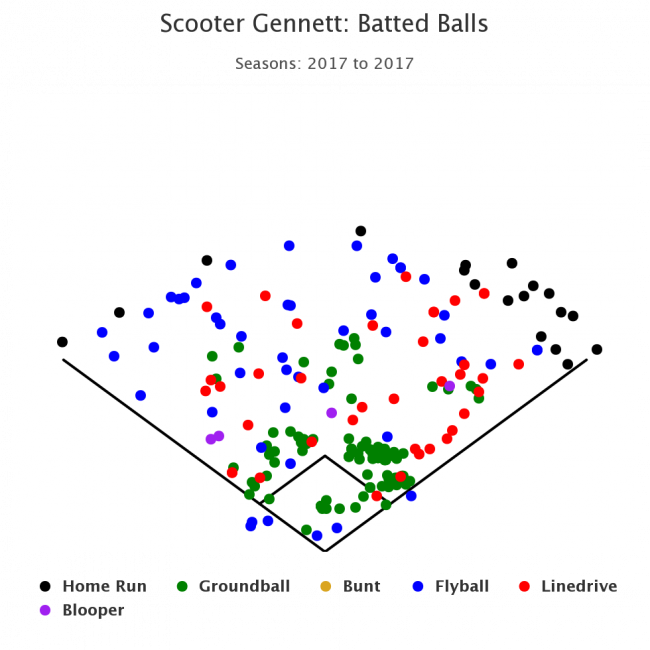 I will also add a token reference to Joey Votto, who remains one of the most interesting hitters in all of baseball, and one of my favorite non-Yankees.