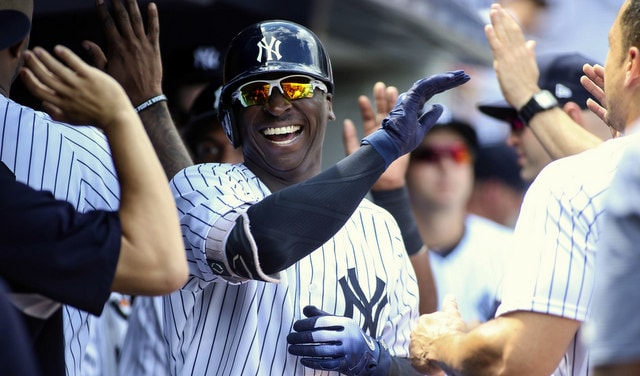 There is an important deadline coming later this week. This Friday is the deadline for teams and their arbitration-eligible players to submit salary figures for 2019. The player files what he believes he should be paid in 2019 and the team files what they believe he should be paid in 2019. If the two sides are unable to reach a contract agreement, they'll go to an arbitration hearing, and the panel will pick one of the two filing figures. Nothing in between.
Generally speaking, most arbitration-eligible players agree to a new contract before filing salary figures. The filing deadline is not a hard deadline — the two sides can still discuss a contract of any size after filing — though more and more teams are adopting a "file and trial" approach. That means once the two sides file salary figures, the team cuts off contract talks and they go to a hearing. It's designed to put pressure on the player to sign.
The Yankees have a very large arbitration class this year. They came into the offseason with nine arbitration-eligible players combining for $45.1M in projected salary. Subtract Ronald Torreyes and add James Paxton, and it jumps to $53.2M. That's a lot. Last year's arbitration class ran $29.235M even when including Adam Warren's full salary. A significant chunk of the 2019 payroll will be allocated between now and Friday.
For the most part the Yankees sign all their players prior to the filing deadline. They've been to one arbitration hearing in the last ten years (Dellin Betances in 2017) and only a handful of times have they had to go beyond the filing deadline to get a contract done. Most notably, they didn't sign Aroldis Chapman until a week before his scheduled arbitration hearing in 2016. That was a month after the filing deadline.
In all likelihood the Yankees will work out contracts with their nine arbitration-eligible players prior to Friday's filing deadline. That's usually how it goes. These talks are pretty straightforward. There is one obvious exception though: Didi Gregorius. Gregorius will miss the start of the coming season as he rehabs from Tommy John surgery and paying him his full $12.4M projected salary doesn't make a whole lot of sense. The Yankees figure to push for a discount.
Gregorius will go into contract talks with more leverage than the average arbitration-eligible player. Arbitration is an archaic process that pays based on past performance, not expected future performance, and Sir Didi has been among the most productive shortstops in baseball the last three years. His Tommy John surgery won't cost him because he hasn't missed any time with it yet. Had he missed last season with the injury, yeah, it would've cost him. He didn't though.
(I was hoping to prove my point by digging up arbitration-eligible pitchers who had Tommy John surgery after the season, and comparing their projected salary to their actual salary. Turns out that hasn't happened at all in recent years. Lance Lynn was under a multi-year contract when he had his Tommy John surgery. Matt Harvey was in his pre-arbitration years. Greg Holland was non-tendered. There are no recent Gregorius equivalents. Drat.)
By rule, teams can only reduce a player's salary to 80% of his previous year's salary. Gregorius earned $8.25M last year so the absolute minimum the Yankees can pay him this coming season is $6.6M. The thing is, no player has ever had his salary reduced by an arbitration panel, and it won't happen for the first time with Gregorius. He's been too productive. Gregorius will get a raise. The question is how large a raise?
The Yankees surely want to sign Gregorius to something less than his projected $12.4M salary, though they also have to be careful not to file a salary figure too low. If they do, they run the risk of the panel siding with Didi should they go to a hearing. And this works both ways. The Yankees could force Didi to defend his higher number in a hearing, but he has the stats, and he hasn't missed any time with Tommy John surgery yet. As long as he and his agent don't file something unreasonable, they'll be in good shape.
The Yankees could've non-tendered Gregorius earlier this offseason, which would've put him into free agency and freed them from the 80% rule and the other arbitration system rules. It's easy to say the Yankees should've non-tendered him and re-signed him at a reduced salary. The problem there is Gregorius is a very productive 28-year-old shortstop. Even with Tommy John surgery and even with the frigid free agent market, I reckon several teams would've pursued him.
Realistically, I don't think the Yankees would've been able to retain Gregorius at a reduced salary following a non-tender. I think he would've beat his $12.4M projection in total dollars on a guaranteed multi-year contract worth something more. Two years and $20M, something like that. The best and safest way to keep Gregorius was to tender him a contract and negotiate a new deal, not open things up to a potential free agent bidding war, so that's what the Yankees did.
Anyway, Friday's filing deadline seems more urgent for the Yankees than Gregorius. If they want to get Gregorius at a reduced salary — to be clear, by reduced salary I mean a smaller than projected raise, because a raise is inevitable — the best way to do that is to get him to agree to a contract beforehand. Getting a reduced salary through arbitration will be tough because, again, Gregorius has the stats, and he hasn't missed time with his injury yet.
Brian Cashman has said he hopes to retain Gregorius long-term. That's great. We all love Didi and want him to wear pinstripes as long as possible (right?). I would totally understand the Yankees waiting until Gregorius returns just to make sure he's the same player following Tommy John surgery to offer a long-term contract. I also think the looming arbitration salary filing deadline could push the Yankees to get a deal done now, because it might be their last chance to get any sort of injury-related discount.
Personally, I think the most likely outcome here is a one-year contract at the $12.4M projected salary or thereabouts. Gregorius doesn't have much of a reason to take a big discount — again, he can simply take the Yankees to arbitration and make them defend their lower number against the stats — and that could push the Yankees to get a multi-year deal done. It might be their only way to get a lower than projected 2019 salary. And, with the filing deadline coming, time is running out on their ability to negotiate without any other numbers out there.