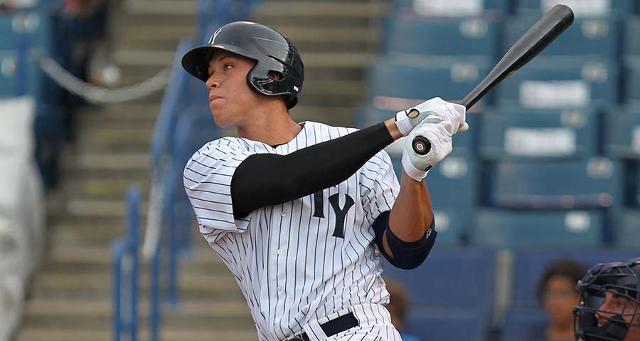 The crew at Baseball Prospectus is currently in the middle of their annual top ten prospects series breaking down the best young minor leaguers in each organization. They published their top ten Yankees prospects list yesterday, though it is behind the paywall. You can see the list itself for free, but you have to pay for the scouting reports and everything else. Here's the top ten:
OF Aaron Judge
RHP Luis Severino
C Gary Sanchez
LHP Ian Clarkin
SS Jorge Mateo
2B Rob Refsnyder
1B Greg Bird
CF Leonardo Molina
LHP Jacob Lindgren
C Luis Torrens
Nine of those ten names are fairly straight forward and not surprisingly included in a Yankees top ten in whatever order. The one surprise is the 17-year-old Molina, who hit a weak .193/.267/.260 (58 wRC+) with one homer, six steals, and a 23.5% strikeout rate in 53 games with the rookie level Gulf Coast League Yankees this summer. That was his pro debut after signing for $1.4M in August 2013, making him the team's top international pickup during the 2013-14 signing period.
Needless to say, the BP gang is very high on Molina. They grade all five of his tools as at least average — in fact, only the hit tool is average, everything else is above-average — and say the "tools are very loud, though far from being polished and playing together collectively as a group." The write up also says Molina's emergence as a top prospect "should be more subtle" rather than one huge breakout year. "It's a boom-or-bust prospect, for sure, with a heavy serving of risk on the plate, but there's a feel this one is going to start emerging over the next couple of seasons."
Also in the article, 3B Miguel Andujar, RHP Austin DeCarr, and RHP Ty Hensley are listed as three prospects on the rise. Andujar and DeCarr are just starting their careers while Hensley is returning from hip and hernia surgery. RHP Jose Ramirez, RHP Danny Burawa, and OF Tyler Austin are listed among the non-top ten prospects who could have an MLB impact in 2014. And, finally, BP ranks the organization's ten best players age 25 and under. It's basically the top ten prospects list with SS Didi Gregorius sandwiched between Severino and Sanchez. RHP Michael Pineda is no longer eligible because he turns 26 next month.
"This system is thinner in the upper levels with potential impact talent, where the near-term contribution is likely to be more modest, but a wave brewing in the lower levels is starting to breathe some life and offer more promise," said the write-up, summing up the state of the system. Every club has interesting prospects in the low levels, but I do think the Yankees have more than most, especially following their huge international free agent spending spree this summer. It'll be a little while before those players begin to make a name for themselves and emerge as top prospects, of course.