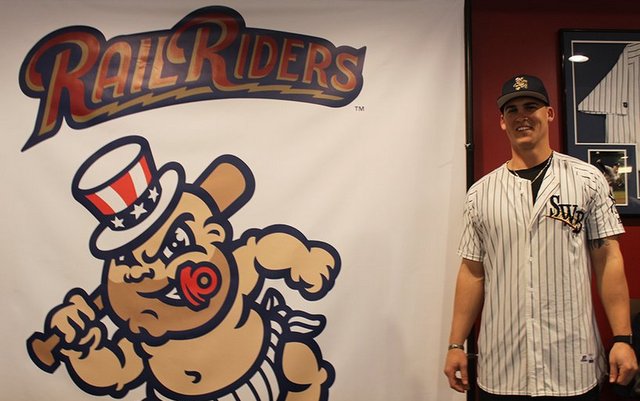 That giant muscle-bound baby with a five o'clock shadow you see above, standing next to Tyler Austin, is the new alternate logo for Triple-A Scranton. It's a Baby Bomber, basically. The team announced the logo last month. So that's a thing now. Anyway, here are some other minor league notes to check out.
Mateo spends time at third base
According to Erik Boland, SS Jorge Mateo spent some time at third base during recent workouts in Tampa, a position he's never played in an official game. He's played short and second in his career, and the Yankees also had him work out in center field during Instructional League last year. I should note it's not at all uncommon for players to see time at different positions during informal workouts. This doesn't necessarily mean Mateo will man the hot corner going forward.
The Yankees have a ton of shortstop prospects at the moment. Seven of my top 30 prospects are shortstops. Seven. There are only so many minor league affiliates to play these guys. I am intrigued by the idea of Mateo in center. He's a good defender at short, it's not like he's inadequate there, but he might be a great defender in center given his high-end speed and athleticism. Many shortstops have moved to the outfield over the years (Billy Hamilton, Odubel Herrera, Adam Jones, the Uptons, etc.) so it's not unheard of. Moving to center could be the best thing for Mateo and the Yankees going forward.
Kaprielian could pitch in MLB "pretty soon"
During a recent radio interview, Brian Cashman said RHP James Kaprielian could be a big league option "pretty soon," according to Brendan Kuty. "(He could) probably plug-and-play in the big league level pretty soon," said the GM. "He's kind of a wild card because he's very exciting … You sit behind home plate, he looked like a big leaguer right now, but he hasn't had a chance to show it and prove it in the big league level yet."
Had Kaprielian stayed healthy last season, he very well might have made his big league debut in September, when the Yankees were auditioning young arms. That would have made him a rotation candidate in Spring Training. Alas. Kaprielian has to make up for some lost time in the minors this year, and the Yankees have enough upper level pitching depth that they'll be able to allow him to progress at his own pace. Health is the most important thing this year. Hopefully Kaprielian stays healthy, because of it does, he's shoot up the minor league ladder.
Yankees release nine minor leaguers
The Yankees have released nine minor leaguers, report Matt Eddy and Robert Pimpsner. The eight: RHP Moises Cedeno, RHP Icezak Flemming, RHP Leonardo Garcia, RHP Deshorn Lake, RHP Rafael Ordaz, RHP Brandon Stenhouse, RHP Artur Strzalka, C Ronaldo Suarez, and LHP Zak Wasserman. None of the eight were prospects, really. Stenhouse signed a six-figure deal out of Australia a few years back. Strzalka is notable because he was the first person born and raised in Poland to sign a pro baseball contract. Flemming was New York's 26th round pick in 2015. Lake and Wasserman signed as undrafted free agents. That's about it.
Yankees no longer fielding two DSL teams
According to Josh Norris, the Yankees are no longer fielding two Dominican Summer League teams. They've had two DSL teams for as long as I can remember. I'm not sure why they scaled it back to one, though it could be a result of the new international spending restrictions. Teams aren't able to sign as many actual prospects as they once did, so there's no need for a second team. The Yankees still have all eight of their domestic minor league affiliates, including both Gulf Coast League teams, so there's no change there.
Miscellany
And finally, here are three miscellaneous minor league links to check out:
Jim Callis polled scouts and put together a minor league All-Defense Team, which includes SS Kyle Holder. "I haven't had more people rave about a prospect's defensive prowess to me since the days of Omar Vizquel coming up with Seattle," said an executive to Callis. "I've had scouts say they look forward to watching Holder take pregame ground balls like they would watching a guy with 80 raw power take batting practice."
Michael Leboff posted a Q&A with RHP Dillon Tate. "It's definitely tough after having success and then you struggle," he said. "One thing that helped me out was realizing that I had struggled before, so I didn't let myself get down on myself when I know where I was four years ago and how my development took a few years to really turn the corner."
Benjamin Hill writes ten minor league teams set a new attendance record last year, including two Yankees affiliates: Low-A Charleston and Rookie Pulaski. The Pulaski franchise was a total mess three years ago, before the Yankees got involved and new owners purchased the team. The new owners renovated the ballpark and made things much more fan friendly.
Minor league Spring Training begins March 3rd this year. If you're interested, Shane Hennigan has the minor league camp schedule.