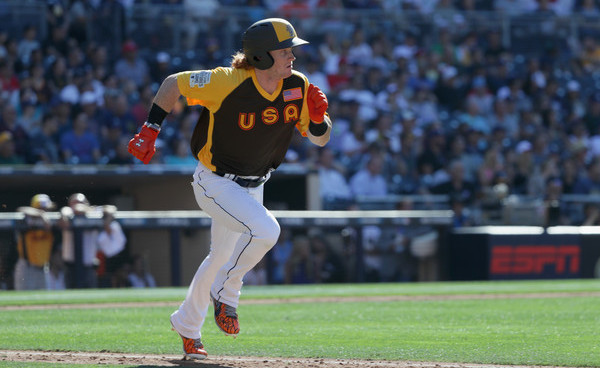 Last week the crew at MLB.com rolled out their midseason top 100 prospects list as well as their updated individual team top 30 lists. I intentionally waited to post this stuff because I had a feeling the Yankees were going to make some noise at the trade deadline, and sure enough, they did. Five trades total, including four that qualify as "sellers" trades.
Astros IF Alex Bregman sits in the top spot of the midseason top 100 — we saw him make his MLB debut in Houston last week — and is followed by Red Sox 2B Yoan Moncada and Phillies SS J.P. Crawford in the top three. The Yankees have seven players on the top 100. Three the seven were acquired within the last week. Here's the list:
22. OF Clint Frazier (acquired in Andrew Miller trade)
24. SS Gleyber Torres (acquired in Aroldis Chapman trade)
25. 2B/SS Jorge Mateo
30. OF Aaron Judge
37. C Gary Sanchez
62. OF Blake Rutherford
93. LHP Justus Sheffield (acquired in Andrew Miller trade)
So that's some list, huh? Three top 25 prospects, four top 30 prospects, and five top 40 prospects. Three of those five are in Triple-A too. That's is pretty damn awesome. You can see MLB.com's updated top 30 Yankees prospects right here. The scouting reports and everything are all free. I'm not going to regurgitate everything here. Here are some thoughts instead.
1. Andujar climbed quite a bit. Prior to the season MLB.com ranked 3B Miguel Andujar as the 15th best prospect in the system. Now he ranks eighth. That doesn't sound like a huge jump, but four of the guys ahead of him in the midseason update weren't in the organization prior to the season. His jump was really more like 15th to fourth when you ignore the new additions. Andujar's breakout this season has been really impressive and it feels like a long time coming even though he's still only 21. He's six months younger than Frazier. These international signees get old quick, if you know what I mean. Prospect fatigue sets in early.
2. Adams climbed too. RHP Chance Adams has been a both a statistical and scouting marvel this season, as he's made the transition from reliever to starter rather easily. He was 21st on the preseason list and is 14th now, ninth when you ignore all the recent additions. "While Adams has a deep enough repertoire to start, he's not a big guy and it remains to be seen how his health and stuff would hold up with a significantly bigger workload," said the write-up, and I think his size is important. Adams is listed at 6-foot-0 and the concern with short-ish pitchers is always the ability to drive the fastball downhill and avoid fly balls and homers. His 43.8% grounder rate and 10.8 HR/FB% aren't exactly good signs. That said, Adams looks like a really safe bet to be at least a big league reliever long-term. What a scouting and player development story he is so far.
3. Green makes the leap. RHP Chad Green was not included in MLB.com's preseason list. He now ranks 22nd, or 16th when you ignore the new guys. That's a pretty significant jump. "Green's fastball already was his best pitch when he worked at 90-94 mph with some occasional life. Now he's sitting at 93-95 mph and touching 97," says the scouting report. What is it with the Yankees getting their pitching prospects to add velocity? Green and a bunch of others have done it, including Adams and RHP James Kaprielian. There have been others as well. I've been impressed with Green's arm despite his meh big league results to date. He was the second piece in the Justin Wilson trade, and, at least according to MLB.com, he's jumped over RHP Luis Cessa to become the top piece.
4. Enns makes it. Finally some love for LHP Dietrich Enns, who has had tremendous results since returning from Tommy John surgery last year: 1.37 ERA (2.88 FIP) in 170.1 total innings. The scouting report isn't as exciting as the numbers — "Enns' lone plus pitch is his changeup, a low-80s offering that dives at the plate," said the write-up, which also says he has an 87-92 mph fastball, a low-80s slider, and a slow curve — but he's making people take notice, and that's pretty cool. This guy was a 19th round pick and an organizational arm before having his elbow rebuild. Now he's a prospect, albeit a fringe one who might not be more than a swingman at the MLB level. That's still a really great outcome given his draft slot.
5. No Solak? I was surprised to see 2B Nick Solak absent from the top 30. I had him 13th on my post-draft top 30 before all the trades, so either I'm really high on him or MLB.com is really low. Probably the former. Solak has bat control and plate discipline, plus he can handle a middle infield position, and that seems really valuable to me. He's the most notable omission in my book. Even with the new additions, I consider Solak organizational top 30 material rather easily.
6. No Austin either? 1B/OF Tyler Austin didn't make the top 30 either — he also didn't make my post-draft list, for what it's worth — and that surprised me. I guess not everyone is sold on his big bounceback year yet. Brian Cashman did mention Austin by name as a possible call-up candidate yesterday and we're going to find out pretty soon how the Yankees value him. Austin is going to be a minor league free agent after the season, so either the team will add him to the 40-man roster and keep him, or likely lose him to another club that offers a greater opportunity.