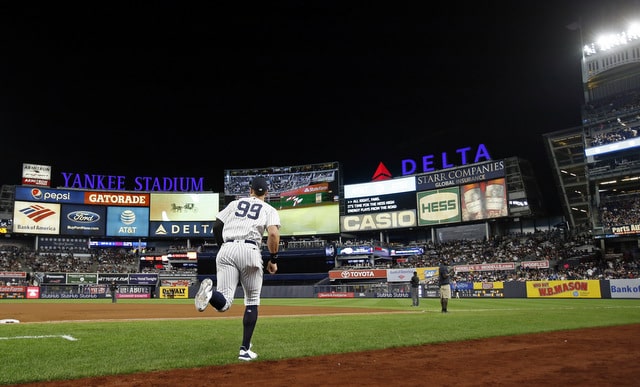 For the 20th time this season, the Yankees had a game affected by rain (or snow) today. Fortunately they will be able to play tonight. Today's 1pm ET game became a 7pm ET game because of heavy rain in New York. Things have cleared up now though and they should have no trouble getting the game in tonight. Hooray for that.
Anyway, holy cow Aaron Judge is back! That was a nice surprise. I mean, he's technically been back for a few days now, but now he's back in the starting lineup. The wrist is feeling good and Judge has 13 games to get back up to speed at the plate. Is that enough time? I sure hope so. Glad the big guy is back either way. Here are tonight's lineups:
New York Yankees
1. LF Andrew McCutchen
2. RF Aaron Judge
3. SS Didi Gregorius
4. DH Giancarlo Stanton
5. CF Aaron Hicks
6. 3B Miguel Andujar
7. C Gary Sanchez
8. 1B Neil Walker
9. 2B Gleyber Torres
LHP J.A. Happ
Boston Red Sox
1. 2B Ian Kinsler
2. 1B Steve Pearce
3. RF J.D. Martinez
4. SS Xander Bogaerts
5. DH Eduardo Nunez
6. 3B Brandon Phillips
7. LF Brock Holt
8. C Christian Vazquez
9. CF Jackie Bradley Jr.
RHP Nathan Eovaldi
The rain stopped a few hours ago and things will be clear for the game tonight. First pitch is scheduled for 7:05pm ET and you can watch on WPIX locally and MLB Network nationally. Also, you can watch on Facebook Live as well. Enjoy the game.
Injury Update: Judge (wrist) took simulated at-bats again today — he faced minor league righty Adonis Rosa, who Aaron Boone said was selected to pitch to Judge because the Yankees are comfortable with his command — and was deemed ready to hit in games. Here's video of a simulated home run. Interestingly enough, Boone said Judge wouldn't have been in the lineup for the original 1pm ET start. The delay gave them time to evaluate him and feel good about where he's at … Aroldis Chapman (knee) feels good after yesterday's simulated game and could be activated as soon as tomorrow.
Roster Moves: Welcome to the big leagues, Justus Sheffield. He was officially called up earlier today and is wearing No. 61. Clint Frazier was transferred to the 60-day DL to clear a 40-man roster spot. Domingo German was called up as well. The Yankees are up to 36 players on the active roster (19 pitchers, 17 position players). Aroldis Chapman (disabled list), Albert Abreu, Domingo Acevedo, and Thairo Estrada are the only 40-man roster players not on the active MLB roster right now.
Roster Note: This morning I mentioned A.J. Cole hasn't pitched in eleven games. Turns out he spent some time away from the team to be with his wife, who gave birth to their first child. He's back with the team now. The Yankees never bothered to put Cole on paternity leave because there's no point with rosters expanded. Congrats to the Coles.