Eleven, yes eleven questions this week. I combined two into one so there are only ten answers. Needless to say, I went rapid fire. The Submit A Tip box in the sidebar is the best way to send us stuff, mailbag questions or otherwise.

Dustin asks: With Jarrod Saltalamacchia not getting a qualifying offer, does he become a more attractive option for the Yankees over Brian McCann? Or does the fact that he only has one above-average season keep McCann in the lead?
It's a combination of several things, really. The lack of track record and defensive shortcomings mostly. I do think there's a strong case to be made that Salty at his price (three years, $36M?) is a better deal than McCann at his price (five years, $80M plus a pick?). Given where the Yankees are as a franchise, with some young catchers on the way and payroll coming down, a shorter term deal for a backstop makes more sense than going big on McCann. I would prefer Carlos Ruiz in that case — he is a far better defender than Saltalamacchia, plus he should come even cheaper — but I think McCann is elite relative to his position. Guys like that are hard to pass up.
Nick asks: So it seems that Texas would be willing to move Ian Kinsler or Elvis Andrus. What would it take to get either? Andrus isn't as attractive now because of that contract, but still should be considered. And Kinsler is always hurt.
Kinsler makes sense only if Robinson Cano signs elsewhere this winter. I don't buy him as a first baseman or corner outfielder. I was excited about Andrus a year or two ago and thought he made a ton of sense as a Derek Jeter replacement — his free agency lined up perfectly with the end of Jeter's contract (after 2014) — but I also thought he would continue to get better, not have a career-worst season in 2013. He's owed $124.475M through 2022 ($13.8M luxury tax hit), which is scary. Furthermore, I'm not sure the Yankees and Rangers match up well for a trade. Texas is presumably looking for a young outfielder or high-end starter, two things New York a) doesn't have, and b) needs itself.
Aside: Wouldn't it make sense for the Rangers to trade both Andrus and Kinsler, then sign Cano and play Jurickson Profar at shortstop? Dealing Andrus and Kinsler would surely net them that young outfielder and high-end starter.
Ryan asks: I haven't heard any mention of the Yankees and Nelson Cruz. His name hasn't been floated on here since the trade rumors last January. Whats the deal? I would have though he'd be a great addition to the lineup.
Grant Brisbee explained why Cruz is such a risk yesterday, so I'll link you to that. Long story short: Cruz is basically Alfonso Soriano without the defense. His numbers against righties aren't anything special (.249/.299/.465 since 2011) and while home/road splits usually get way overblown, it's hard to ignore how much more productive Cruz has been at his hitter-friendly home ballpark (.279/.340/.546 since 2011) than on the road (.247/.299/.432). The Yankees already have one Soriano, no need to give up a draft pick (Cruz received a qualifying offer) to get another.
Kevin asks: Juan Oviedo and Eric O'Flaherty seem like natural fits for the Yankees next year given the payroll and need for bullpen arms.
Oviedo is the pitcher formerly known as Leo Nunez, the ex-Marlins closer. He's missed the last two seasons due to elbow problems that eventually required Tommy John surgery. I would bring him in on a minor league deal no questions asked, but there's no way I'd guarantee him anything after missing two years. He took a minor league deal (with the Rays) last year and will have to take one again. O'Flaherty missed most of 2013 after having his elbow rebuilt. He was one of the most dominant lefty relievers in baseball before the injury (held same-side hitters to a .195 wOBA from 2011-2012) and I think he'll get a nice contract this winter despite coming off surgery. Would he take one year and $2M to rebuild value? I'm not sure the Yankees can afford to go higher than that for an injured pitcher who won't be ready until June or so.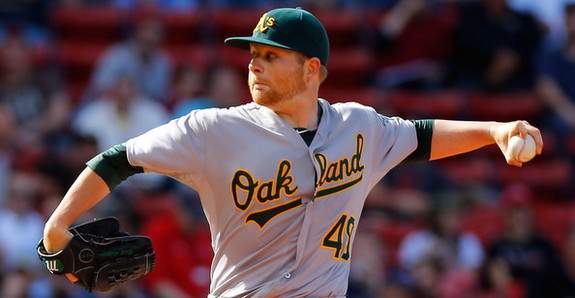 Bryan asks: How about a flyer on Brett Anderson? The A's have rotation depth and the cost wouldn't be super high (you'd think) right now. Or would they be better off with a guy like Josh Johnson (who only costs money) if they want to take a gamble?
Man I love Anderson, but he just can't stay healthy. He's thrown more than 115 innings just once (175.1 in 2009) and over the last two years he's been limited to 79.2 innings total. Anderson has been pretty awesome whenever he's stayed healthy for more than a month at a time, but he's going to make $8M next season. That's a huge chunk of change for an always hurt pitcher. I'm not sure the Yankees can afford a risk like that. Payroll is tight as it is, and that doesn't even factor in the trade cost. If I'm going to bring in a reclamation project starter, I'd go with Johnson because he only costs money. I'd prefer neither, to be honest.
Biggie asks: If Curtis Granderson accepts his qualifying offer would there be a market to trade him? What type of return would you expect? I would love him to accept, move him for another piece and sign Carlos Beltran for two years and $28M.
I don't think the Yankees would have any trouble finding a taker for Granderson if he accepts the $14.1M qualifying offer. Chances are they could get a better prospect in return than they'd be able to select with the compensation pick as well. A contender in need of a bat like the Cardinals (if Beltran bolts), Tigers (for vacant left field), and Reds (if they don't think Billy Hamilton is ready) would presumably show interest in Granderson on a one-year deal, ditto non-contenders like the Phillies, Mets, White Sox, Giants, Mariners, and Rockies. They wouldn't get an elite prospect in return, but a rock solid Grade-B prospect who is at Double-A or higher. That's very fair value if not a bargain.
Mike asks: What about Kelly Johnson as a free agent? He can fill in around the infield except at short and play the corners in the outfield.
If Cano does leave as a free agent and the Yankees decide to pass over David Adams and Corban Joseph as internal replacements, Johnson is the guy I'd want them to bring him to play second base. He shouldn't required a multi-year contract like Omar Infante nor would he require the general headache of trading for Brandon Phillips. Johnson is a Yankee Stadium friendly left-handed hitter who hits for power (16+ homers in four straight years), plus he'll steal a decent amount of bases and play solid defense. As an added bonus, he can also play left field in a pinch. The trade-off is a low average and strikeouts, which aren't the end of the world for a number eight or nine hole hitter. Even if the Yankees re-sign Cano, Johnson makes sense as a lefty bat off the bench. Definite fit.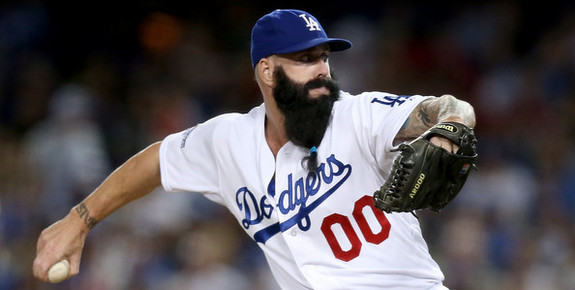 Tucker asks: While the idea of the Yankees signing Brian Wilson has been floated out there, and it definitely has a lot of appeal, I just can't imagine him being willing to go to the barber, even if it means forfeiting a couple million. Do you agree with this?
Wilson already turned down a million bucks to shave his beard, but maybe $6-7M will change his mind? Ultimately, I think Wilson will wind up signing with a non-Yankees team because they'll offer more money and guarantee him the closer's job, not because he wouldn't have to shave his beard. That would suck, he's a perfect fit in my opinion (as long as you look beyond the beard and seemingly intentionally insufferable personality).
Thomas asks: Is there any chance that the Yankees try and get another full-time DH this season? If so, if he doesn't retire, is it possible we would get another taste of Raul Ibanez? I'm sure Yankees fans would like to see him again.
Zac asks: Jason Kubel is one year removed from a 30-HR season and should come cheap following a poor year in which he battled injury. Is he s fit for the Yankees?
Going to lump these two together since Ibanez and Kubel are nearly the same exact player. If the Yankees don't sign Beltran — he's pretty much the only big name outfielder I can see them realistically signing — either guy would make sense as a part-time right fielder and part-time DH. They could also serve as that lefty bat off the bench I always seem to be talking about. New York could find a spot for their power even if they sign Beltran, though I think Ibanez is the safer bet at this point. Supposedly he's only considering retirement or a return to the Mariners (he lives in Seattle during the offseason). As long as they keep him or Kubel away from lefties and have a defensive replacement handy, they'd make some sense for the current roster. I still don't like the idea of adding a full-time DH. They need to keep that spot open for various old guys.
Anthony asks: Hey Mike, Chris Perez was just released by the Indians. Being that the Yankees will look to add a piece or two to the bullpen this offseason, do you think the team should give him a look? While I don't see him serving as the closer, perhaps he can provide some value in the 7th or 8th?
I wrote about Perez in a mailbag back in May and said I wanted to see how he performed the rest of the season before thinking about him as an option for 2014. Well, from that date forward, he pitched to a 5.21 ERA (4.65 FIP) in 38 innings while opposing batters hit .283/.351/.520 against him. He and his wife were also arrested for drug possession. So … yeah, things didn't go so well. The Indians got so sick of him that they didn't even wait until the non-tender deadline to release him. Perez has really nasty stuff, but he clearly has some things to work on. I'm not sure if the Yankees have enough bullpen depth (or payroll space) to take on a second project reliever in addition to Dellin Betances.