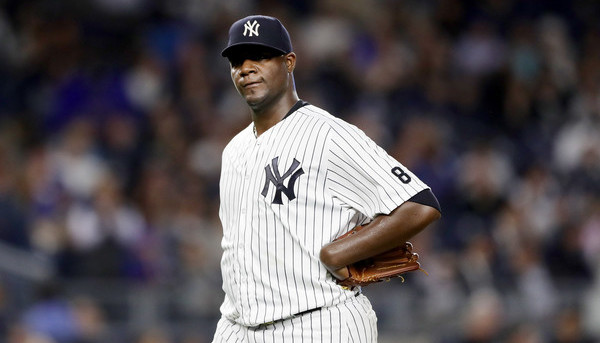 Last night's series opening loss to the Diamondbacks was ugly but not necessarily unexpected. The Yankees started a kid making his big league debut, and that's always unpredictable, plus their best relievers were all unavailable due to their recent workloads. You'd still like to be able to steal a game under those circumstances, though more often than not you're on the wrong end of the final score.
Tonight the Yankees are at full strength — or at least something approximating full strength — with Michael Pineda on the mound. Which Pineda will show up, the guy who gets hammered in the first inning or the guy with a knack for settling down and chucking scoreless innings? It would be nice to see the second guy without the first guy for once, you know? Here is the D'Backs' lineup and here is the Yanks' lineup:
CF Jacoby Ellsbury
LF Brett Gardner
1B Mark Teixeira
C Brian McCann
2B Starlin Castro
3B Chase Headley
SS Didi Gregorius
RF Aaron Hicks
RHP Michael Pineda
It's a bit cooler in Phoenix today than it was yesterday, meaning the temperature is in the mid-80s rather than the low-90s. The Chase Field roof will be open. Tonight's game is going to start at 9:40pm ET and you can watch on YES. Enjoy.
Injury Update: Alex Rodriguez (hamstring) has yet to run the bases at full speed, so it's possible he won't be ready to come off the DL when eligible Thursday.
Roster Moves: The Yankees called up three players from Triple-A, they announced: Luis Cessa, James Pazos, and Rob Refsnyder. Chad Green and Conor Mullee were optioned down while Phil Coke was designated for assignment. The Yankees are back to a seven-man bullpen and a four-man bench, and they have an open 40-man roster spot now.