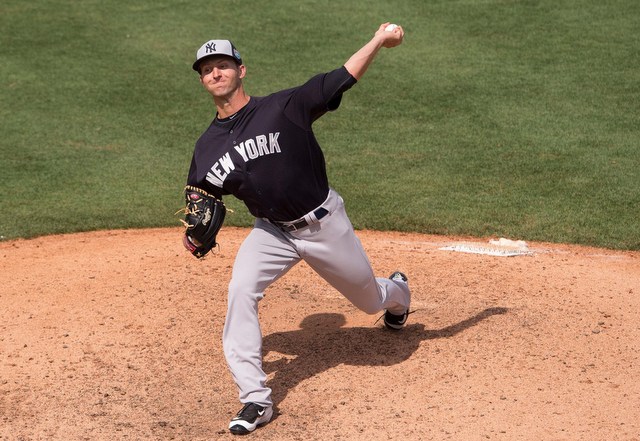 Over the last few years the Yankees have done a good job finding interesting bullpen prospects in different places. The late rounds of the draft, waivers, minor league free agency, whatever. These guys are not future ace closers or anything like that, but they look like serviceable bullpen options, so the Yankees put them to work last year. They cycled relievers in and out as part of their bullpen shuttle. They called someone up, got a few innings out of him, then sent him down for a fresh arm. Over and over again.
The Yankees will again employ a bullpen shuttle in 2016, perhaps even moreso than last year. They have multiple open bullpen spots and a small army of relievers with options, so they can send these guys up and down as much as they want this summer. And they will. We're going to see pitchers come up, throw in a game or two, then get sent down. Big league stints will be measured in days, not weeks. Here are the main bullpen shuttle candidates for the coming season, presented alphabetically.
The Spring Standout
An offseason ago the Yankees flipped Shawn Kelley to the Padres in what was widely believed to be a cost-cutting move. Kelley was solid, not great, and he figured to be a key piece of the 2015 bullpen. Instead, the Yankees traded him for a Double-A relief prospect with a balky elbow. That prospect: Johnny Barbato. And one year after the trade, Barbato is in position to make the bullpen.
"Definitely came in trying to open some eyes," said Barbato to Chad Jennings over the weekend. "Just worked my butt off this offseason to get ready, and I think I did. I think coming in here feeling confident, feeling comfortable — I lost a bunch of weight — just came in feeling good, and I think I've done well enough to open some eyes."
Barbato, 23, had a 3.19 ERA (3.45 FIP) with a 24.8% strikeout rate and a 9.2% walk rate in 67.2 innings split between Double-A and Triple-A last year. The concerns about his elbow blew over. He's been healthy since the trade. This spring he's allowed two runs (both in the same game) in 8.2 innings with an 11/1 K/BB. Barbato's done it with a low-to-mid-90s fastball, his trademark curveball …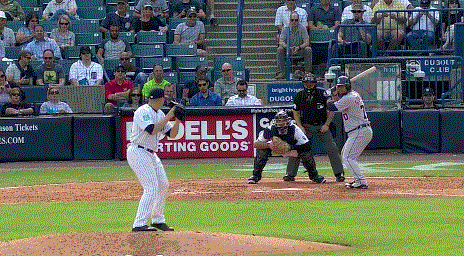 … and a little slider/cutter thing. The Yankees added Barbato to the 40-man roster over the winter to protect him from the Rule 5 Draft, and while taking Grapefruit League numbers to heart is a fool's errand, Barbato has clearly opened some eyes in camp. With most of the other shuttle relievers struggling, he has put himself in very good position to be on the Opening Day roster. Either way, Opening Day roster or not, we'll see Barbato in the big leagues this summer.
The Offseason Pickup
It's funny how history repeats itself, isn't it? Last offseason this Yankees traded someone we all thought would be a big part of their 2015 bullpen (Kelley) for a prospect, and everyone said they were doing it to save money. Now that prospect looks pretty good. They did the same thing this past offseason, sending Justin Wilson to the Tigers for two Triple-A starting pitcher prospects, one of which is righty Luis Cessa.
Cessa, a former shortstop, has been traded twice in the past eight months. The Mets sent him to the Tigers in the Yoenis Cespedes deal, then the Tigers sent to the Yankees for Wilson. The 23-year-old Cessa has been solid in limited action this spring (7 IP, 7 H, 3 R, 3 ER, 1 BB, 6 K) and Brian Cashman has praised his work thus far. The GM could just be pumping up a recent addition, though ultimately the words do not matter. What matters is what happens on the mound.
In all likelihood Cessa, who is starting tonight's game against the Tigers, will open the season in the Triple-A Scranton rotation. Don't think that's significant? Four of the five pitchers who opened last season in the Triple-A rotation ended up in the big leagues at some point. (Bryan Mitchell, Chase Whitley, Kyle Davies, Danny Burawa. Jaron Long was the exception.) Cessa, who is on the 40-man roster, is a fastball/slider/changeup pitcher with surprisingly good command for a converted position player, though he still needs some fine-tuning.
After Ivan Nova, Cessa could very well be the first pitcher to brought up from the minors to make a spot start in 2016. Mitchell started last season in the Triple-A rotation before getting some extended time in the MLB bullpen, and a similar path is a definite possibility for Cessa, though I think the Yankees really believe in him as a future starter. I'm sure he'll reach the show at some point this year anyway. Similar to Barbato at the time of his trade, Cessa's true coming out party may be a year away.
The Minor League Stats Guy
You're not going to find a shuttle reliever with better minor league numbers than Nick Goody. The 24-year-old righty missed most of the 2013 and 2014 seasons due to Tommy John surgery, then, in his first full season with his rebuilt elbow, Goody had a 1.59 ERA (2.06 FIP) with a 33.2% strikeout rate and an 8.3% walk rate in 62.1 innings split between Double-A and Triple-A in 2015. He also threw 5.2 innings in the show.
Goody was on the shuttle last year and he'll be on the it again this year. He hasn't had a great Spring Training (8.1 IP, 7 H, 4 R, 4 ER, 1 BB, 5 K) but the Yankees have not yet reassigned him to minor league camp, so his Opening Day roster hopes are still alive. Goody is a low-90s fastball/low-80s slider guy, so since he doesn't have overpowering stuff, his presently shaky command probably isn't good enough for high-leverage work. Perhaps his command can improve the way David Robertson's did. For the timing being, he's the quintessential up-and-down middle reliever.
The Former Top Pick
Less than a year after being the Yankees' top selection (second round) in the 2014 draft, left-hander Jacob Lindgren was in the big leagues, getting a chance to show he belonged long-term. (When they needed a roster spot, the Yankees cut the veteran David Carpenter and kept Lindgren.) Lindgren struggled in his seven MLB innings and eventually had surgery to remove a bone spur from his elbow, ending his season.
Lindgren, 23, was the very first 40-man roster player and Opening Day bullpen hopeful reassigned to minor league camp this spring. His numbers were not great, though it was basically one disaster outing in three appearances:

Joe Girardi said the Yankees felt Lindgren was pressing because he was trying to make the team, so they sent him down to clear his head and get regular work. Lindgren's calling card is his wipeout slider, though he lacks command, lacks a big fastball (mostly 89-91 in pro ball), and has just good enough control to make it work. That's the recipe for a frustrating reliever.
That slider gives Lindgren the best chance to be a late-inning reliever among the shuttle guys, though he's going to have to throw more strikes going forward. That's the goal this season with elbow surgery in the rear-view mirror: more strikes. A wipeout breaking ball is no good if you're behind in the count. Lindgren is definitely a shuttle candidate, but I wonder if the Yankees will leave him in Triple-A for an extended period of time to iron out that control.
The Starter Turned Reliever
Real Talk: If the fifth starter competition was a real thing, Bryan Mitchell would be winning in a landslide. He's been fantastic this spring (14.2 IP, 6 H, 1 R, 1 ER, 1 BB, 11 K) and he was very good out of the bullpen for the Yankees last year before taking a line drive to the nose. At this point it's hard to believe Mitchell won't be on the Opening Day roster. How could he not be?
The stuff as never been in question. Mitchell, who will turn 25 next month, has a mid-90s heater and a knockout curveball, and his third pitch is a cutter. He's never been able to pick up a changeup, so he has to use the cutter against lefties. That lack of a changeup and career long command issues are Mitchell's biggest flaws. One of those will have to improve — ideally both — for Mitchell to hack it as a starter at the next level.
For now, Mitchell is certain to open the season in the bullpen, and Girardi has talked about using him in the Adam Warren role. That versatile reliever who can go multiple innings and even pitch in the late innings on occasion. The Yankees shouldn't close the door on Mitchell as a starter and I don't think they will. For now, they need him in the bullpen, and I wouldn't be surprised if he's in the big leagues for good. Mitchell may be too good to shuttle up and down.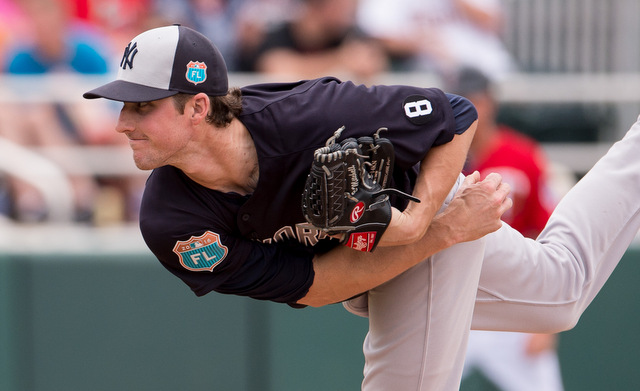 The Lefty Specialist
Every year the Yankees (and every other team) make a series of small pickups in the offseason, and those small pickups can be easy to overlook. Left-hander Tyler Olson, who came over in a minor trade with the Dodgers, was one of those easy to overlook pickups this winter. He's a pure left-on-left matchup guy with a funky delivery, a mid-to-upper-80s heater, and a loopy breaking ball, so his usefulness is limited.
Olson, 26, has had a pretty strong spring up until his last appearance or two. Having a spare lefty specialist you can bring up whenever you're getting set to face a lefty heavy lineup is nice, but of all the shuttle relievers, I think Olson is most in danger of losing his 40-man roster spot. The Yankees have other lefties and they have other relievers who can throw full innings. Chances are we'll see Olson at some point this summer. I would be surprised if he carved out a role and stuck around long-term, however.
The Other Lefty Specialist
The Yankees really seem to like James Pazos. He was reportedly on their list of untouchable prospects at the trade deadline — I refuse to believe that. It can't possibly be true, can it? — and the club called him up last September before he had to be added to the 40-man roster. Pazos is a hard-thrower — PitchFX clocked his average fastball at 94.5 mph last September — though he lacks consistency with his slider and seems to be prone to bouncing pitches in the dirt.
Pazos was sent to minor league camp this past weekend, taking him out of the running for an Opening Day bullpen spot. But, like I said, the Yankees really seem to like him, and I have little doubt we'll see him this season. Improving that slider will be his focus in Triple-A for the time being. Pazos seems to be the middle man between Olson (short-term fill-in) and Lindgren (potential long-term solution) among the shuttle lefties. Regardless, he's going to get an awful lot of chances in this game because he's a lefty and he throws hard.
The Shuttle Veteran
None of the shuttle relievers threw more big league innings (27.2) or made more up-and-down trips (six!) than 27-year-old Branden Pinder last season. The fastball-slider right-hander was called up at least once each month last season, so he's a pro at this by now. He is well-versed in this shuttle reliever thing after only one year and that's good, because he'll be riding that shuttle again in 2016.
Pinder has had an steady but unspectacular spring (6.1 IP, 5 H, 1 R, 1 ER, 4 BB, 6 K) and he remains in big league camp, giving him a chance to make the Opening Day roster. That said, even if he makes the Opening Day roster, he's a candidate to be sent to Triple-A whenever a fresh arm is needed. Pinder lacks a reliable weapon against lefties and he's prone to missing over the plate, limiting his ceiling. Still, his stuff is good, and I feel like he's going to carve out a lengthy career as a journeyman middle reliever. A Chad Qualls/Jason Frasor type.
Rumblin' Rumbelow
Aside from Lindgren, no minor league reliever climbed the ladder as quickly as Nick Rumbelow in recent seasons. Rumbelow went from Low-A Charleston to Triple-A Scranton in 2014, then he made his big league debut in 2015. He threw 15.2 mostly forgettable innings with the Yankees a year ago, and over the weekend he was reassigned to minor league camp, meaning he's not going to be on the MLB roster to start the new season next week.
Rumbelow, 24, has three pitches, unlike most of the other shuttle bullpeners. PitchFX had his average fastball at 93.3 mph last year, and he also throws a low-80s curveball and a mid-80s changeup. The curveball was Rumbelow's go-to secondary pitch when he first signed as the team's seventh round pick in 2013, but nowadays he prefers the changeup. He'll double up on the change and throw it to righties.
Three pitches, a funky delivery, and good enough control are a nice recipe for a big league career. Rumbelow has fine-tuning to do before he sticks long-term — anecdotally, he seems prone to overthrowing and leaving pitches up in the zone — but the tools are there, and he'll surely get plenty of chances to show what he can do this year. Rumbelow figures to see lots and lots of shuttle time this year. He might supplant Pinder and be the top shuttle guy in 2016.
The (Temporary) Seventh Inning Guy
I'm not sure anyone in camp needed a good spring more than Chasen Shreve. Shreve, who is still only 25, was very good for the first four and a half months of 2015, but he crashed hard down the stretch, and no one really knew why. There was talk he was tipping his pitches, talk the league figured him out, stuff like that. Most with the Yankees said they believe it was fatigue, which sounds like a cop-out, but it was a plausible explanation.
So far this spring Shreve has been untouchable: 8 IP, 0 H, 0 R, 0 BB, 8 K. The only base-runner against him came on an error. The numbers are great, but, more importantly, Shreve looks comfortable on the mound and he's throwing with conviction. His body language wasn't so great late last year and that was understandable. Opponents made him pay for every mistake. Shreve looks rested and he's been aggressive. It's been a good spring.
At the outset of camp, Girardi talked about Shreve like one of his regular relievers, as if he had a bullpen spot locked up. Fans were understandably skeptical given his finish last season, but if the Yankees felt the same way, they weren't showing it. Shreve is not only a lock for the Opening Day bullpen at this point, it seems likely he will assume seventh inning work while Aroldis Chapman serves his suspension. Shreve held that role last when Andrew Miller was on the DL.
It's probably unfair to lump Shreve in with the other shuttle relievers at this point given what he did last year. He wasn't just pretty good, remember. He was dominant from April through mid-August, using his low-90s fastball/low-80s splitter combination to neutralize both righties and lefties. If the Yankees have to send Shreve down to Triple-A at some point in 2016, something went wrong. I think he's up for good.
The Darkhorse
Similar to Olson, right-hander Kirby Yates was a nondescript offseason pickup who was easy to overlook coming into camp. Now, with Opening Day a week away, the 29-year-old Yates appears to have a legitimate chance to make the team, especially since so many of the other shuttle guys haven't had good Grapefruit League seasons. He's been very good in camp (6.1 IP, 2 H, 0 R, 1 BB, 8 K) and he has big league experience, throwing 56.1 innings with the Rays the last two seasons.
Yates is a generic low-to-mid-90s fastball/mid-80s slider guy, so lefties give him a problem, which limits his ceiling. That fine though. We're talking about a possible low-leverage middle reliever who gets shipped in and out whenever the team needs a fresh arm. If nothing else, Yates opened some eyes this spring and cemented himself as a shuttle candidate. Even if he doesn't make the Opening Day roster, he's put himself in position to be among the first called up.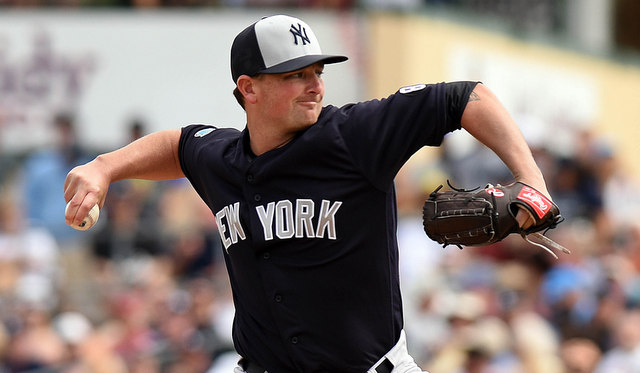 The Non-40-Man Roster Options
In addition to all the 40-man guys, the Yankees have several non-40-man roster pitchers who could see time on the shuttle this season. Remember, guys like Kyle Davies and Matt Tracy and Joel De La Cruz went from afterthoughts to big leaguers a year ago, simply because they were available. Journeymen like lefty Richard Bleier and righties Anthony Swarzak, Vinnie Pestano, Tyler Cloyd, and Diego Moreno could all be temporary call-ups in 2016.
As for actual prospects, lefty Tyler Webb and righties Chad Green and Brady Lail seem most likely to be called up this summer. Maybe Mark Montgomery too. Green, the other prospect acquired in the Wilson/Cessa trade, and Lail are ticketed for the Triple-A rotation. Webb is going to return to the RailRiders' bullpen. Depending on their Triple-A performance and the big league team's needs, those guys could see the show this year.
Calling up someone like Bleier or Pestano is no big deal because the Yankees could drop them from the roster no questions asked. Call him up, get whatever innings you need, then move on. You can't really do that with someone like Green or Lail because they're actual prospects and you can't simply drop them from the 40-man roster when a spot is needed. That's a serious roster consideration. Is it worth clogging up a 40-man spot (and burning an option year) to get, say, two innings from Lail on a random June afternoon because you played 15 innings the night before? Probably not.
For now the Yankees appear to have plenty of bullpen shuttle candidates on the 40-man roster. I have ten 40-man relievers listed in this post even without counting Shreve. The Yankees are going to cycle through those pitchers all year, and with any luck, one or two will stand out from the pack and earn extended opportunities in the big leagues. With the Yankees unlikely to get much length from their starters, the extra bullpen arms will again be very important in 2016.