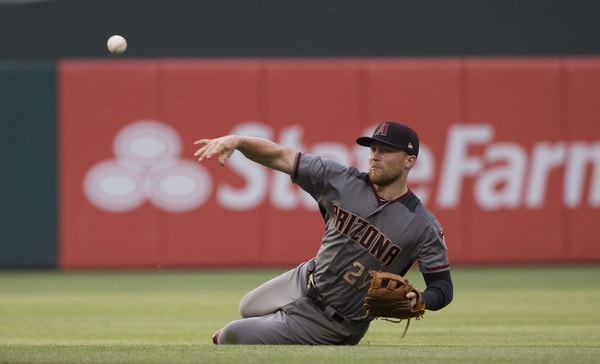 It was only a matter of time until the Yankees added an infielder after trading away Chase Headley and Starlin Castro, and they have done exactly that.
According to multiple reports, the Yankees have acquired Brandon Drury from the Diamondbacks in a three-team trade. They'd been on him since the Winter Meetings, so this deal didn't exactly come out of nowhere. Here are the full trade details:
To Yankees: Brandon Drury
To Diamondbacks: Steven Souza, Taylor Widener
To Rays: Nick Solak, Anthony Banda, two players to be named later from Arizona
So it's Solak and Widener for Drury, as far as the Yankees are concerned. The Yankees have openings at second and third bases, and the 25-year-old Drury can help fill either. He has extensive experience at second and third, and has also played left field at the MLB level. He also played some first base in the minors. A versatile player, he is.
Last season Drury, a right-handed hitter, authored a .267/.317/.447 (92 wRC+) batting line with 13 homers, a 21.5% strikeout rate, and a 5.8% walk rate in 480 big league plate appearances. He is a career .271/.319/.448 (95 wRC+) hitter at the MLB level. Drury has never been a big on-base guy, but he has pop. This trade is about dingers, infield depth, and versatility.
Solak and Widener are both quality prospects, though neither ranks among New York's best. I ranked Solak as the 16th best prospect in the system and Widener the 22nd best. Baseball America has Solak 12th and Widener 22nd in their 2018 Prospect Handbook. The Yankees are deep in middle infielders and power right-handed arms, so they dealt from that depth. That's what you're supposed to do.
The 23-year-old Solak hit .297/.384/.452 (143 wRC+) with 12 homers in 538 plate appearances split between High-A Tampa and Double-A Trenton in 2017. He was slated to return to Trenton to begin 2018. Solak is basically a better version of Rob Refsnyder. He has more pop and a better chance to stay at second, but given who the Yankees have ahead of him on the depth chart, he was expendable.
Widener, 23, did the reliever-to-starter conversion thing last season and threw 119.1 innings with a 3.39 ERA (3.05 FIP) at High-A Tampa. His strikeout rate (26.4%) was strong, his walk rate (10.2 BB%) not so much. Widener is a mid-90s fastball guy even as a starter, and on his best days his slider will be unhittable. He's still working to figure out a changeup. Pretty good chance Widener is destined for the bullpen long-term, and there's nothing wrong with that.
The Yankees drafted both Solak and Widener in 2016. Solak in the second round and Widener in the 12th. Drury was originally a 13th round pick by the Braves in 2010. They sent him to the D'Backs in the Justin Upton deal. Drury will make something close to the league minimum as a pre-arbitration-eligible player this year, and will remain under team control from 2019-21 as an arbitration-eligible player. Also, Drury has two minor league options remaining, so he can be sent to Triple-A, if necessary.
Since neither Solak nor Widener were on the 40-man roster, the Yankees are going to have to open a spot for Drury. They don't have a 60-day DL candidate either. My guess is Jabari Blash, who came over in the Headley salary dump, gets the roster ace to clear a spot for Drury, but we'll see. Ultimately, the Yankees moved two expendable prospects for a versatile big league piece with some upside who can help address their greatest needs. The Yankees are a better team today than yesterday.
Update: The Yankees have announced the trade and it is as reported. No surprises. Blash was indeed designated for assignment to clear a 40-man spot for Drury. I'm guessing he'll clear waivers and remain in the organization as a non-40-man roster player. If not, we'll always have those 25 homers ZiPS projected, Jabari.