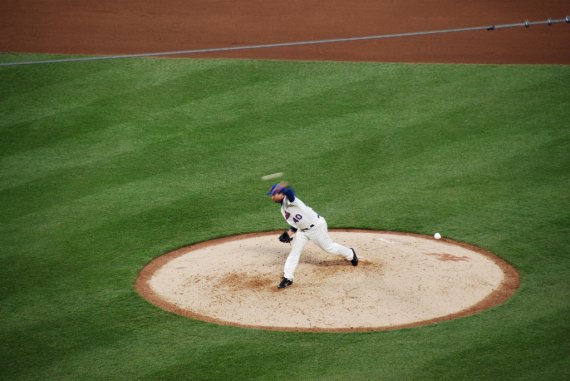 The Yankees don't have too many needs as the deadline approaches, but we've heard time and again that they seek left-handed pitching. Specifically, they'd like a lefty reliever to go with, or perhaps replace, Boone Logan. Many teams seek similar help, and it complicates the market. No one wants to pay that much for a guy who comes in to face just one or two batters, but no team wants to be left without such a guy. Most of the time, that means few are available. This year is no different, though there's an intriguing name pitching across town: Tim Byrdak. Via MLB Trade Rumors, the Mets will look to move him this month, so let's size him up.
The Pros
He has absolutely mowed down lefties this year, striking out 19 of 55 he has faced (13.50 per nine, or 35% of all lefties faced). He has walked only three of those 55, thanks to a 67 percent strike rate. In other words, he's probably not going to go all Logan and walk the guys he's charged with retiring. The rate doesn't hold up through his entire career, but he still has struck out more than a lefty per inning (26 percent) since 2005.
He's struck out nine of 40 righties he's faced (9 IP), good for a 23 percent rate. He's not great against them, as he's walked six (one intentional), but he can hold his own if he needs to face a righty sandwiched between two lefties.
He has held inherited runners at bay this season, allowing just five of 27 to score. That's huge for a LOOGY, since he'll often enter a game with men on in a big spot.
Speaking of big spots, he's faced 17 men in high leverage situations this year and has allowed just three hits. He has walked three, though one was intentional, while striking out six. He's also struck out 13 of the 32 men he's faced with runners in scoring position, and 18 of 51 with men on base.
Most importantly, he throws with his left arm and is potentially better than Logan. That seems to be the main criteria for the Yankees this deadline.
The Cons
The rates listed above are in the small sample that is 2011. His walk rate against righties for his career is over 6.00, and it's still around 6 when you take out the intentional walks. In other words, he could turn into a pumpkin real quickly.
Another reason to dislike is his 1.34 WHIP against lefties this year. It's great that he's sitting plenty down via the strikeout, but the ones who make contact are faring very well. Maybe his .387 BABIP against lefties is a fluke and will come down, or maybe it's a sign that he's fooling some of them but not others.
While he's stranded runners aplenty this year, his career rate is a pretty standard 33 percent. If he's going to regress back to his career average, it's going to mean a lot of inherited runners scoring in the second half.
Similarly, his career performance in high leverage situations is fairly pedestrian. That 1.67 WHIP, which includes a 6.00 BB/9 rate, does not look pretty.
If the Yankees do attempt to acquire Byrdak, they have to do so with the hope that a change of leagues — he hasn't pitched in the AL since 2007 — helps him keep going with the high strikeout rate. It's really all he offers. If that rate regresses, he's of even less use. So while they'd be essentially bidding on a prayer with Byrdak, they'd also have to expect the worst, since that's the nature of relievers. That means not parting ways with anything of remotely significant value. But since he's a lefty and has a high strikeout rate, there is probably a team willing to up the bidding on him. I just hope the Yankees don't bite. Given the state of the bullpen I wouldn't mind seeing Byrdak added, but only at the right price. If it costs them anything from their top 15 or so prospects, it's probably too much.