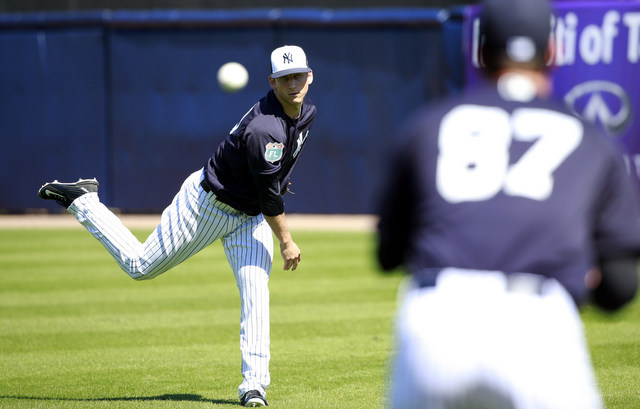 The Yankees ignored their farm system for a number of years in the early and mid-2000s. They forfeited first round picks left and right to sign free agents, and they traded the few prospects they had for big leaguers every chance they got. I don't think that's automatically a bad thing! There's a time and a place to go for it, and when you're winning 90+ games every year, you go for it.
Things changed not too long ago. The Yankees decided to scale back the "go for it" mentality and instead focus on getting younger and building from within. Draft picks are precious, especially now that it's harder to get extra ones, and top prospects are off limits in trades. Or at least the team says they are. Last summer the Yankees dipped into their farm system to fill a number of holes, most notably by sticking Luis Severino in the second half rotation.
The Yankees doubled down on their farm system this offseason. They signed zero Major League free agents for the first time in franchise history (as far as I can tell), and they didn't go bonkers with trades either. They added a new second baseman, a new fourth outfielder, and a new closer. That's about it. Any additional help is going to come from within in 2016. Let's preview the farm system.
The Top Prospects
The Yankees have four prospects who are clearly a notch above everyone else in the system: OF Aaron Judge, C Gary Sanchez, SS Jorge Mateo, and RHP James Kaprielian. Put them in any order you want. I won't argue (much). Those are the four guys though. They're the cream of the farm system crop. And cool part is all four could play in MLB in 2016. I wouldn't call it likely, but it's not completely impossible.
Judge is a behemoth — he's listed at 6-foot-7 and 275 lbs. — with the kind of raw power you'd expect from that frame, though he doesn't fit the one-dimensional slugger stereotype because he has a good hit tool and can play quality right field defense. Triple-A pitchers beat him with soft stuff away last year, so he'll focus on the outer half this year. He's already made some adjustments. Judge is not on the 40-man roster and the Yankees do have a lot of Triple-A outfield depth, but he will be Rule 5 Draft eligible next offseason, so the team could add him to the 40-man ahead of time and bring him up in September. Perhaps even sooner.
As soon as John Ryan Murphy was traded, Sanchez became the favorite for the backup catcher's job. Over time it became clear sending him down was the right move, and not only because he went 1-for-21 (.048) in Spring Training. Five weeks in the minors equals an extra year of team control down the line and that is too good to pass up. Sanchez will continue to work on his defense in Triple-A for the time being. It's only a matter of time until he takes over as Brian McCann's backup.
Mateo and Kaprielian are both going to start the season in High-A and they could conceivably reach MLB late in the season. Kaprielian, a polished college arm, could follow the Ian Kennedy path and zoom up the ladder, capping off his season with a few big league starts. Mateo, a speedster who can do a little of everything, could be the team's designated pinch-runner in September. He'll be Rule 5 Draft eligible after the season, so the Yankees could add him to the 40-man roster a few weeks early and put those legs to good use.
Judge, Sanchez, Mateo, and Kaprielian are the club's tippy top prospects, and even if they don't help at the MLB level this season, they're all big parts of the future. Judge is the obvious long-term replacement for Carlos Beltran. Sanchez is McCann's long-term replacement. The Yankees have one big league starter under team control beyond 2017 (Severino), so Kaprielian's place is obvious. Mateo? They'll figure that out when the time comes. For now, these four will continue to hone their skills and inch closer to an MLB job.
Ready To Help
In addition to the four top prospects, the Yankees have a few minor leaguers on the cusp of helping at the MLB level right now. First and foremost, they have about a dozen arms for the bullpen shuttle, and frankly I'm kinda sick of talking about them. We know the names, right? LHP Jacob Lindgren, RHP Nick Rumbelow, RHP Nick Goody, RHP Branden Pinder, LHP James Pazos, on and on the list goes. We're going to see them all at some point in 2016. I'm sure of it.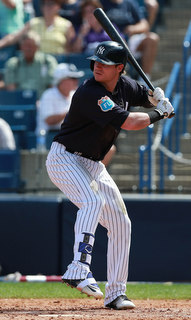 Beyond the bullpen shuttle, the Yankees have a small army of Triple-A outfielders who can help at a moment's notice. Need a bat? OF Ben Gamel is there. Need defense? OF Mason Williams is the best bet once he fully recovers from shoulder surgery. Need a little of both? There's OF Slade Heathcott. 2B Rob Refsnyder provides infield depth, or at least he will once he spends more time at third base. IF Ronald Torreyes, who will open the season in the show, is another infield candidate.
RHP Bryan Mitchell is also going to open to season in MLB, though he's still a piece of rotation depth. If he's the best man for the job, the Yankees will pull him out of the bullpen and stick him in the rotation whenever a starter is needed. RHP Luis Cessa, who came over in the Justin Wilson trade, looked very good this spring and is probably next in line for a call-up. RHP Brady Lail and RHP Chad Green are behind him. Cessa is on the 40-man. Lail and Green are not.
Unlike last season, the Yankees don't have a Severino waiting in the wings. They don't have that prospect who can come up and provide immediate impact. Well, I should rephrase that. They don't have a prospect you would reasonably project to come up and have an impact right away. Cessa could come up and throw 60 innings with a sub-2.00 ERA, but no one expects that. Either way, the Yankees have depth pieces in Triple-A. Expect them to dip into their farm system for short-term help again this year, regardless of what they need at the MLB level.
The Next Top Prospects
A year ago at this time Mateo looked like a prospect who was ready to explode onto the scene and become a top tier prospect. Two years ago it was Severino. This summer, the best candidate for such a breakout is SS Wilkerman Garcia, who was part of that massive international spending spree two years ago. He's a switch-hitter with good defense and I swear, every scouting report I read about him is better than the last. I'm excited to see what Wilkerman does this year.
Beyond Wilkerman, OF Dustin Fowler and C Luis Torrens have a chance to become top prospects this year. Fowler is a do-it-all outfielder and Torrens is a defense-first catcher with a promising bat. He's coming back from shoulder surgery though, so maybe expecting a breakout after missing the entire 2015 season is too much to ask. 3B Miguel Andujar has high-end tools. We're just waiting for the performance to match. SS Hoy Jun Park is another toolsy shortstop like Garcia.
The Yankees have a very position player heavy farm system, though they do have some pitching prospects poised to break out this summer. RHP Drew Finley is the No. 1 guy. He's got three pitches and he locates. I feel like he's going to sneak up on people this year. RHP Domingo Acevedo is the quintessential huge fastball guy. He just has to figure everything else out. LHP Jeff Degano needs to develop a changeup but already has the fastball and breaking ball.
Then, of course, there's whoever the Yankees take with their first round pick (18th overall) in this June's amateur draft. That player — the smart money is on a college player based on the team's recent draft tendencies — figures to be one of their better prospects a year from now. Wilkerman, Fowler, and Finley are my picks. Those are the guys I see having big 2016 seasons developmentally and becoming true top prospects year from now.
Returning From Injury
Torrens missed all of last season with his injury, but man, he's not the only one. LHP Ian Clarkin missed the regular season with elbow inflammation, which stinks. The good news is he did not need surgery and was able to throw some innings in the Arizona Fall League. RHP Ty Hensley, RHP Austin DeCarr, and RHP Domingo German all had Tommy John surgery last spring and are still working their way back. Lindgren (elbow), Heathcott (quad), and Williams (shoulder) all missed big chunks of the season too. That's a lot of talent coming back. Hopefully all of them come back at full strength, or at least something close to it.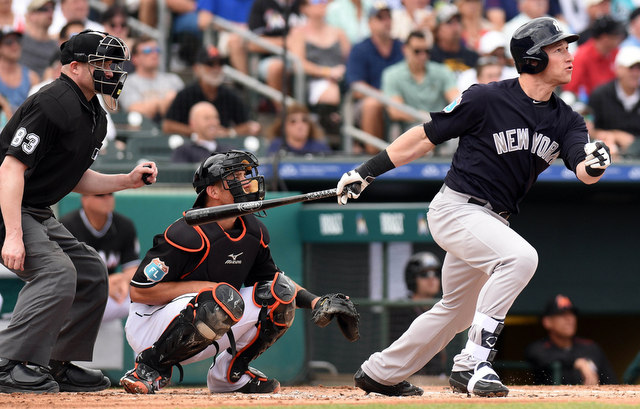 Last Chance?
Prospects are fun and everyone loves them, but they will break your heart. Over and over again. Some players are entering make or break years, and I don't mean 2015 Gary Sanchez make or break years. I mean real make or break years. 1B/OF Tyler Austin is the most obvious last chance guy. He's battled injuries and ineffectiveness the last few years, and he lost his 40-man roster spot in September. The 2016 season is his last chance to show the Yankees he's worth keeping around.
Heathcott's another make or break player for me. The Yankees gave him a second chance last year and he rewarded them with his big September home run against the Rays. That said, he again missed a bunch of time due to injury, and when healthy he didn't exactly tear the cover off the ball in Triple-A. Another year like that might spell the end of Slade's time in the organization, especially since he will be out of options following the season.
I'm also inclined to include RHP Vicente Campos in the make or break category. He's had a lot of injuries over the years, most notably missing the entire 2014 season due to Tommy John surgery, which has really cut into his development time. This is his final minor league option year, and if he doesn't show the Yankees he can help as soon next year, it may be time to move on. Baseball is cruel, man.
The Deep Sleepers
Remember that "The Next Top Prospects" section? Consider this the Next Next Top Prospects section. These are the deepest sleepers in the farm system. They're way off the beaten path. The new hotness right now is OF Estevan Florial, an ulta-tooled up 18-year-old the Yankees got on the cheap because identity issues — he used a relative's identity to enroll in school in the Dominican Republic — put him in purgatory before signing. He's going to make his stateside debut this year and jump onto the prospect map in a big way.
SS Diego Castillo and OF Brayan Emery were part of the 2014-15 international spending spree, and both possess tools that far exceed their six-figure bonuses. Castillo in particular already looks like a steal at $750,000. He should come to the U.S. this year and is in line to follow Mateo and Wilkerman as the next great Yankees shortstop prospect. RHP Luis Medina, who signed last July, is already running his fastball up to 98-100 mph. And then there's OF Leonardo Molina, who is still only 18. It feels like he's been around forever. Florial is the big name to know here, but Castillo's not far behind. Expect to hear a lot about those two in 2016 and beyond.
The Best of the Rest
There is nothing sexy about being a mid-range prospect, but you know what? Mid-range prospects are often the difference between good teams and great teams. They provide depth and they're valuable trade chips. Guys like Adam Warren and Brett Gardner don't grow on trees, you know. You'd rather draft and develop them yourself than have to go out and buy them from someone else.
SS Tyler Wade, SS Kyle Holder, LHP Jordan Montgomery, IF Thairo Estrada, IF Abi Avelino, OF Carlos Vidal, 1B Chris Gittens, RHP Cale Coshow, RHP Chance Adams, OF Trey Amburgey, and OF Jhalan Jackson all fit into this group. They're good prospects, not great prospects, and they all project to be big leaguers of varying usefulness. I'm not sure if we'll see any of these players in the show this year, but I bet several pop-up in trade rumors, and one or two could be moved for help at the MLB level. That's what the farm system is for, after all. Call-ups and trades.