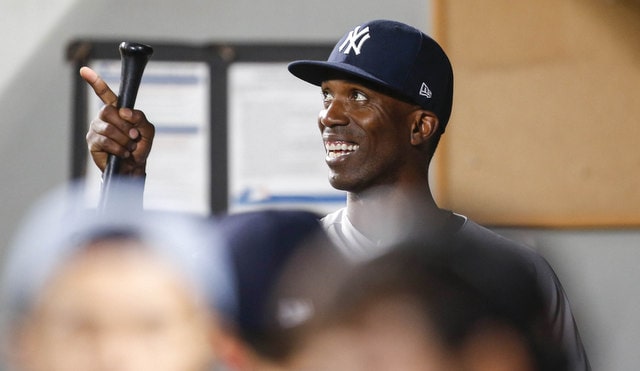 At some point soon, possibly before the end of the homestand, the Yankees will clinch a spot in the postseason. They're not going to win the AL East — the Yankees need to go no worse than 10-1 the rest of the way while the Red Sox go 0-10 for that to happen — so a spot in the Wild Card Game will have to do. That's okay. Just get in and you can win.
The Yankees have the third best record in baseball and they're going to return to the postseason for a lot of reasons, including this year's trade deadline pickups. The incumbents have been pretty good! But they needed help, so Brian Cashman and his staff were very active prior to both the July 31st non-waiver trade deadline and the August 31st postseason-eligibility deadline. They imported:
Two new starting pitchers (J.A. Happ and Lance Lynn).
A new first baseman (Luke Voit).
Another late-inning reliever (Zach Britton).
A new leadoff hitter and corner outfielder (Andrew McCutchen).
The Yankees also added a new utility infielder (Adeiny Hechavarria) and gobs of international bonus money at the deadline(s), though those are relatively minor additions. The other moves were much more significant. The Yankees turned over 40% of the rotation, two starting lineup spots, and added another end-game arm.
And, so far, just about all of those moves are paying big dividends. Lynn has been more serviceable than good, but, considering who he replaced (Sonny Gray), serviceable qualifies as a big upgrade. Happ has been outstanding in eight of his nine starts, including two nights ago against the Red Sox. Voit socked two more dingers last night and has nine in 29 games with the Yankees.
I don't know whether they'd admit it, but I know Cashman and Aaron Boone and everyone else in the organization did not expect Voit to have this much impact. If they did, he wouldn't have been sent to Triple-A Scranton (twice). Greg Bird was struggling, Voit got an opportunity, and he's run with it. Voit went from first base platoon option to full-time first baseman. He's given the lineup a huge lift.
Britton had a rocky start to his Yankees tenure but has really settled in lately. He's allowed three runs (two earned) in his last 13 appearances and 14 innings while holding opponents to a .149/.180/.213 batting line. Britton has an 80.6% ground ball rate with the Yankees. That works out to 50 ground balls and 12 non-ground balls among 62 balls in play. He came in handy when Aroldis Chapman went down.
To me, McCutchen has been every bit as important as Happ and Voit and Britton. He only just got here, I know, but the Yankees had a revolving door in right field while Aaron Judge was on the disabled list, and McCutchen put an end to that. Now, with Judge back, he's slid over to left field to replace the ineffective Brett Gardner, giving the Yankees another offensive threat. I love Gardner, he's been a great Yankee, but it wasn't working and a change had to made.
Last night McCutchen reached base three times in the blowout win over the Red Sox and he's reached base 24 times in his last eleven games. The batting average is still a little low (.216), but McCutchen owns a .414 OBP as a Yankees, and that has been a game-changer atop the lineup. The leadoff spot (mostly Gardner) had a .205/.319/.298 (72 wRC+) batting line in 40 games from the All-Star break through August 31st. Can't have that. McCutchen fixed it.
"It doesn't have to be splashy. It just has to work," said Cashman following the July 31st deadline. And so far, every just about every move the Yankees made has worked. Happ has steadied the rotation and forms a potentially very good postseason front three with the locked in Masahiro Tanaka and the seemingly rejuvenated Luis Severino. Britton makes the bullpen better and McCutchen and Voit have made the lineup that much deeper.
Keep in mind that, unlike some other teams, the Yankees were active at the trade deadline because they had to be. The Red Sox were in great shape and were able to add pieces like Nathan Eovaldi and Ian Kinsler to make their roster even better. The Yankees were more desperate for upgrades. Judge was hurt, Gray and Domingo German were becoming untenable, so was Bird, and Chapman's achy knee was in the back of everyone's mind. These were "we really need these guys to contend" moves. Not just upgrades to the fringes of the roster, you know?
Unlike last year, when they targeted players with long-term control, the Yankees focused on rentals this year. That's probably just a coincidence given the way he market shook out, though I wonder whether getting burned by Gray (and Tommy Kahnle, to some degree) led to the Yankees looking for lower cost short-term moves. Either way, it's worked quite well. The Yankees don't really miss anyone they gave up — maybe they will one day, but right now? nah — and the players they received have all become important contributors. The trade deadline was a smashing success.