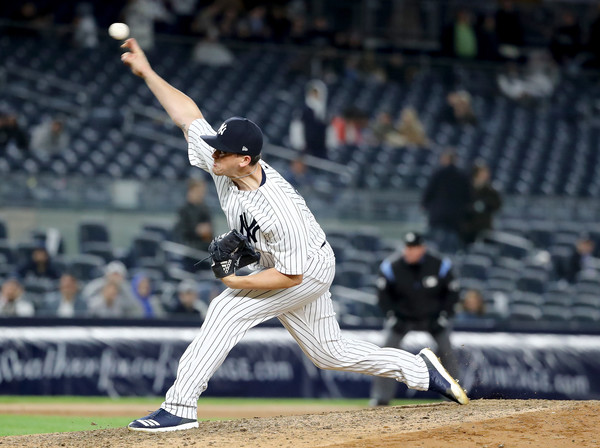 Way back in March, just after he was named to the team's Opening Day roster, I suggested that Jonathan Holder would remain a part of the Yankees bullpen shuttle between the Bronx and Scranton/Wilkes-Barre. I was impressed by his solid half-season in pinstripes, but skeptical about his ability to be a true relief weapon due to his lack of high-end stuff and questionable efficacy against left-handed hitters; as such, I would not have been shocked if he ended up out of favor in short order. Instead, he served as an integral piece of the bullpen this year from wire-to-wire.
You can't predict baseball, am I right?
The Inauspicious Start
Holder did not look the part of a big-league reliever over his first three appearances – and that's putting it lightly. His first outing shows up as a scoreless 0.1 IP effort, which is fine; however, he allowed an inherited runner to score, which gave the Blue Jays a one-run lead in the bottom of the sixth. He didn't return for the seventh, and the Yankees ended up losing.
The next time out was much worse. Holder was given the ball in the top of the sixth against the Rays, and struck out Carlos Gomez looking. He then surrendered, in order, a double to C.J. Cron, a single to Wilson Ramos, and RBI single to future Yankee Adeiny Hechavarria, and a single to Jesus Sucre. That's not exactly a murderer's row of hitters, and Holder looked absolutely lost. Tommy Kahnle came in after the Sucre single loaded the bases, and eventually allowed a two-RBI double to Denard Span. That's not entirely on Holder, to be sure – but it certainly didn't look like he'd fare better, either.
Holder's next outing came three days later, when he was called into the game in the 13th against the Orioles. He tossed a one-two-three inning, which was nails, and then came out for the top of the 14th. The first three batters reached base (via a walk, a single, and an E5), and then Adam Jones struck out looking. And then, this:
I feel dirty just for sharing that.
Through three appearances, Holder boasted the following line: 2.2 IP, 7 H, 7 R, 6 ER, 1 BB, 4 K, 20.25 ERA. He faced 17 batters in those 2.2 innings, and they hit .467/.500/.733 in this time frame. And he was subsequently demoted to Scranton/Wilkes-Barre.
Two Months of Dominance
Holder was recalled on April 21, and was called upon that day to close out a blow-out victory over the Blue Jays. And he nailed it down, tossing two scoreless and base-runner-free innings.
A great deal was written about the fact that he wouldn't allow another earned run until June 30 (though, he did surrender unearned runs twice in between), and it was an incredibly welcome sight, to say the least. And from the date of his recall through the All-Star break, he pitched to the following line: 36.1 IP, 19 H, 5 BB, 30 K, 0.50 ERA, 2.01 FIP. It's difficult to ask for much more from a reliever that entered the season seventh or eight on the bullpen's depth chart.
Was there any change that led to this abrupt turnaround? Maybe!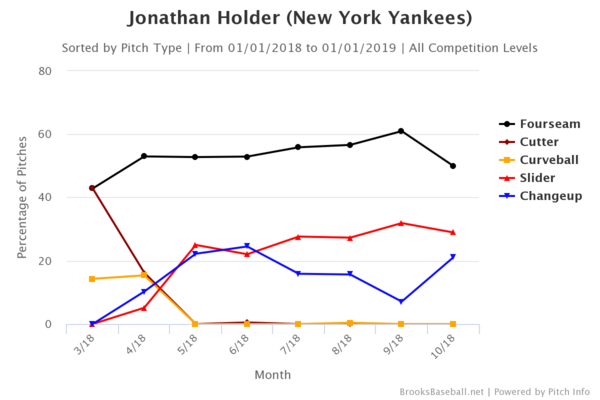 In Holder's first few appearances, he threw lots of cutters and lots of curves. When he returned to the Yankees bullpen, he scrapped those offerings entirely, and replaced them with more … well … everything else. It made sense, considering (small sample size alert) that batters were hitting .333 against his curve and .556(!) against his cutter, and it paid immediate dividends.
Another Rough Patch
Holder was in Aaron Boone's circle of trust coming out of the All-Star break, and he rewarded the rookie manager by allowing 10 earned runs over his next seven appearances. That's admittedly skewed by a 0-out, 7-run effort on August 2 – but he nevertheless allowed at least one run in four of those games. And his ERA jumped from 1.76 to 3.65 in the span of 3.1 IP, which just goes to show how volatile a reliever's peripherals can be.
He did make history in this stretch, however, becoming the first Yankee in nearly 40 years to allow 7 ER without recording an out. Unlike that pitcher – Bob Kammeyer – Holder wasn't laughed out of the majors immediately after this outing.
An Encouraging Stretch Run
Holder returned to form after stumbling out of the break, tossing eight consecutive scoreless outings immediately thereafter, and allowing just five runs in his final twenty appearances (21.2 IP) – and two of those runs came in a meaningless game (that the Yankees won) in the last series of the season. He pitched to a 2.08 ERA in this time, and held opposing batters to a .190 BA. That was the guy that we saw for two-plus months in the Spring, and that's the guy that the Yankees would love to count on going forward.
He finished the season with the following line: 66.0 IP, 8.2 K/9, 2.6 BB/9, 3.14 ERA (140 ERA+), 3.04 FIP.
What's Next?
More of the same, I expect. Holder is under team control through 2023, and won't be arbitration eligible until the 2020-21 off-season, so the Yankees will continue to give him opportunities to succeed. If he's the pitcher we saw in May, June, August, and September, then he's a legitimate weapon in any bullpen role; if he continues to have his ups and downs, he's a perfectly acceptable middle reliever (especially for the cost). And, while I'd prefer the former, the latter is more than fine for the team's fourth or fifth best reliever.