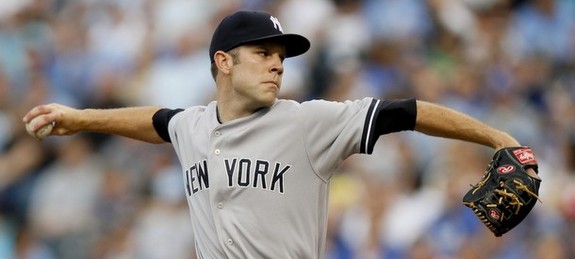 We're less than four weeks away from the amateur draft and less than eight weeks away from the start of the international free agent signing period, the two primary ways for teams to acquire young talent. The new Collective Bargaining agreement really hampers things with its new spending restrictions — designed to keep money away from the players and in the owner's pockets — but there's nothing that can be done about that. It's just a new challenge for the 30 front offices, essentially.
We're probably still a few weeks away from hearing about the Yankees having interest in specific players, but there's still a ton of draft and international free agent news to recap. Let's get to it…
First Round Slot Money: $1.6M
The Yankees will have just north of $4.19M to spend on the first ten rounds of the draft this year thanks to the new CBA, and $1.6M of that $4.19M is the slot value for their first round pick  (#30 overall) according to Jim Callis. That's up about 46% from last year's slot value and if the Yankees pay their first rounder straight slot money, it will be the sixth largest bonus they've ever given to a drafted player.
Teams can exceed slot for individual picks without penalty, but they can't do the same for the draft pool overall. So the Yankees can pay their first rounder for than $1.6M but can't pay their picks in the top ten rounds more than $4.19M collectively if they want to avoid surrendering future picks and paying the tax.
Law's Top 100 Draft Prospects
Players have mostly sorted themselves out now that the college and high school seasons are nearly complete, and we have a clearer picture of who will be selected when. Injury is probably the biggest factor at the point, at least in terms of a player drastically changing their draft status. Keith Law posted his list of the top 100 draft prospects two days ago, though you do need a subscription to read the entire thing. Georgia high school outfielder Byron Buxton remains atop the rankings and is now followed by Puerto Rico high school shortstop Carlos Correa. The consensus seems to be that if you want impact talent this year, you're going to have to go after prep players. The college crop is solid but not mind-blowing like last year.
Personal fave Carson Kelly, a high school third baseman/right-hander from Oregon, ranks 27th on KLaw's list. That gives me some hope that he'll be around when the Yankees pick, not that I expect them to draft him or anything. Here's my write-up on Kelly.
Gaming The International Free Agent System
The new CBA has restricting spending on international free agents as well, an avenue the Yankees have used to acquire young talent quite prominently throughout the years. Each club will have $2.9M to spend on international players this year (starting July 2nd) before switching over to a sliding scale based on winning percentage in the future. The more you win, the less you get to spend.
Ben Badler wrote about how teams can essentially get around that $2.9M limit this year, including some shady under-the-table dealings. The article is free for everyone, so you don't need a subscription. It's worth noting that the article is speculative and not actual reporting of what teams have been/will be doing. I know this much though: if there's a loophole in the system, someone will exploit it.