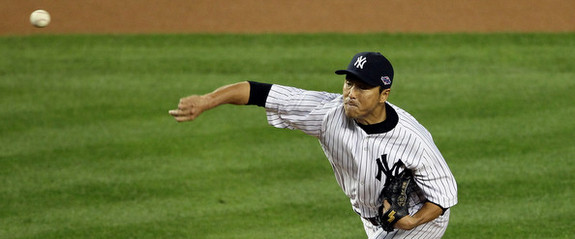 The new playoff schedule has the Yankees playing five games in five days — spanning the final three games of the ALDS and the first two of the ALCS — which means they'll have to do something creative for their Game Two starter tomorrow night. It's not ideal but it is what it is, nothing anyone can do. Thankfully the Bombers have a number of viable options to start that game, some better and more practical than others. Joe Girardi indicated that he will announce his Game Two starter during his pre-Game One press conference this afternoon, but first let's run through the candidates…
Hiroki Kuroda on three days' rest
Kuroda started Game Three of the ALDS, the first of this five games in five days stretch. He threw 105 pitches across 8.1 innings on Wednesday and would have to start Game Two tomorrow on short rest, something he has never done in his MLB career. Considering his age (37) and how his career-high workload (219.1 IP) seemed to be catching up to him in September, starting Kuroda on three days' rest seems like a risky proposition.
It's worth noting that if the Yankees bring CC Sabathia back on short rest of Game Three (which I am absolutely in favor of doing) and do not pitch Kuroda in Game Two, he would get pushed back to Game Four and therefore only make one start in the series even if it goes the full seven games. That is not ideal at all. Kuroda is too good to limit like that.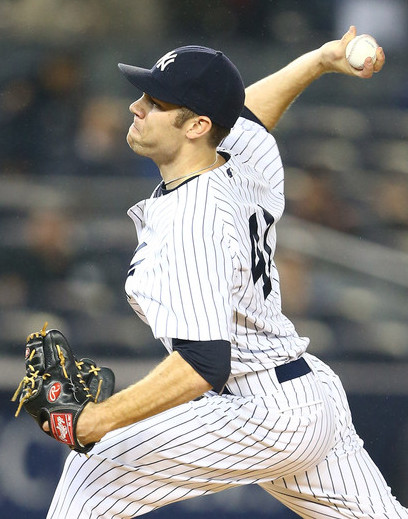 David Phelps
Although he threw 27 pitches out of the bullpen on Thursday, it shouldn't be a problem to bring Phelps back tomorrow. He started and threw 86 pitches last Tuesday, so giving the team 80 pitches if needed in the spot start doesn't feel like too much to ask. Phelps shouldn't worry anyone considering how well he closed out the season, with just six runs allowed in his final 21 innings. The problem here is that if the Yankees use him for the start, he won't be available out of the bullpen until at least Game Four and maybe even Game Five. That could be problematic, especially if Joba Chamberlain's bruised elbow keeps him out of action for even just the first few games of the series.
Ivan Nova or Freddy Garcia
No offense to these two, but I don't think I can make a decent case that either should start. Both pitched so poorly down the stretch that they lost their rotation spots late in the season, and it would be wishcasting to run either of them out there expecting a full 100-ish pitch start that gives the Yankees a chance to win. They are options because they're stretched out and have experience in the postseason, but they're more "break glass in case of emergency" options that anything else.
* * *
The Yankees announced earlier this morning that Cody Eppley took Eduardo Nunez's spot on the ALCS roster, giving the team a full 12-man pitching staff. That may be an indication that they're leaning towards Phelps for the Game Two start but it's not a guarantee; they could have easily added the extra reliever knowing both Kuroda and Sabathia will start on short rest and might not throw as many pitches as usual.
It's worth noting that since Monday is a travel day, running through the entire bullpen in Game Two won't be a concern since everyone is guaranteed rest the following day. It should also be a throw day for Phil Hughes, who could pitch in relief if needed. Bringing Sabathia back for Game Three means Phil would not start until Game Four on Wednesday at the earliest. Using him for an inning or two on Sunday has to be on the table.
Who should start Game Two?