The Yankees kicked off their offseason last winter by re-sign CC Sabathia to huge five-year, $122.5M contract extension, but the first true free agent they signed was one of their own. They brought Freddy Garcia back with a one-year pact in early-December, bumping his salary up to a guaranteed $4M. He was rock solid last summer (3.62 ERA and 4.12 FIP) and bringing him back for pitching depth seemed like a fine move.
The Michael Pineda trade and Hiroki Kuroda signing in mid-January appeared to relegate Garcia to bullpen duty — which he was totally cool with — but Pineda's shoulder injury cleared a rotation spot and Freddy broke camp as the fifth starter for the second straight year. The results were immediate and disastrous. Garcia allowed four runs in 4.2 innings in his first start of the season, five runs in 5.2 innings in his second start, then five and six runs in his third and fourth starts, respectively, while recording a combined ten outs. After four April starts, he owned a 12.51 ERA (5.66 FIP).
The Yankees only had one alternative at the time, so they stuck Freddy in the bullpen and let David Phelps make some spot starts while waiting for Andy Pettitte to rejoin the rotation. They claimed that Garcia lacked arm strength, and that his 84-85 mph fastball wasn't as effective as his 87-88 mph fastball, which was certainly true but still kind of hilarious sounding. Joe Girardi used the veteran right-hander very sparingly in mop-up relief, calling on him just ten times in the team's next 57 games.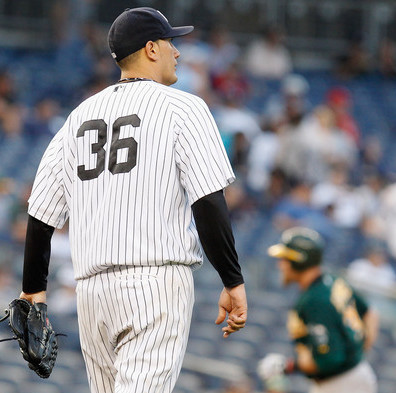 To his credit, Garcia didn't make a stink about the demotion and actually pitched well when called upon — 1.56 ERA and 2.98 FIP in 17.1 innings. When Sabathia and Pettitte went down with injuries just prior to the All-Star break, the Yankees put Freddy back in the rotation and he was surprisingly solid. He allowed three total runs in a dozen innings in his first two starts despite being on a pitch count, and only once in his first nine starts back did he allow more than three earned runs. He never failed to complete at least five innings of work in all nine starts either.
The good times came to an end after that. Sweaty Freddy gave up 12 runs in 14.1 innings across his next three starts, only once getting out of the fifth. His leasd was short because of the magnitude of the games being played, which is why he was yanked after allowing three runs in just 3.1 innings against the Orioles on September 9th. That, ultimately, was Garcia's final start of the season. Ivan Nova returned from his DL stint and took Freddy's rotation spot.
Freddy allowed three runs in three innings of relief against the Athletics on September 22nd, paving the way for the four-run comeback in the 13th inning. He threw a pair of perfect innings to close out two blowouts against the Red Sox in the final series of the year — including striking out the side in order in the final inning of the season in Game 162 — and that was it. The Yankees left Garcia off their ALDS and ALCS rosters and he wasn't even first in line to be activated in case of injury. He probably wasn't even second either.
All told, the 36-year-old Garcia pitched to an ugly 5.20 ERA (4.68 FIP) in 107.1 innings spread across 17 starts and 13 relief appearances this year. His strikeout (19.3 K% and 7.46 K/9) and walk (7.6 BB% and 2.93 BB/9) rates were solid, but he allowed 18 homers (1.51 HR/9) and batters tagged him for a .270/.328/.455 batting line. The Yankees won the AL East despite Freddy and he certainly didn't contribute to their ALCS exit, but The Chief pitched poorly for most of the year and didn't provide the kind of pitching depth the team expected.