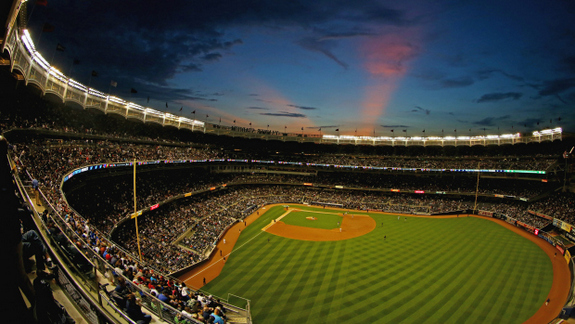 It goes without saying that, as a Yankee fan, my off-season wish list revolves around a trophy. Right now, the San Francisco Giants are in possession of that trophy, and it's been five years since the Yanks last celebrated this item, the third-longest World Series drought of my life. I want that trophy back.
Sitting where we are, after a disappointing and often dull 84-win season, it's hard to see a short path 2015's trophy, and with Derek moving on, the ties to even the 2009 team are being held together by ARod for now and Francisco Cervelli, Brett Gardner, Mark Teixeira, CC's knee and current free agent David Robertson. Flags fly forever, but leave them outside long enough and they'll start to look a little tattered.
As far as Yankee needs go, it's hard to disagree with Joe's and Mike's wish lists. Even as the Yanks faded into the middle of the pack this summer, they fell only four games shy of a Wild Card berth, and as the Royals demonstrated, get there and anything goes. Of course with the way the roster currently looks, the Yanks need three infielders, a starting pitcher or two and another reliever, and those pieces aren't coming out of Scranton in April, Rob Refsnyder notwithstanding.
But you know what the Yanks need. Your wish lists is mine: the best players yesterday and that parade down Broadway in Lower Manhattan. For my take on the offseason, I want to talk about a different kind of wish list. This is about mystique and aura, no longer appearing nightly. It's about the team's image — their brand, if you will. Now that Derek Jeter has retired, the Yankees need to pass the baton, but to whom? Bernie Williams and Paul O'Neill were there after Mattingly's departure, and Jeter burst onto the scene. In 2015, the Yankees don't really have a franchise face or up-and-coming star. It's time to rebrand.
1. Do Something About Yankee Stadium
For better or worse — until the Yanks pull a Braves in twenty years — New Yankee Stadium is what we have, probably for most of the rest of my life. I tolerated it at first, and it helped that the Yanks won a World Series in the park's first season. But as far as baseball stadiums go, it's a nothing. There's no charm or attitude to it. It's sterile-looking with the feel of something you should look at but not touch.
In September, during Jeter's last home stand, I went to a game with a friend of mine. We had comps — good seats in the 100s level that were supposed to be next to each other. Instead, we got to our seats to find a table in between the two of us. I have no idea why the Yankees decided they needed to remove seats to stick tables in between them. We all managed at baseball games for decades without tables. But my friend and I had a table, and we had to spend the whole game either leaning toward each other or shouting to be heard. These seats and that table seemed to be built with attendees who care more about the scene than the game.
The Yankees aren't going to gut their new stadium and reconfigure the seating bowls to better resemble the Yankee Stadium of my childhood and teenage years. But they could find a way to make the stadium feel more inclusive and fan-focused. If the product on the field isn't going to be impressive, the ballpark at least should be. Right now, with Painfully Awkward George Steinbrenner looming over everyone, it's grand but lacking.
2. Change the In-Game Experience
This goes hand-in-hand with No. 1 on my list, but must we sit through another season of the grounds crew doing the YMCA dance, Cotton Eye Joe and "God Bless America"? Must we be bombarded with sound at every opportunity? At the risk of sounding like a cranky old man, there's something to be said for a simple game experience. I saw a Sunday matinee at Fenway this past year, and the only sounds were the PA announcer and the organist. I don't expect the Yanks to sacrifice scoreboard revenue every day but doing so once in a while would be a nice treat.
3. 'It is high…it is far…it is still broadcasting Yankee games!'
Every winter, I hope that John Sterling isn't still broadcasting games come Opening Day, and every Opening Day, he is. We already know that the 2015 season will be no different, but I can dream.
Overall, the Yanks' radio broadcast needs a rethink. It's become an advertising vehicle for WFAN that also happens to provide some amount of play-by-play and the bare minimum of informed commentary. The Yankees and CBS make their money through endless sales of everything on the broadcast, and Sterling's schtick can sometimes be enjoyable in that grandfatherly rolling-of-the-eyes sort of way. But as a way to learn about what's happening on the field or gain insight into a baseball decision, well, you won't find that on the John and Suzyn Variety Show. Maybe next time.
4. A Redesigned RAB
4. Re-Sign David Robertson
Okay, okay. Not everything can be a complaint about the in-game presentation. We do need to focus on the field too, and for me, keeping David Robertson around for a few more years is a top priority. I realize there's a prevailing sentiment that Dellin Betances can close and for a lot less money, and maybe that's true. However, moving Betances into the closer role has a cascade effect on the rest of the game and not in a positive way.
By the middle of the season, Joe Girardi believed in Betances to use him perfectly. He was the fireman when there was a problem in the 7th; he could handle the 8th with aplomb. He was a versatile reliever with a rubber arm and a 100 mph fastball. As a closer, he'll take those last three outs, 3-run lead or 1-run lead, and his innings and utility will drop. Plus, someone else — Adam Warren? Shawn Kelley? — will have to pick up higher leverage innings.
Meanwhile, Robertson has been one of the best, most consistent relievers in baseball over the last five years. He can handle the 9th in New York, and he's at a prime age for a pitcher. Simply put, Robertson gives the Yanks comfort in the 9th and a deeper, more versatile bullpen overall. I'd sign Andrew Miller too, but that's just being greedy.
5. A Short Stop
Brendan Ryan is the only short stop under contract for the 2015 Yankees. Gulp.
* * *
All in an all, it's a tough winter for the Yankees. They have a lot of dead or dying weight on the books for the next few seasons and aren't rushing to add more. They have some promising high-ceiling prospects in their lower levels, and the best thing for the future of the club would be for the farm system to have an actually good year all around next year. For now, though, this seems to be a franchise in a holding pattern. The books closed on one great era of team history. We'll see what comes next starting in April.