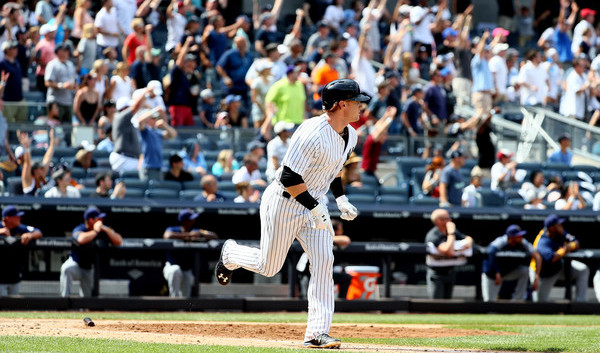 Late last week, Baseball America released their updated list of the top 100 prospects in baseball. White Sox 3B Yoan Moncada remains in the top spot, which isn't too surprising. The Moncada hype train still has a full head of steam.
Seven Yankees made the updated top 100 list, the same number that made the preseason list. A few of the names have changed, however. Here's where the Yankees rank:
3. SS Gleyber Torres (Preseason: 5th)
36. OF Blake Rutherford (Preseason: 45th)
48. OF Clint Frazier (Preseason: 39th)
55. RHP Chance Adams (Preseason: Not ranked)
70. OF Estevan Florial (Preseason: Not ranked)
72. LHP Justus Sheffield (Preseason: 91st)
88. OF Dustin Fowler (Preseason: Not ranked)
Adams, Florial, and Fowler jump into the top 100 while preseason No. 85 Jorge Mateo (poor performance), No. 87 RHP James Kaprielian (injury), and No. 90 OF Aaron Judge (graduated to MLB) fell out of the top 100. Looking back, it's pretty funny Judge slipped from 53th to 76th to 90th on Baseball America's preseason top 100 lists the last three years, and now he's an AL MVP candidate (favorite?) as a rookie. Good times. Anyway, I have some thoughts on the latest top 100, so let's get to them.
1. Gleyber's injury hasn't changed his prospect status. Despite undergoing season-ending Tommy John surgery a few weeks ago, Torres remains on the very short list of the best prospects in baseball. That indicates the injury to his non-throwing arm hasn't soured anyone on his long-term outlook. The lost development time stinks, no doubt about that, but it's a correctable injury to his least important limb. (That sounds bad. You know what I mean.) It was a freak injury and a pretty rare injury, but there is some precedent here. Reds shortstop Zack Cozart needed Tommy John surgery on his non-throwing elbow in August 2011. He tore his ligament in a collision at second base. Cozart had surgery in August and was ready for Spring Training. He was in Cincinnati's lineup on Opening Day 2012. Torres had his surgery in June, two months earlier in the season than Cozart. And Cozart has had no trouble with the elbow since. Tommy John surgery is really bad and always risky. In Gleyber's case, it's not as bad as it would be with his throwing arm, and because of that, he remains a tippy top prospect.
2. Why did Rutherford and Frazier switch spots? For all intents and purposes, Rutherford and Frazier have switched spots since the preseason list. They're still pretty close together — they're separated by 12 spots on the midseason top 100 — but they did flip. For some reason Baseball America now prefers Rutherford whereas four months ago they preferred Frazier. Hmmm. What changed? Frazier, 22, hit .257/.345/.474 (123 wRC+) with 12 homers, 21.3% strikeouts, and 11.6% walks in 73 Triple-A games before getting called up. Rutherford, 19, is hitting .278/.343/.384 (111 wRC+) with one homers, 19.3% strikeouts, and 8.8% walks in 64 Low-A games. Which performance is more impressive? It's Frazier for me. Pretty clearly too. But it's not just about numbers though. The scouting report will forever be more important than the stats. I'm curious to know why Rutherford climbed (slightly) and Frazier fell (slightly). If anything, Frazier's stock is up in my eyes, and not only because he's now socking dingers in the big leagues. Forget about all that for a second. Frazier is better commanding the strike zone this year and he's tapping into his power more often. He hit 12 homers in 73 Triple-A games. His previous career high was 16 homers in 119 games last year. I dunno. Feels like ever since the trade, people have been looking for reasons to dog Frazier, whether it's silly stories about his attitude or nitpicking his game and dropping him in prospect rankings. Dropping him below Rutherford (who is awesome!) seems like more of the same.
3. I am still the low man on Adams. Adams keeps climbing prospect rankings and that's pretty cool to see. The reliever-to-start conversion couldn't be going any better. I ranked Adams as the tenth best prospect in the system in my most recent top 30 list, behind three players who did not make Baseball America's midseason top 100. That isn't to say I think he's a bad prospect. He's not! He's really good. But ranking Adams in the middle of a top 50 list suggests you think he can be an impact pitcher soon, or that he's very likely to remain a starter long-term, and I'm not sure I buy either right now. I have some reservations about his overall command, about the life and plane on his fastball, and about his complete inability to keep Double-A and Triple-A hitters on the ground this year. A 42.7% ground ball rate at those levels is pretty darn scary. Just about every pitching prospect worth a damn puts up good grounder numbers in the minors simply by overwhelming all the low quality hitters you inevitably find at every level. Adams hasn't been able to do that. Hopefully I'm wrong and he'll soon be an impact pitcher for the Yankees. The fact the Yankees haven't called him up despite their pitching needs — even as a reliever at this point — is a pretty good indication the team doesn't consider Adams ready to help, however. I feel like a spot in the middle of the top 100 is a bit aggressive, but to each his own.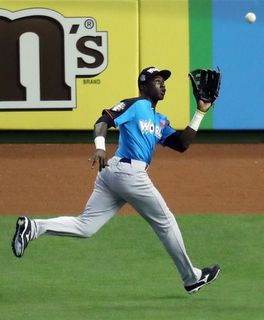 4. Florial has a really unique profile and I don't know how to rank him. So far this season the 19-year-old Florial is hitting .300/.383/.502 (152 wRC+) with eleven homers, 15 steals in 21 attempts, and an 11.4% walks in 74 Low-A games. That is across the board excellence for a kid who is more than two years younger than the average South Atlantic League player. At the same time, Florial has a 30.2% strikeout rate, which is awfully high. You don't often see a player pair that strikeout rate with the kind of overall success at the plate Florial is having. It's very unique, though we are watching Judge do the same thing in the big leagues, so it's not unprecedented. Does the strikeout rate mean Florial will fail against more advanced pitchers as he climbs the ladder? Or does the strong overall numbers indicate he will make the adjustment and cut down on the whiffs as he moves forward? This much is clear: Florial's tools are off the charts. He's got power from the left side of the plate, he runs well, he's a very good center fielder, and he has a rocket arm. Based on the natural talent and overall production, Florial is a top 100 caliber prospect. I'm just not sure what that strikeout rate means. I'm more fascinated than alarmed.
5. Mateo could wind up back on the top 100 soon. Mateo has been tearing the cover off the ball since being bumped up to Double-A Trenton. He hit .240/.288/.400 (97 wRC+) in 69 games while repeating High-A and is at .417/.533/.750 (249 wRC+) in 13 games since being promoted. I mean, 13 games is 13 games, we probably shouldn't read too much into them, but it sure is nice to see Mateo raking for the first time in more than a year. I don't think Baseball America was wrong to drop him out of their midseason top 100. Not at all. That said, Mateo certainly has the tools to climb back into the top 100 in the future, and his Double-A performance is going to make people take notice. The Yankees have plenty of top 100 caliber prospects and I feel like they're most willing to part with Mateo in a trade despite his upside. His success in Double-A is perhaps rebuilding some trade value leading up to the deadline and the offseason. It can't hurt. That's for sure.
6. Andujar keeps getting snubbed. I am the low man on Adams and the high man on Miguel Andujar, it seems. I'm not saying Andujar is a no doubt top 100 prospect, but I do think he deserves serious consideration, and he's yet to sneak into any top 100 list. For shame. Andujar is hitting .302/.336/.479 (121 wRC+) between Double-A and Triple-A this year and he's gone from a 98 wRC+ in 2015 to a 111 wRC+ in 2016 to a 121 wRC+ in 2017, so he's trending in the right direction. That said, Andujar has to improve his defense, and I guess that's why he's not making any top 100 lists. Not everyone is sold on him remaining at third. Defense is the No. 1 priority right now and I'm glad the Yankees are letting him work on it in Triple-A. I don't want Andujar playing first base and I don't want him learning the hot corner on the fly in the big leagues. Third base in Triple-A is the appropriate spot for him. Robinson Cano never made a top 100 list, you know. Not once with any publication. I'm not saying Andujar will be the next Cano — Robbie is about 90% of the way to the Hall of Fame at this point, it's not pair to compare any prospect to him — but in a few years, I definitely think he's the type of player who will have people saying "how was this guy never on a top 100 list?"