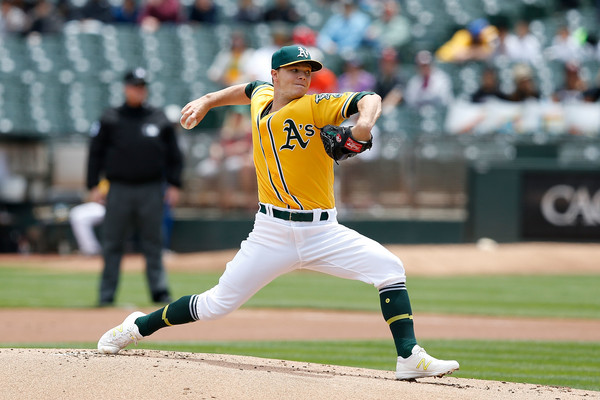 The Yankees have landed their young controllable starting pitcher. Prior to Monday's non-waiver trade deadline, the Yankees acquired Sonny Gray and $1.5M in international bonus money from the Athletics for prospects James Kaprielian, Jorge Mateo, and Dustin Fowler. Both teams have announced the trade, so it's a done deal. Officially official.
The trade comes after days of rumors, which is uncharacteristic for the Yankees. They tend to keep these things quiet. The big David Robertson/Tommy Kahnle/Todd Frazier trade with the White Sox came out of nowhere two weeks ago. The Yankees and A's haggled over the prospects, and according to Jon Heyman, Kaprielian was the deciding piece. Once the Yankees agreed to include him, the deal was done.
Gray, 27, has pitched to a 3.43 ERA (3.24 FIP) in 16 starts and 97 innings so far this season. Here's my Scouting The Market post. He is under team control as an arbitration-eligible player through 2019, and as a ground ball heavy right-hander with big time competitiveness, Gray fits what the Yankees need pretty well. Keep the ball on the ground and you'll do well in Yankee Stadium and the other hitter friendly AL East parks.
Coming into the season I ranked Kaprielian, Mateo, and Fowler as the Nos. 5, 7, and 12 prospects in the farm system, respectively. All have seen their stock slip since then, however. Kaprielian blew out his elbow and needed Tommy John surgery. Mateo continued to struggle with High-A Tampa before being promoted to Double-A Trenton and going on a hot streak. Fowler blew out his knee earlier this month.
This trade boils down to this: three risky prospects for one risky starting pitcher (and international bonus money). Gray is healthy right now, though he has had some injury problems over the last 18 months or so. Fowler and Kaprielian are currently rehabbing from major surgeries and Mateo's performance hasn't always matched up with his loud tools. The A's are banking on upside here. This is very much a boom or bust trade.
The Gray trade combined with the previous Robertson, Kahnle, Frazier, and Jaime Garcia trades make this the busiest deadline in quite some time for the Yankees. They were busy in 2014 (Martin Prado, Brandon McCarthy, Chase Headley, Stephen Drew), though those moves did not come close to this magnitude. The Yankees are going for it, both now in 2017 and going forward. It's awfully exciting.