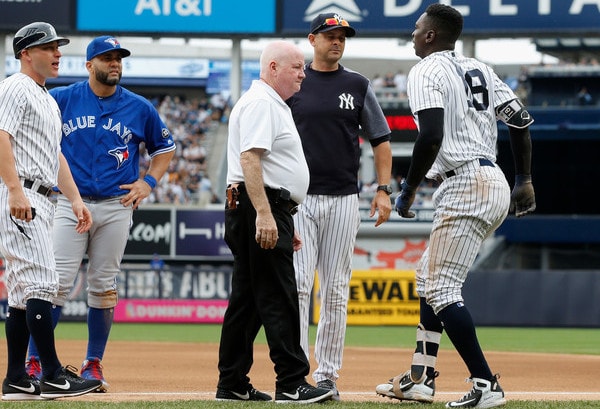 Yesterday was a good day and a bad day for the Yankees. It was a good day because they hammered the Blue Jays and completed the three-game sweep. It was a bad day because Didi Gregorius had to exit the game with what Aaron Boone called a "pretty significant" left heel bruise. He crashed into Kendrys Morales on a play at first base. Kinda dumb and fluky.
Here's video of the collision. I guess Gregorius hit his heel hard on the ground after colliding with Morales? Not sure how else he could've bruised his left heel on this play.
"It's something that we will monitor over the next 24 hours. Could potentially be a DL thing," said Boone following yesterday's game. "Nothing broken or anything like that. He's got a pretty good — pretty significant — bruise on his heel, and there's some swelling in there. We'll know a lot more tomorrow, but it's a possible DL situation."
Gregorius rebounded from his brutal May and went into yesterday's game with a .294/.347/.478 (123 wRC+) batting line in his last 70 games. He has a .298/.375/.536 (147 wRC+) batting line since Aaron Judge went down. Didi is an impact player on both sides of the ball. He helps drive the offense and is a vacuum at shortstop. Gregorius is a heart and soul player for the Yankees. He really is.
The Yankees are already without Judge and Gary Sanchez (and Clint Frazier), so losing another key everyday player like Gregorius could be pretty devastating. He's just so good. That said, the Yankees are much better equipped to deal with an infield injury than they are another outfielder or catcher injury. They've pretty much exhausted their outfield and catcher depth. Imagine if Aaron Hicks went down? Oy vey. I don't want to think about that.
The infield is a different story. Gregorius is essentially irreplaceable — he's a top five shortstop in my opinion, so there aren't many guys out there who can match his production — but the Yankees have decent in-house replacement options. There would be a drop-off in production, that's unavoidable, but the drop-off may not be that drastic should Gregorius land on the disabled list.
For example, the Yankees could — and most likely would — stick Gleyber Torres at shortstop with Ronald Torreyes at second base while Didi is sidelined. Neil Walker could also be a second base candidate should Giancarlo Stanton's hamstring heal up enough to play the field somewhat regularly. Tyler Wade is a call-up candidate with some potential and Gio Urshela started for a postseason team last year. He's stashed in Triple-A.
Personally, I'd stick Gleyber at short and Torreyes at second, even if Stanton can play the outfield. That way Walker, the worse second base defender on the roster, can be the designated hitter. Consider the potential lineup without Gregorius:
LF Brett Gardner
DH Giancarlo Stanton
CF Aaron Hicks
3B Miguel Andujar
SS Gleyber Torres
1B Greg Bird
RF Neil Walker
C Austin Romine
2B Ronald Torreyes
Not great! But I reckon that is a better lineup than most teams could run out there if their starting shortstop, starting catcher, and starting right fielder (and backup right fielder) all landed on the disabled list simultaneously. Anchor a lineup with Stanton, Hicks, and Andujar (and Gleyber) and you're in good shape. Also, Torreyes is hitting .329/.347/.425 (110 wRC+) in his limited time this year and you could do a heck of a lot worse for a short-term fill-in.
With any luck, the swelling will subside and Gregorius can avoid the disabled list. The Yankees have an off-day today and an off-day Thursday. Didi could get four straight days off and only miss two games. That would be ideal. If Gregorius has to go on the disabled list, then he has to go on the disabled list. That's baseball. An injured heel can't be comfortable. Let it heal and let him get healthy.
Fortunately, the Yankees do have decent infield depth at the moment, certainly moreso than outfield or catching depth. They're scraping the bottom of the barrel there. Torres is an exciting young player capable of manning shortstop at the MLB level. Walker and Torreyes (and even Wade) are better than replacement level fill-ins. Make no mistake, the Yankees will miss Didi no matter how long he's out, but they have the pieces the weather the storm.