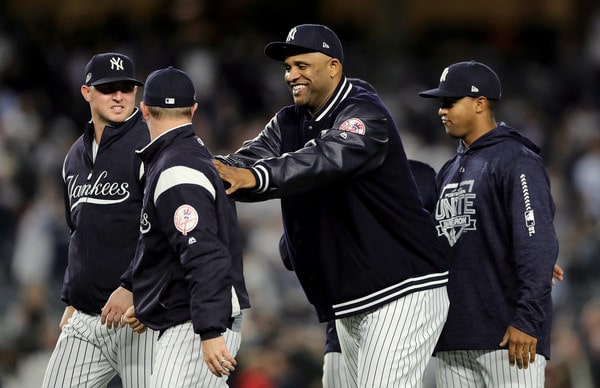 Last night, thanks to an all-around disaster, the Yankees were pushed to the brink of elimination by the Red Sox. It was the most lopsided postseason loss in team history and a truly embarrassing thrashing. The good news is tonight's game will start 0-0. Nothing anyone can do now other than turn the page and focus on Game Four tonight.
CC Sabathia will start tonight with the season on the line and it'll be his third elimination game start since last season. ALDS Game Five went well last year. ALCS Game Seven not so much. The Yankees trust Sabathia implicitly and, if nothing else, you know he's not going to get overwhelmed by the moment. If he pitches poorly, it'll be because he doesn't execute, not because he gets spooked.
"We feel like CC physically is in a good place right now coming off a really good start at the end of the year," said Aaron Boone yesterday. "I feel like his knee is in a good place and feel like he's been pretty good when we've been able to give him that rest. So we feel like he's kind of lined up and ready to go for tomorrow. We'll feel good about giving him the ball."
Sabathia, probably moreso than any other pitcher on the staff, performs better with extra rest. It's good for his knee. He last started on September 27th, so he'll be on eleven days rest tonight, and this season he had a 2.01 ERA (3.88 FIP) in eight starts with six or more days rest. Does that bode well for tonight? I hope so. Bottom line, as long as he gets his cutter in on righties, he'll be okay.
Of course, Sabathia might not be long for Game Four even if he pitches well. He made 29 starts this season and in only 15 of them did he throw more than five innings. Furthermore, the Red Sox are really good, and Sabathia has a significant third time through the order penalty.
First Time: .248/.314/.340 (89 OPS+)
Second Time: .208/.294/.376 (84 OPS+)
Third Time: .328/.376/.547 (135 OPS+)
Boone and the Yankees should have a very short leash with Sabathia tonight. I mean, Boone should've had a short leash last night, but Sabathia's leash has been short all season, and this is an elimination game. It's an elimination game and the regular late-inning relievers other than Chad Green and Jonathan Holder are rested. The situation is dire.
"You could always get an all-hands-on-deck situation any one of these games that come up," added Boone. "You don't know what tonight brings as far as how many guys you use for how long. All those things kind of go in and factor when you're making evaluations the next night about a pitcher."
As poorly as Boone managed Game Three, he did show a quick-ish hook with J.A. Happ in Game One, yanking him after two batters reached in the third inning. And, in Game Two, he didn't let Masahiro Tanaka go through the middle of the lineup a third time even though Tanaka had pitched well up to that point. Last night wasn't indicative of Boone's decision-making in the series overall.
With the season on the line tonight, Boone can not let Sabathia go through the lineup a third time unless the Yankees have a huge lead. That's the only scenario in which it would be okay to try to steal outs with him and, frankly, the likelihood of the Yankees having a huge lead is small. Also, Boone has to read the game better. If Sabathia is getting outs but is being hit hard, he has to be ready to make a change sooner rather than later.
Much like the Wild Card Game and Sabathia's starts last postseason, chances are the bullpen will get more outs than the starting pitcher tonight. That should've been in the case last night. (It was, but you know what I mean.) If Sabathia can get the Yankees through the lineup twice, great. But if things aren't look great the first time through, the bullpen has to be ready to go, specifically the top relievers.