It seemed like we got an awful lot of questions this week, but I picked just four for the mailbag. Keep sending them in though, one of these weeks I'll do a rapid fire mailbag with like, 12-15 questions. Please use the Submit A Tip box in the sidebar to send us anything at anytime.

J.R. and several others asked: With the bullpen not looking great, would Juan Cruz make sense?
I started thinking about this as soon as I saw that the Pirates had designated Cruz for assignment (he was officially released yesterday). The 33-year-old missed just about a month with shoulder inflammation but otherwise has pitched to a 2.78 ERA (4.19 FIP) in 35.2 innings for Pittsburgh this season. His strikeout (8.33 K/9 and 20.4 K%) rate was fine and his walk rate (4.79 BB/9 and 11.7 BB%) was high, just like every other season of his career. That's actually his lowest BB% since 2006, if you can believe it. The fastball isn't what it used to be, but PitchFX says he's still running it up there in the 92-94 mph range.
Cruz has struck out just one batter in his last nine appearances (7.1 IP and 36 batters faced), which includes three appearances before the DL stint and six after. He's struggled a little bit of late but nothing crazy. You do have to be skeptical anytime a team releases a reliever in favor of Chad Qualls, so perhaps the reason why he's available is something we just don't know as outsiders. The Yankees don't have much bullpen help coming in September, so signing Cruz to a minor league pact with the promise of a September 1st call-up sure seems to make sense from where I sit. I guess it depends on the medicals more than anything.
Steve asks: Assuming Andy Pettitte returns successfully, what would David Phelps have to do the next month to win the postseason rotation spot over Phil Hughes, Ivan Nova, and Freddy Garcia?
This was sent in before Nova was placed on the DL, so let's remove him from the discussion. The easy answer is that Phelps would have to pitch phenomenally well the rest of the season, and I don't mean slightly out-pitch Hughes or Garcia. Those guys have track records and will get the benefit of the doubt. Phelps would have to pitch like Hiroki Kuroda has been of late, I mean completely dominating each time out. That's not easy to do.
Obviously a lot depends on the ALDS schedule and who the Yankees would be playing in a potential playoff series, but right now I would lean towards Garcia as my Game Four starter. Both Hughes and Phelps have shown not just that they can pitch in relief, but that they can be true weapons out of the bullpen. As an added bonus, both would be in position to contribute multiple innings in relief. The fourth starter is marginalized in the postseason — quick hooks, starting only when absolutely necessary — and I would rather let Freddy be that guy.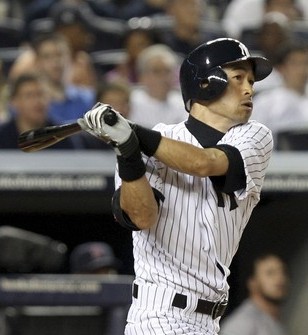 Donny asks: I doubt I am the first to bring up this idea, but with everyone working under the assumption that Nick Swisher is not re-signed, doesn't Ichiro Suzuki make sense? I would think a one year deal worth $6-8 million would work with some kind of team option for 2014, no?
A few people asked this as well and I'm not really a fan of bringing Ichiro back. Maybe if they trade Brett Gardner this winter it would make more sense, but I doubt that happens. I'm not a fan of powerless corner outfielders — the Yankees would be lucky to get ten total homers out of Gardner and Ichiro next season if they're both starters — no matter how much contact they make or how great their defense and base-running is. Having one guy like that in the outfield is fine, but two is really pushing it. If the Yankees let Nick Swisher walk, they'll need to replace him with someone who can hit for some power, particularly against left-handers. That ain't Ichiro.
Kevin asks: With all of the recent talk of Derek Jeter possibly breaking Pete Rose's hit record, which do you think is more likely to happen at this point: Alex Rodriguez passing Barry Bonds or Jeter passing Rose?
Jeter is currently 999 hits behind Rose, so he'll need another five or six really good years to become the all-time hit king. I'm talking 180+ hits a year on average until he turns 43 or 44. A-Rod, on the other hand, is 118 homers behind Bonds, which works out to another five or six really good years (20+ homers per season). Both seem improbable at this point but not impossible. I know which one I think is more likely to happen, but this question is screaming for a poll…
Which is more likely to happen?