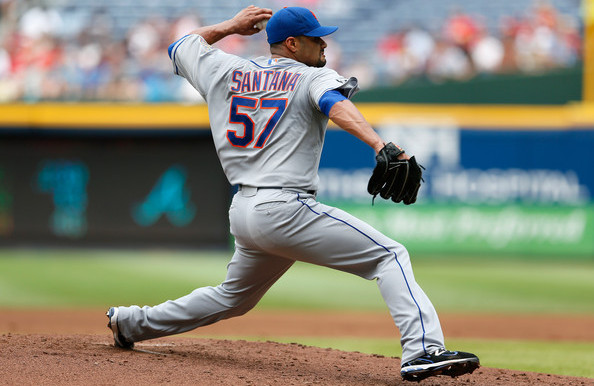 Got some miscellaneous free agent notes to pass along. One involves a former Yankees player who has signed elsewhere and two involve players who have yet to sign.
Johan Santana dealing with shoulder discomfort
Two weeks ago we learned two-time Cy Young award winner Johan Santana was on the comeback trail after missing all of 2013 and 2014 with shoulder and Achilles injuries, and that the Yankees were going to "keep an eye on him" during his stint in winter ball. Santana retired all six men he faced in his first outing and reportedly hit 90 on the radar gun.
Last week, however, Santana missed his scheduled start due to discomfort in his twice surgically repaired shoulder. Jon Heyman says no structural damage was found in Johan's shoulder, and, although he threw a bullpen session last Friday, he will not make another start according to Jon Morosi. "He will be ready for Spring Training," said his agent. There's nothing to lose by giving Santana a minor league contract and seeing what happens in Spring Training, but this is a harsh little reminder that he's far from a guarantee to contribute in any way going forward.
White Sox did not place high bid for Robertson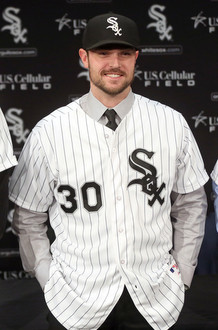 Earlier this offseason the Yankees lost closer David Robertson — well, they didn't lose him, really, they let him go after signing Andrew Miller — to the White Sox, who gave him a four-year contract worth $46M. Last week though, ChiSox GM Rick Hahn confirmed to Dan Hayes they did not make Robertson the highest offer and he turned down more money elsewhere to go to Chicago's south side.
There's no word on who did place the high bid, but my guess is either the Astros or Blue Jays, most likely the former. More than a few players have turned down Houston this offseason and taken less money elsewhere, including Miller, Ryan Vogelsong, and possibly Chase Headley. The Blue Jays reportedly wanted Robertson as well, though it's unclear if they ever seriously pursued him. Has to be the Astros, right? Turns out that treating players like numbers and not people hurts your image and doesn't make you a desirable destination for free agents. Who'd a thunk it?
Yankees continue to show strong interest in Hector Olivera
In the Dominican Republic last week, free agent Cuban third baseman Hector Olivera held an open showcase event and more than 200 scouts were in attendance, according to Jesse Sanchez. The Yankees, along with the Giants, Padres, Rangers, and Braves, are among the teams showing "strong interest" in Olivera at this point. He is still waiting to be declared a free agent by MLB and unblocked by the Office of Foreign Assets Control so he can sign.
Olivera is not some kind of up-and-coming prospect — he turns 30 in April and is MLB ready. The Yankees don't really have a spot for another third baseman on the roster, not unless they release A-Rod anyway, and I doubt Olivera is looking to sign with a team to be a bench player. A few weeks ago Ben Badler called Olivera a better player than outfielder Yasmany Tomas, who signed a six-year, $68.5M deal with the Diamondbacks this winter. New York's interest seems to be due diligence more than anything.