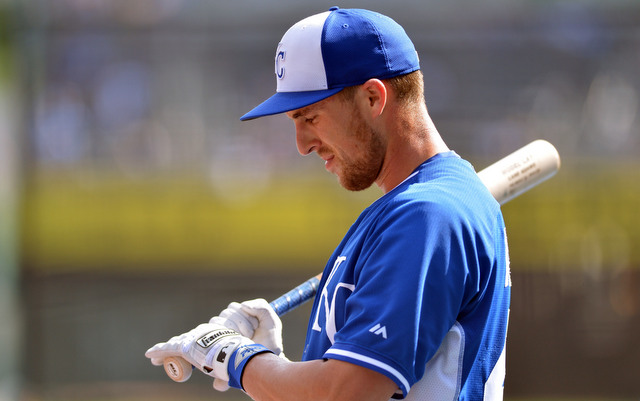 The Yankees have claimed outfielder Lane Adams off waivers from the Royals, the team announced. He was designated for assignment a few days ago when Kansas City re-signed Alex Gordon. The Yankees designated infielder Ronald Torreyes for assignment in a corresponding move. The 40-man roster remains full.
Adams, 26, is a right-handed hitter who hit .275/.342/.436 (115 wRC+) with 16 home runs and 31 steals in 140 games split between Double-A and Triple-A last year. He appeared in six big league games in 2014. Baseball America (subs. req'd) ranked Adams as the 15th best prospect in Kansas City's system prior to 2015. Here's a snippet of their scouting report:
He is a plus-plus runner who is a plus defender in center field. He's not a good fit in right field because of his fringe-average arm. Offensively, Adams has some strength and shows pull power, but he projects as an average hitter with the ability to hit 8-10 home runs and plenty of doubles. He most likely winds up as a fourth outfielder.
The Yankees have plenty of left-handed hitting outfielders on the 40-man roster (Slade Heathcott, Mason Williams, Ben Gamel) so Adams will help balance things out a bit. The team has a bench spot open, but with Aaron Hicks set to be the fourth outfielder and Dustin Ackley the fifth outfielder, it's tough to see Adams making the Opening Day roster.
Torreyes, 23, was acquired from the Dodgers earlier this week in a minor trade. Just yesterday I wrote I was irrationally excited about the pickup because his high energy/high contact/versatile profile looked like a nice fit for the bench. Obviously the Yankees didn't agree. So it goes. Maybe he'll clear waivers and stick with the organization.