With Cliff Lee officially a member of the Philadelphia Phillies, the Yankees are left trying to salvage their offseason by spreading their money around and shoring up several aspects of their team. There simply aren't any other high-end starters on the market to go after. The process started with the now completed Russell Martin signing, and today Joel Sherman reported the Yanks will "try to pluck a veteran starter with good stuff but questionable health (off the free agent market) and have him pitch as long and as hard as he can, basically until his arm blows up or a better option comes along.
Those kinds of pitchers are always plentiful on the free agent market, and they're popular targets in the blogosphere because we dream of them being healthy and returning to what they once were. With Lee off the market and not in New York, it's inevitable that we'll have to look at some of these guys as potential targets, so let's get it out of the way now. I'm going to do something a little different though, instead of actively campaigning for one or two players I'm just going to state the facts and let you decide who's worth the gamble. Talk about 'em in the comments…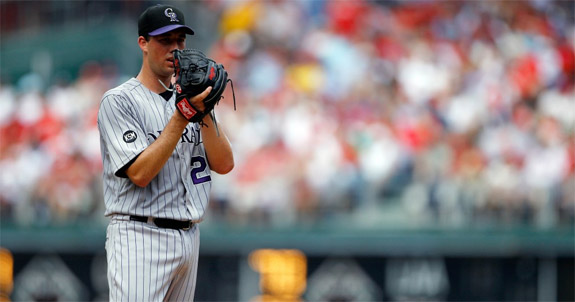 Jeff Francis
Francis is kind of the exception here because he isn't actually coming off an injury. After missing the entire 2009 season due to shoulder surgery, the 29-year-old lefty did manage to make 19 starts (and one relief appearance) while pitching to a 3.88 FIP in 104.1 innings for the Rockies in 2010. His ERA was ugly (5.00), but we all know that isn't the best way to judge performance. Francis is a generic soft-tossing command lefty, spotting a fastball, changeup, and curveball on the corners of the plate. He misses just enough bats (8.4% swing-and-miss rate, 5.8 K/9 since 2008) and doesn't walk many guys (2.6 BB/9 career, removing intentional walks), and he also gets a pretty nice amount of ground balls (~45% over the last few years) as well. Francis' margin for error is small, but the track record is there.
Brad Penny
The one-time Red Sox whipping boy made nine highly effective starts (3.40 ERA, 1.1 fWAR) for the Cardinals this year before a shoulder strain ended his season. Penny is a known quantity at this point; he's struck out a touch more than five-and-a-half batters per nine innings over the last four seasons (~7% swings-and-misses) despite having the stuff to do more, and his walk rate has been below three per nine in five of the last seven years. Penny has always been a ground ball guy but took it to the extreme in St. Louis last year (52.8%), completely unsurprisingly given Dave Duncan's track record. Like Francis, Penny does have World Series experience, and he did not have surgery for his injury, which is always a plus.
Chien-Ming Wang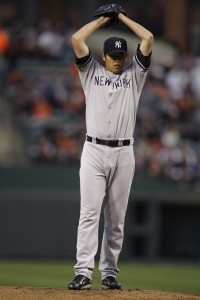 Ah yes, our old friend. Wang, now 30, was last an effective pitcher in June of 2008, when he infamously injured his foot running the bases in Houston. Surgery to repair damage to the capsule in his shoulder followed, and he was unable to reach the bigs for the Nationals in 2010 despite proclamations from his agent. Everyone reading this knows the deal with the Wanger, so I don't need to get into the specifics. Extreme sinkerballer, lots of weak contact, won't strike anyone out. Seen it, lived it, got a t-shirt.
Brandon Webb
Webb is the big name of the group, the former Cy Young Award winner than racked up 19.9 fWAR from 2006-2008, the second most in baseball. Now 31, Webb hasn't pitched in what amounts to two seasons due to labrum damage, and reports out of Instructional League a few weeks ago had him sitting the low-80's with his once devastating sinker (18.1% fly balls in his career, completely ridiculous). There's a belief that those reports are overblown in an effort to keep his price down, however. We really don't know what Webb is capable of right now; I don't think he can rebound and be the beast (3.23 FIP from '06-'08, again behind only CC) he once was. If he's 60% of that guy though, it'd be an upgrade to the back of the Yankees' rotation. For what it's worth, Joel Sherman reported today that the Yankees "don't like him all that much."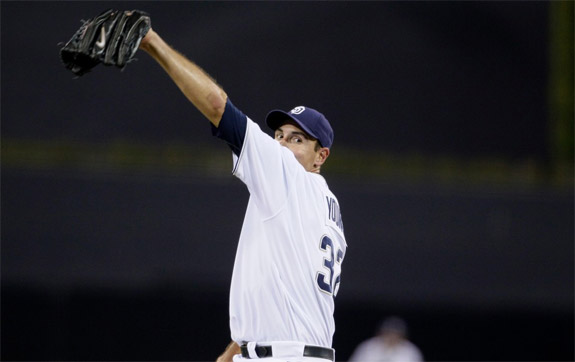 Chris Young
Young is a rather unique pitcher, relying on extreme deception and size (dude's 6-foot-10) rather than pure stuff. He missed all but four starts in 2010 due to a shoulder strain, and when he did pitch he averaged just five innings per start with a 3.88 FIP. His always pedestrian fastball dipped into the mid-80's over the last two years, but he's so big and hides the ball so well that it looks like he's releasing the ball ten feet away from the batter. That's how he's managed an above average swing-and-miss rate (9.4%) and generally avoided getting clobbered. Young certainly benefited from Petco Park in San Diego, owning a 53% fly ball rate for his career, far and the away the highest in baseball during that time. His margin for error is microscopic these days.
* * *
Remember, these players are looking for one thing: an opportunity. Well, that and money, we can't forget that. Those five guys are trying to reestablish their value, so they'll join the team that gives them the best chance to accrue innings and prove they're healthy and productive so they can go back out on the market next year and cash in. If that means a year with the Nats or Pirates, so be it. Don't expect the Yanks to be able to sign two or three of them either, the more there are, the less of an opportunity they'll have.
So which one is your preferred target? Any other that weren't covered here?